Answer :
Wedding Planner Business Plan
Executive summary
A wedding planner company by the name of BANG BANG wedding Planners, specializes in providing services for wedding functions, unions, receptions and anniversaries. It comprises of a team of specialized professionals who are dedicated with numerous years of experience in the same field of event planning. Weddings in India is very grand affair and parents save huge amount of money for their children marriage. Hence, the market of wedding planning has huge potential. Present report aims to highlight the market potential of Indian wedding market for succesful wedding planning start-up company.
Introduction
It is a wedding and event planning full- service organization, which provides Consulting and other services for weddings, functions, and anniversaries in India. They comprise of a group of professional event planners who are extremely experienced in providing world class services to the clients(Barretta, 2019). They provide undivided focus and attention to the clients as one of their USP's. The company believes in the wish of the client as a command for their operation to fulfill their dream event in all possible manners. For example, if the clients want traditional indian wedding, mehandi programms, snageet or religios ceremonies, the team of professionals provide the best class services. It also includes consultation and services for wedding receptions, Honeymoon packages, budget planning and other full service reference in terms of hair styling, beauty packages, florist, musicians,etc.
Objectives
The company focuses on meeting each and every demand of the customer to their full satisfaction. Whether, it is a wedding or an anniversary celebration. The company always focuses on giving the best possible and memorable experience to its clients (Blakely, 2018). For this purpose, BANG BANG offers many customized packages and special services that are tailor made as per the specifications of the individuals. They also believe in making the business venture successful and are confident about estimating their net income to increase substantially in the second year.
Keys to success
The several keys to success of the organization have been listed below:
To Cater to the needs of the client promptly and efficiently and provide best quality service

To maintain a healthy relationship with all the vendors of the organization such as makeup artist, hair salons, florist, parlor, designers,etc.

To showcase a professional image of the company to its clients with a professional behavior and mannerism.
Company ownership
It is a simple business with single proprietorship that is owned by founders Niharika and Aanya . Once, the business gross substantially in its operations, both Niharika and Aanya will look forward to registering their company as a limited company or a corporation according to the needs of the business in future(Freire,et.al.,2018).
Startup summary
Both the founders of the company, Niharika & Aanya have decided to manage the day-to-day operations of the company in order to work elaborately with each other and ensure that their business startup venture is successful(Gordon-Lennox, 2019).
They have estimated the start of cost to be around 300000INR which will include the logo designing, legal entities, Advertising and Marketing, and other related cost or expenses) the operating capital of the company has been kept at 50000INR which is deposited in the bank account for their operations and a backup for about 2 months in continuous operation of the venture. Both the owners have decided to put in equal portion of the funds from their personal savings and collectively investing 400000INR each in this business.
Services
They will be acting as a full-service Planner for wedding and other events and will provide services to the client such as event planning, discounted advertising and invitations, products related to the event, etiquette advising, rehearsing attendance, supervising the ceremony as well as the setup for the reception along with the management of the budget given by the client(Kobra,et.al.,2019).
Market analysis summary
Approximately, $50 billion have been reported to be spent on the functions like weddings , anniversaries and receptions each year in India. Therefore, these wedding planners and professional Planners have become a commodity rather than a calamity. BANG BANG provides host of services to its clients and is therefore known as a full service provider for the event(McKenzie, ] and Davies, 2019). They have professional team of experts who focus on the client directly and give them specific attention. They also prepare customized packages in order to suit the needs of the client to the maximum possible extent.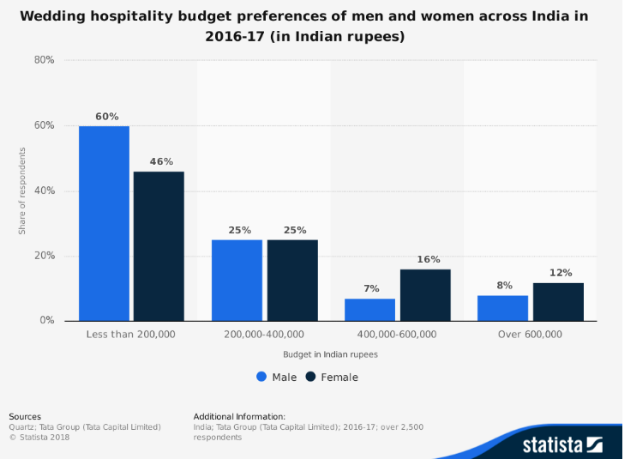 Market segmentation
Although, it is exciting and flashy to advertise as an event planner and can be considered to be intoxicating, it also becomes overwhelming(Moran, 2019). Hence, the company promotes and Markets the services mainly to the most important people in the event. That is, the bride and the groom. United States reported approximately 2.4 million batons in the year 1997, and as per the current rate of marriages in in United States, the Encarta encyclopedia reports them to be 9 marriages per thousand numbers of people. It is considered to be one of the highest in the countries that are industrialized. The rate of marriages have been expected to be similar in the near about future as well. In Eugene, where the BANG BANG wedding consultation organization operates, they have reported approximately more than 1500 marriage events every year and have created A Remarkable market opportunity in this business line.
Also, all those people who attend the wedding ceremony suggest family and friends along with other events like anniversaries and receptions, it creates another segment of client for the business. This second segment of individuals mainly required services for preparing gifts, special events and performances, etc. For the event.
Target market segment strategy
The services offered by BANG BANG batting planners are mainly for the bride and the groom along with their family and friends. They have promoted and marketed themselves to be one of the best planners in the industry, with a high level of experienced professionals. It is also a unique experience for the client because BANG BANG wedding Planners is a full service provider which becomes one shopping destination for its customers by providing end to end event related services. The customer is not required to further approach other organizations to procure services for the event. Hence, this helps in saving the time and energy of the client who is already busy in preparation of their most important event like marriage ceremony. BANG BANG working planners also offers cost savings to its customers by involving suppliers who provide that services at a wider range of cost and pricing that is economical and affordable for all groups of people.
Market needs
The Desire of the customer mainly shapes the need of the wedding planning market and the services provided by such Planners. All the clients Desire their event to be perfectly managed and a memorable experience which is well executed. Therefore, market needs are dependent majorly on the demands of the customer. The wedding ceremony is planned and budgeted by all important members of the family especially the bride and the groom. Start planning for the ceremony when advance(Reiblich, et.al., 2019). However, still realize the fact that making arrangements for all possible ceremony functions will not be possible themselves. Therefore, they look forward to hire a wedding planner and service provider who offer their services in a professional manner. Professional advice is sought by the clients, to ensure that all the functions in the wedding ceremony are well planned and executed and should meet the Expectations of the clients or even higher.
Service business analysis
The Limited line of professional services is available to a majority of wedding planners available in the market which in overwhelming. There is a variety and plethora of service providers for catering, hair styling, makeup, bridal, designers, florists etc. Available to provide the services. However, there is only a few numbers of companies or almost nil, which offer a full range of services to its clients by providing end to end services for the event. Hence, there is a lot of scope in this line of business for wedding planning and its execution by providing full services to the client.
Competition and buying patterns
The owners of the company conducted a competitive analysis for all major surrounding companies and have found that approximately 20 Institutions are offering the same types of services for wedding and other events, at present in the area. However, they have also noticed the fact that only a few of these Planners are offering full end to end services to its customer for the event such as catering, gifting, decoration, florist, beauticians, designers etc. Also, they found only three companies which were providing services at par with BANG BANG wedding
planners and attracting customer's .these three major companies which proved to be a competitor for business have been briefly discussed below:
Ceremony preparation, rehearsals and execution of services is offered by rent and Action Company.

Flowering and Catering services along with wedding consultation is offered by cross and reeves company.

Entertainment, catering, florist, and hair services are offered by Lafayette Company to its clients.
Sales strategy
Publication in local Yellow Pages directory

Advertising and Marketing in the local media and press with all leading newspapers

Developing strong relationship with complementary service providers such as florist, caterers, beauticians, salons,etc. To obtain services at discounted percentage.

Spreading awareness in public through word of mouth and reference.
Management summary
Both the owners of the company, Niharika & Aanya have successfully executed more than 150 marriage events and receptions party. They have gained a lot of experience in this field in terms of planning, management, vendor dealings, budgeting, consultation,etc. Niharika has obtained a BS in the field of communication and minors in interior decoration. She comes with an experience of 5 years by providing professional services to the clients. She has obtained certification in waiting learning from National Association of wedding planner and professional wedding planners. On the other hand, Aanya has obtained and associate degree in fashion designing and eventually became a wedding planner along with holding the same certification in wedding planning.
Personnel plan
Initially, both the owners will manage the organization by working full time and providing services to the client. They also intend to hire experienced Planners gradually. However, the employees shall not take the management decisions.
Conclusion
Hence, it can be concluded that Bang Bang Wedding planner has good future as it carries with stron business plan.