QUEENSLAND UNIVERSITY OF TECHNOLOGY
QUT Business School
School of Accountancy
AYB227 International Accounting
ASSESSMENT ITEM 2: Project
Your Submission must include:
Your Answers to all the Project Questions and all Supporting Appendices

A School of Accountancy Cover Sheet

The Assignment Criteria Sheet

Details of the Actual Word Limit

Details of Your Similarity Report % and Any Actions Taken If Necessary – Refer Class Discussions and Examples
Specific Penalties will apply for late submission as detailed below.
Compulsory/Optional:Compulsory
Group or Individual:Individual
Length:1500 words (+ or – 10%) for answers to project questions – Further Details in Project Instructions which are included in this document from page 4
This assessment item assesses the following learning outcomes:
Higher Order Thinking (HO)
HO 2.2 Exercise independent judgement and initiative in adapting and applying knowledge and skills for effective planning, problem solving and decision making in diverse contexts.
Social, Ethical and Global Understanding (SE)
SE 5.1 Demonstrate and apply knowledge of ethical and legal principles and practices in analysing and responding to business issues
SE 5.2 Demonstrate and apply knowledge of socially responsible behaviour in analysing and addressing business issues in national and international business contexts.
Background:
As business and financial markets have become increasingly globalised, the significance of the differences in the international financial accounting policies, and disclosure and reporting practices of global corporations, has become more important, especially from the perspective of management, financial analysts, shareholders, pension/superannuation funds and other users of financial statements. For these key interest groups, it is vital not only to be aware of international differences in financial accounting policies and practices, but also to be able to assess their impact on earnings/profits and assets and key performance indicators and ratios, for example, return on assets. Additional key issues in globalised business operations relate to an understanding and appreciation of cultural diversity issues and the global trends in international taxation and international audit.
Purpose:
Completion of this cross-cultural and cross-discipline project is of critical importance to your understanding of the key issues that global corporations and their stakeholders experience on a daily basis. The knowledge required to successfully complete your major project is also of critical importance to your final exam preparation. As highlighted in the weekly submissions' assessment task, by completing the weekly tutorial work, with appropriate references to the relevant mandatory readings, you are consistently working towards the completion of both your project and the required project reference list.
Availability of Major Project Task:
The Major Project task details are set out on pp. 4–9 of this document. The content needed to complete this project is directly related to the weekly lecture material reviewed and analysed in the weekly tutorial submissions and presentations. Note also that detailed solutions are provided each week under the Feedback heading to assist you.
Major Project Submission Instructions:
Summative Submission of Completed Major Project, Due in by 11:59PM – Tuesday 5th April, 2020 - Submission via Turnitin Assignment Submission - Specific Penalties will apply for late submission as detailed below.
Note: Failure to reference correctly in your major project may result in you receiving lower marks for this assessment task under HO 2.2.
Late Project Submissions:
In both your QUT study and your professional life you will be expected to meet deadlines. In keeping with this expectation, if you submit your major project after the due date it will not be marked and you will receive a grade of 1 or 0%. If special circumstances prevent you from meeting the assessment due date, you can apply for an extension as set out in your Unit Outline under Assessment Submission and Extensions. You can also access the link 'apply for an extension' directly from the 'yellow box' in Assessment Folder on the Blackboard. If you don't have an approved extension, you should submit the work you have completed by the due date and it will be marked against the assessment criteria.
Feedback
After the assignments have been marked, you will be provided feedback with any strengths and weaknesses associated with the assignment submitted, to assist you in your preparation towards the final examination. To ensure that all students receive the same level of feedback and support, please use the Discussion Board Forum that is set up for the 'Major Project' on the Blackboard to raise any queries in respect of the assignment. All students are encouraged to check the Discussion Board for any updates/answers to the queries. It has been a very helpful site for students in previous semesters in completing their assignment.
It is also critically important that you access all the Weekly Tutorial/Presentation Solutions each week – provided under the Feedback Heading.
Assessment Criteria
Please refer to the CRA for the 'Major Project' posted under the Assessment tab on Blackboard.
Submission Details
Assignment Length:
The word limit is 1500 words (+ or – 10%) for the answers to your project question. This limit is strictly applied and will apply to ALL content included in the submitted assignment file. The ONLY exclusions are the Executive Summary, Contents Page and the Bibliography if included. All supporting documents (such as annual report extracts as outlined below), all Tables/Graphs, definitions etc. MUST be placed in separate appendices. These SEPARATE appendices are NOT included in the word limit.
Note: The marker will stop reading your assignment once the word limit has been reached.
Formatting and Referencing:
Please refer to the task requirements for the project - i.e. your final submission must answer all the assignment questions.
Remember that your written expression is important in that we need to be able to understand your answers. That is, your responses should exhibit clear English expression and should contain a minimum number of grammatical errors.
The content of your written, project answers and any supporting appendices should be fully supported by references using QUT's "Cite and Write" document available from the library website. You may select whichever referencing you prefer (there are four examples given in this referencing document), however, this choice must then be used consistently in your reference list.
Content of Appendices/Working Papers:
In order for the marker to accurately assess your responses, you must provide copies/extracts of the pages of any Annual Reports or Financial Statements that you refer to in your POST-IFRS discussion of the overall quality of the financial reporting system adopted by global corporations within each of your three nations. These extracts must be attached to your written answers to the project questions in your Working Papers/Appendices. For example, you may refer to these extracts in answering Questions 5.
Please retain all drafts of your project answers and appendices until after the final results for the AYB227 subject are formally released.
Individual Project Task Requirements:
Client Details:
Your client is BHP Group Limited (BHP) one of Australia's largest corporations. Further details on BHP can be found from their web-site – summary details include:
'…BHP is a world-leading resources company. We extract and process minerals, oil and gas, with more than 72,000 employees and contractors, primarily in Australia and the Americas. Our products are sold worldwide, with sales and marketing led through Singapore and Houston, United States. Our global headquarters are in Melbourne, Australia.
Our corporate purpose is to bring people and resources together to build a better world. We do this through our strategy: to have the best capabilities, best commodities and best assets, to create long-term value and high returns. We are among the world's top producers of major commodities, including iron ore, metallurgical coal and copper. We also have substantial interests in oil, gas and energy coal.'
https://www.bhp.com/our-approach/our-company/about-us/
Assessment Task Requirements:
Your Role and Investment Task:
You are an independent investment consultant in Australia and you have been employed by the Board of Directors of BHP in order to assist them to improve their investment returns globally. As part of increasing the returns to their investors, BHP has the combined objectives of diversifying investment risk while increasing their investment returns and investing in nations who are committed to increased levels of operational transparency including compliance with the International Financial Reporting Standards (IFRS) framework.
To achieve this outcome, the Board of Directors would like to further expand BHP's operations in a nation/s selected by you by investing $800 million (AUSD) in ONE of the following three industries: Telecommunications; OR Retail; OR Banking.
Diversify FDI Risk Across Cultural Groupings:
To ensure that all global options are fully explored, three culturally different regions globally are of interest to the BHP Directors as highlighted below:
Anglo Saxon

countries

(e.g. UK, Australia, Canada, former Commonwealth member countries such as India, Malaysia, Singapore etc. and the Nordic countries of Denmark, Netherlands and Sweden) –

Note: you cannot use the US as a nation

.

the

Germanic/Latin

countries (e.g. France, Germany, Italy, Poland, Czech Republic, Switzerland, Brazil, Chile, Argentina and Mexico); and

the

Asian

countries (e.g. China and Japan).
Summary of Task Requirements:
Your task is to, firstly, select three nations, ONE nation from each of the three different cultural groups listed above. Second, you then must select ONE of the three industries identified by your clients which you feel meets their investment objectives from your research of the strengths and weaknesses of your chosen industry within each of the three nations selected.
Third, you must respond to the specific questions from the BHP Directors as set out below. Note, while you are NOT expected to produce a formal report for the Directors, you need to remember that you are 'speaking' directly to the Directors in each of your responses, therefore, these responses must be written in a business/formal format rather than in an essay style.
Note: Your answers must also include the headings provided below and must meet the overall word limit set for this task. These Headings will NOT be included in the word count.
Note: In–Class support and a step-by-step discussion of the major project task will take place in Part Two of Lecture Four (18th March) including how to use appendices/working papers to support your answers.
Assessment Related AOLs – Please Refer to the Major Project CRA Under the Assessment Heading for Full Details of These AOLs and the Marking Scheme:
HO 2.2 Higher Order Thinking = Total 90 Marks
SE 5.1 Ethical and Legal Understanding = Total 15 Marks
SE 5.2 Socially Responsible and Global Understanding = Total 15 Marks
Marks Allocation as Indicated for Each Question = 120 Marks/30%
A: Preliminary Explanations for the Selection of the Three Nations Across Cultural Groupings and the ONE Industry
In your introduction:
a) provide a summary explanation of why you have selected each of the three nations (one from each of the three different cultural groupings – Anglo-Saxon, Germanic Latin and Asian);
[45 Marks – 15 Marks for Each of the Three Nations]
Note: in your summary explanation explain WHY it is important to your clients for all three nations you select to have adopted IFRS.
In selecting your nations also consider whether there are issues of corruption or serious environmental impacts or economic issues which may impact negatively (or positively if there is a lack/absence of corruption and environmental issues etc.) on any potential investment in each of the nations you have selected.
For example, consider economic issues such as Post-BREXIT impacts on Britain and its impacts on FDI into the UK generally. You need to also consider major environmental and corruption issues which may be occurring in nations – such as the extreme pollution crisis in Canada and China and the recent Royal Commission into Misconduct in the Banking, Superannuation and Financial Services Industry in Australia.
In your justification for your selection of nations, you must use the 2019 AT Kearney Report and its Confidence Index and the Top Factors highlighted within this report which are used by investors to determine Foreign Direct Investment Decisions. This Report will be discussed in lectures, tutorials and presentations – details are also provided in the final pages of this task sheet; and
(b) provide a preliminary and summary explanation of why you have selected the industry for investment in all three of these nations. That is, only ONE industry must be selected from the three industries identified by your clients. Refer to an example expert report on the Global Retail Industry in the final pages of this task sheet. These, independent, expert reports need to be used to support selection of your industry for investment for your clients.
[15 Marks]
B: Comparative Analysis of Three Nations – PRE-IFRS Development Factors, Cultural Dimensions and Accounting Values and Their Impact on POST-IFRS Accounting Vlues and Financial Information Quality and Foreign Direct Investment Risk (FDIR)
In entering into this new investment project, the BHP Board of Directors are aware that the IFRS major global convergence project has been developed since the major Economic Crisis in 1987, and are interested in understanding, firstly, what financial reporting factors/issues contributed to this event. They are also interested in obtaining your advice as to whether the IFRS project has been successful in lowering foreign direct investment risk globally. In order to provide the relevant information to the Directors in terms of each of the three nations you have selected you are required to:
2. Provide a comparative analysis of the key (most important) PRE-IFRS development factors of each of the three nations selected;
3.Provide a comparative analysis of the PRE-IFRS cultural dimensions identified for each nation within the Hofstede model and discuss how the PRE-IFRS development factors outlined in Question Two above have impacted on these dimensions – NOTE: Do NOT use the Hofstede site/scores in this analysis – refer to class discussions
4. Provide a comparative analysis of the PRE-IFRS accounting values that are then associated with each of these country-based sets of cultural dimensions as established within the Gray model and discuss how the PRE-IFRS development factors and the cultural dimensions discussed in Questions Two and Three have impacted on these accounting values; and
5. Summarise the major changes in the financial reporting/accounting processes in each of the three nations you have analysed in the POST-IFRS era. In your answer, identify the date each nation adopted the IFRS framework and provide a summary comparison table of the key accounting values in each nation in a PRE and POST-IFRS comparison. In your view, has the quality of the financial information provided by each nation's global corporations improved in the POST-IFRS era? Has the FDI risk for investors been reduced? Why or Why Not?
C: Overall Investment Recommendation
6. Using all of the information obtained from your cross-cultural comparative analysis of the three selected nations (pre-IFRS development, cultural dimensions and accounting values and POST-IFRS accounting values) and your analysis of the industry strengths and weaknesses in each of your three nations, provide an overall comparative conclusion and make a final recommendation to the Board of Directors as to the best investment option from any of the three nations analysed within the industry that you have selected, providing reasons for your final recommendation.
Please also refer to the detailed comments provided in the major project CRA available under the Assessment heading and the support examples and responses to the Major Project Queries up on Discussion Board (Tools Heading).
Total Marks = 120 - Total Percentage = 30%
Due Date: by 11:59PM –
Tuesday 5
th
May, 2020
- Submission via Turnitin Assignment Submission.
Part A – Question One – Support Materials:
a.Selection of Three, Cross-Cultural Nations - AT Kearney Report 2019 – Top 25 Nations for Foreign Direct Investment (FDI):
https://www.kearney.com/foreign-direct-investment-confidence-index/2019-full-report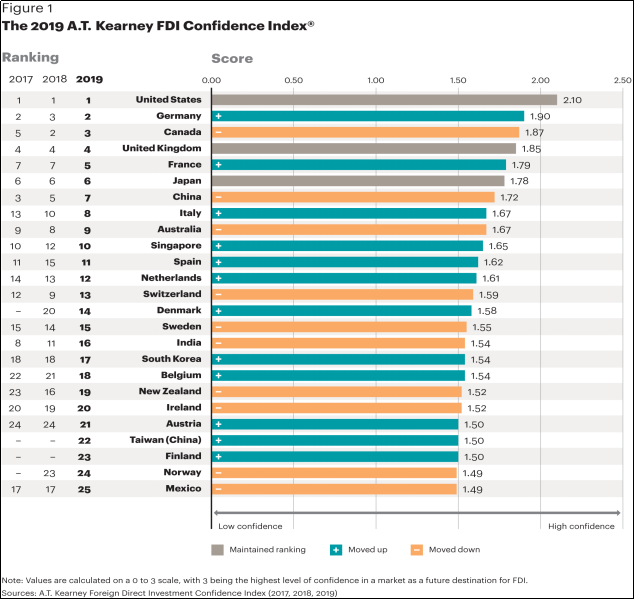 (b) Selection of Three, Cross-Cultural Nations (cont'd) - AT Kearney Report 2019 – Top Factors in Foreign Direct Investment Decisions
(c) How Do You Select ONE Industry to Invest in For All THREE Nations from the Three Industries Identified by Your Clients? Use Independent Expert Reports – see example below from Deloitte 2019 Report – Global Powers of the Retail Industry – Includes Both Australian and Global Data – Remember to Look for NATIONS Across the Three Cultural Groupings – Anglo-Saxon, Germanic Latin and Asian. Remember Also the Selection Criteria Set Out in Part A Above. Remember you CANNOT use the US as a nation.
https://www2.deloitte.com/au/en/pages/consumer-industrial-products/articles/global-powers-of-retailing.html