INTRODUCTION TO MARKETING
BHO1171
Assignment Brief:
Assignment 1: Diagnostic Assignment
Marketing Plan Part 1: Environmental Analysis
TITLE
Diagnostic Assessment – Macro Environmental Analysis.
LEARNING OUTCOMES BEING ASSESSED
Analyse how the key elements of the marketing mix contribute to an organisation's

marketing

strategy

Formulate basic marketing strategies that can be implemented to address marketing

problems
You
must
electronically
submit
your
paper
into
the
Turnitin
assignment
submission
box
within
the
BHO1171 VU Collaborate shell. Submissions must be in MS Word
format.
Please note that paper copies
will not
be accepted. In case of the Turnitin or VU Collaborate system
being down, please email the assignment to your lecturer or local unit co-ordinator as a record of on time submission. Assignments will be marked using Grademark, within VU Collaborate. You will need to log
into VU Collaborate to read feedback and obtain your mark once marking is
complete.
In the eventuality that you fail this assessment you might be given the opportunity to re-submit. Resubmissions will only be considered if you have visited the Learning Hub for support on your resubmission.
Failure to meet assessment deadline(s)
Where special consideration is not applicable, a 10% (ten percentage point) deduction for each 24 hour period after the due date is to be deducted, unless agreed upon with the unit coordinator
prior
to the due date.
DETAILED DESCRIPTION OF ASSESSMENT
This assessment links directly with assessments 3A and 3B. Figure 13.1 from Sharp (2017) is presented below, which outlines the marketing planning process. Your task will be to complete:
Step 1: The Market Environment (but not Organisation Situation Analysis) as

Assessment

1

Step 2: The Target Market Analysis and Market Segmentation as

Assessment

3a

Step 3: The Marketing Objectives and Strategy Formulation as

Assessment

3b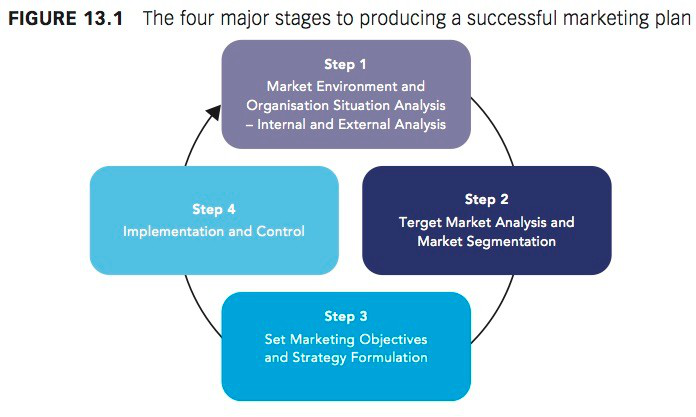 In other words, you will be writing an overall marketing plan for a product or service, in stages that are interconnected. The product you will need to write a marketing plan for will be outlined in the VU Collaborate space. Generally the product will be a new product that is seeking funding through a crowdfunding website such as www.indiegogo.com .
Your task in this particular assessment is to write a simple macro environmental analysis as part of an overall marketing plan. It should be approximately 500 words in length around 2 A4 pages. You may use tables to present the different elements of a macro environmental analysis.
You may wish to refer to Chapter 13 of Sharp (2017) for more detailed information on marketing planning, in particular Table 13.1 suggests a structure for a marketing plan.
In addition, specifically relating to the Macro Environmental Analysis for this assessment, you may wish to refer to page 214 onwards of Sharp (2017).
The point of a diagnostic assessment is to give students an early assessment with feedback to identify students who are at risk of not achieving a pass in the unit. This assessment will allow your lecturer to work with you and provide early feedback that you can take on board for later assignments. If necessary you may be referred to the Learning Hub centre on your campus for further help.
While the assessment asks you for your opinion, your arguments need to be supported with reliable sources of information. It is expected that you will cite at least 4 references using the Harvard Referencing System (if you are not familiar with this system, simply put "Harvard Referencing System" into a search engine). Sources that can be used, for example, include the textbook and refereed journal articles. Please refrain from using internet sources like essay.com. marketing.com, seminar slides, dictionaries, about.com. In addition, at VU copying from a source without proper acknowledgement is severely penalised as leaving paragraphs and sentences without a citation.
As a key aim of this task is for lecturers to see the strengths and possible areas of improvement with your academic writing, you should strive to write in as clear a manner as possible, using well-constructed paragraphs, and avoiding bullet points, incomplete sentences, or overly formal or informal language.
Please see the assignment dropbox for the associated rubric for this assessment.