CLOSING PROJECTS AT GLOBAL GREEN BOOK...
CLOSING PROJECTS AT GLOBAL GREEN BOOKS PUBLISHING
Answer
a) What are some of the reasons why it is important to close out a project? What can project managers accomplish in closing out a project?
In accordance to the case study it has been evident that the success stories and few challenges are consistent in the Global green books Publishing. The project manager and other executives of the company developed new ideas. The new idea majorly focuses on closing put a project. According to the PM and executives of the publishing company it is important to close out a project rectify what are the lessons learned from the specific project. Additionally, it is beneficial for assuring the project is completed and with every member's agreement the project is executed. Apparently, it allows formal recognition and rewarding for accomplishing the project with effective approaches.
b) Why should projects capture lessons learned? What are some ways that the project team members, project managers and the organization can use lessons learned?
Capturing the lessons learned is important as it shows the progress within the business efficiency and attaining improvement for further operations. From the employees and supervisors aspect it is important to assess the positive features of them and rectifying the drawbacks. Additionally, capturing lessons learned is important for rewarding and recognition the supervisors top motivate them for further work (Rowe, 2015). It has been evident that keeping journals and documentations of the projects and progress help as the historical data in estimating new projects.
c) What benefits come from celebrating project accomplishments? Do you believe that rewards and recognition can serve as motivators for staff?
Celebrating project accomplishment is considered to be the most powerful motivational approach in organizational context as celebration eliminates the stress of post workload phase and essence of monotonous from the workplace. Apart from that, it will create a fresh ambience to start a new project and motivate the employees with effective professional approaches (Harrison, 2017). Additionally, motivation is an important aspect that a project manager and management office executives need to keep focus on as effective approaches in motivating employees can help in enhancing willingness and productivity of the supervisors (Maruping, 2015). According to the motivational theories, rewards and recognition is very helpful technique of encouraging the supervisors and other subordinates to work more effectively as these fulfills individual need.
d) Explain what a Pareto chart is. Why would you use this technique to identify and prioritize problem areas? Are there some limitations on interpreting the results of a Pareto analysis?
A Pareto chart is a figure that involves both, bars and line graphs that reflects the values in descending order. The cumulative total is represented from the loins of the chart. This figure is helpful in analyzing problems and reasons behind the problem within the process. There can be various parameters and specific components to analyze the current frequency within a specific situation (Mongin, 2016). This technique can be used in prioritizing the components thereby analyze them as per the requirements. It can also take part in the decision making process as it helps in measuring and comparing the impact of changes within the workplace caused by the contradictions of workplace disruption. There are few limitations present in Pareto chart. In the foremost aspect, it would be important to mention that the sources of data is unstable and collected data are short spanned. Thus, instability can cause lack of reliability in the results. Additionally, the short spanned data isnot able to reflect the data of all process. In addition to that, long term data can cause changes in the outcomes. Thus, it can be stated that it is important to categorize the frequencies and particulars carefully to get effective and appropriate outcome through the chart.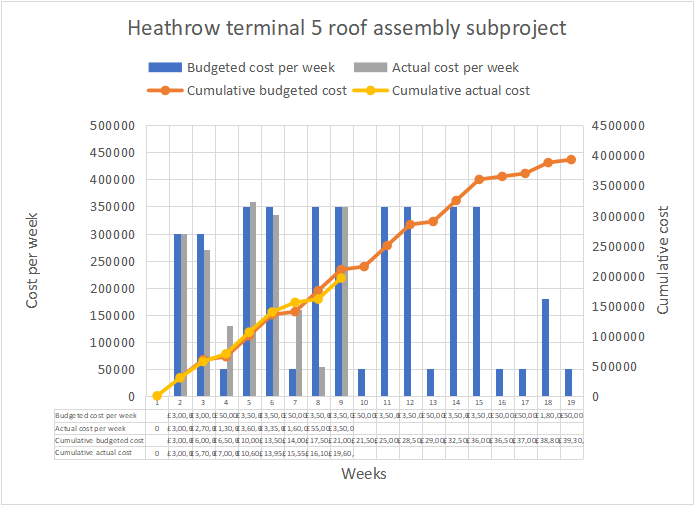 Figure 1: Pareto Chart
Source: (Mongin, 2016)
e) If you were the PMO looking at this Pareto analysis, what recommendations might you make to address the three key problem areas in eBook projects that this analysis identified?
In accordance to the case study, it can be recommended that the project management office executives can look on few aspects before being very reliable on the results of Pareto chart. The three issues that are identified in the company Global green books Publishing are respectively, delaying permission with certain publishers, unavailability of the scheduled staff due to any reasons and changes in customers and customer related factors. Here in this setting, it can be recommended that the first issue can be analyzed through the Pareto chart as it is reflecting high preference and increase in the issue (Mongin, 2016). Additionally, changes in customers factors can be mitigated with the incorporation of flexibility in the business practices as flexibility can help in addressing the changes in effective manner. The next most frequent is illness of production staff. The Pareto chart is reflecting the problem ratio respectively, 34%, 28% and 20%. Thus, the Pareto chart is helping in prioritizing the crucial and frequent challenges of the company. Finally, it can be stated that effective change management and flexibility can help in addressing these contradiction. Additionally, the workplace health and safety aspect can also be incorporated in this setting to manage the health constraint.
Customer Testimonials
ABC Assignment Help for one reason became my favorite because they don't have a very complex signing up process and it's very simple so everybody can use it. I was able to sign in without any hassle as my Company Law Assignment was due and they did it for me in a very efficient manner and I am very delighted with their service and a heartiest thanks. Emily, Sydney
I work part time to meet my expenses apart from college and I took this as a decision to not burden my parents. A while later I started feeling great amount of stress in balancing it all together and decided to seek help from ABC Assignment Help for my Commercial Law Assignment and they did my assignment for me and I am super satisfied with their work style. Thank you so much. Lawrence, Tasmania
I had a harsh week as I was extremely debilitated and every one of my assignments were getting excessively and caused me an incredible mental breakdown. A companion of mine seeing my circumstance asked me to utilize ABC Assignment encourage, their quick and efficient administrations helped me complete my Contract Law Assignment with less stress Rihana, New South Wales