Answer :
1. Introduction
National Dementia Campaign is an initiative managed by Australian Multicultural Foundation (AMF). The initiative is a national campaign funded through the Australian Government, Department of Health and Ageing under the Dementia Initiative, 2009 (Australia Multicultural Foundation, 2018). The project is focused on creating awareness about dementia and therefore AMF collaborate with SBD radio to reach different community language groups, namely, African, (English), Amharic, Dari, Persian-Farsi, Somali, Sudanese (Arabic), and Burmese. The project/initiative includes a range of services and programs aiming to improve the care and overall well being of people with dementia. These services and programs include awareness elements like library and information service, counselling, and assisting people in through service like living with dementia. It also comprise of service program for younger members of the society diagnosed with dementia and focus on ensuring health and well being of care givers through care support groups and family carer education.
It is important to evaluate and appraise any primary health care program or project to understand whether the initiative is good enough to support a decision and achieve its objectives, what could be the immediate and long-term outcomes of the project and whether it is possible to transfer the initiative to the potential recipients in wider communities or society (ORR, 2018). The following sections of this report presents such a evaluation of National Dementia Campaign by implementing a project logic approach and exploring the anticipated and unanticipated consequences of the services offered under the project.
2. Evaluation of National Dementia
Campaign: Initiative of Australian Multicultural Foundation (AMF)
2.1 Program Logic and Evaluation Plan
A useful and efficient way to summarize the process of implementing a program or initiative is available in the form of program logic (Rogers, 2008). The evaluators use the program logic generally to explore and understand the goals and objectives of a service under a program. It also enables the examination of the links between activities and outcomes of the particular program (Ziviani et al., 2011). Among the most common approaches to program logic, the diagrammatic representation of the logic (Owen, 2006) or intention of the program is used to evaluate the goal, objectives, activities and outcomes of National Dementia Program administered by Australian Multicultural Foundation (AMF) (Appendix 1).
National Dementia Program as administered by Australian Multicultural Foundation is evaluated and analysed based on the program logic model focused on exploring the objectives and their outcomes associated with the service. The program is focused on the goals of creating more aware and dementia-friendly societies especially among different communities, namely, African, Amharic, Dari, Persian-Farsi, Somali, Sudanese (Arabic), and Burmese. The evaluation plan of the program revealed below major objectives of the campaign:
Improve awareness about Dementia

Enhancing the quality of life for people with dementia, their care givers and family members

Focusing on individual care by identifying different issues like memory loss, mild impairment, young age dementia, etc.

Making people with dementia aware of their rights and help them provide suggestions while designing care plan for them
2.2 Evaluation criteria
In the words of Furberg (2010) "Public health programs like National dementia project combines various strategies based on biomedical, educational, social and policy factors that may result in different outcomes like changes in state of health, processes, characteristics of individuals, communities and environments." As discussed by Rychtnik et al., (2002) and Boustani et al., (2010) it is important that evaluation criteria encompass the interest of people involved or stakeholders to the project, unanticipated and anticipated effects of the intervention and efficiency and effectiveness of such intervention.
With an understanding of the social and political nature of public health, it is necessary that an evaluation be made to identify the interest of stakeholders in relation to the project outcomes (Aylward, 2005 and Donaldson et al., 2002). In the current project, the important stakeholders are the people with dementia, their family members, care givers and society as a whole. The evaluation of the project is focused on some of the key elements/criteria discussed as follows:
2.2.1 Identification of outcome needed by different stakeholders
Here the outcome indicators as depicted in program logic are discussed and analysed to evaluate whether the current project focused on improved dementia care remains successful in meeting the expectations of various stakeholders to the project. There are several political and social science theories establishing the need of an evaluation process based on outcomes for stakeholders (Lawless et al., 2018). Here, program theory-based framework help in guiding through the process of evaluation of the project thereby allowing identification of interim indicators of progress towards long-term objectives of the initiative or the project (Lawless et al., 2018 and Coryn et al., 2011).
Collaborative approach towards awareness and understanding about Dementia
The library resources provided under the project helps in spreading quality information about dementia and removing myths related with the condition. The activity of obtaining detailed information and meeting and talking in a confidential manner help care givers to explore different areas and possible reasons, issues and strategies to meet the individual needs of dementia patients. Furthermore, the current project maintaining as well as enhancing skills and abilities to gain better understanding of impact of dementia. This is necessary to ensure developing innovative ways of managing the issues and identifying strategies for coping and living with dementia.
These initiatives under the National Dementia project brings everyone concerns at the same level of understanding making it possible to develop support roles that are complementary to each other. Therefore, the project remains successful in meeting the individual counselling and facilitation needs based on issues of mental illness, age, memory loss, mild cognitive impairment, young onset of dementia and many more such individual needs.
Improved awareness about dementia
The general perception says that focusing on increasing awareness about dementia helps in reducing stigma and removing the low value accorded to dementia patients. This will also help in informing people about organic conditions and creating a society where care givers, family members and friends understand the economic and social implications of dementia.
The current project aims to make people informed through better services, radio programs, care giver training, counselling, facilitations and setting-up several centres to help people with dementia and their families. The focus is on assisting patients and their families within their local environment helping them create dementia-friendly environment and not affecting the comfort of dementia patient by changing the location of counselling, facilitation and therapies.
This makes the program successful in creating awareness, but the need is to develop preventive health programs engaging Australians in a lifestyle that can provide merits to their physical and brain health.
2.2.2 Anticipated and Unanticipated benefits
Under the current program, the anticipated effects are related to improvement in overall care of people with dementia and crating a society that is more friendly and caring towards these people. However, there are some unanticipated effects of the project that may result in some serious consequences for the people with dementia as well as their caregivers.
The program focus on emotional well being of caregivers, but dementia caregivers are known to be at an increased risk of various health problems like cardiovascular problems, lower immunity, poor immune system diabetes anaemia, etc. The current project does not hold any strategies to manage the physical health problems of caregivers and ensure that they have least incidence of psychological morbidity and poor physical health thereby reducing their risk of mortality.
Some other unanticipated benefits of the project include better and active monitoring of individual factors associated with dementia patients and increased expertise in early diagnosis through regular and collaborative approach towards care giving. A person-entered approach is beneficial for better coordination and shifting towards diagnostics in primary care instead does referral to clinics with expert solutions and care. However, limiting the communication among care groups may result in long communication channels between caregivers and professionals in other disciplines like occupational therapists and physiotherapists. This may hamper the need of coordinated care services where adults with dementia may need physical health care, alternate therapies and physiotherapists to improve their overall well being.
Research and Innovation in the field of Dementia care
The program or project focus on improving the knowledge and awareness about dementia among the patients, their care givers and family members ensuring that better living environment can be created for such individuals. To this objective the project given care givers and opportunity to involve consumers in planning the care strategies. An approach to involve families through counselling and facilitation help in providing better education about the ways to work with people with dementia.
Along with this the program remains successful in addressing the issues faced by caregivers coming up in the form of stress, guilt, resentment, anger, and other emotions. Caregivers face many hurdles while their balance the demands of caregiving, career and relationships (O'Connor et al., 2009). They are at increased risk of stress, depression and other emotional and physical issues. The diverse and complex effects of caregiving on caregivers result in more stressful situation while working with people with dementia. As per the Poulshock and Deimling model (Poulshock and Deimling, 1984), dementia results in burden of care giving rise to stain in the form of behavioural issues, physical or psychological ill health among caregivers. Further Pearlin and colleagues model of caregiver provides four key areas resulting in stress among caregivers including the background context, primary stressors, secondary role strains and intrapsychic strains in the form of personality and competence of the caregiver. Such factors arise due to overload, role captivity and adverse life events outside the role of caregiving (Pearlin et al., 1990).
Under the National Dementia project, care support groups help caregivers to receive support and meet others in a similar situation and access more and relevant information about dementia and its impact on individuals and their families. They can share the ideas, tips and techniques of effective management and care providing an inclusive approach towards meeting the project objectives. These particular methods used in the project promote regular research and innovation in the field of health care program.
2.2.3 Efficiency of Interventions
Improved Care and quality of life for people with Dementia
The project seems to be an example of a well planned, resource approach to dementia and primary care where the work starts with identifying young people being diagnosed with dementia. The care, counselling and facilitation stated from an early stage helps in providing better primary care while planning for on-going support when these young patients turn into older dementia patients. A timely diagnosis and on-going management of dementia based on individual concerns and issues makes the program effective and efficient in offering primary care to people with dementia across Australia.
As the project focus on the objective of developing more dementia friendly societies specifically in some particular communities, it is necessary that efforts be made to ensure social inclusiveness of people with dementia from different communities and languages. Currently, the project fails to support the people from different cultures in a proportionate manner. There is no special consideration for defining strategies directed at people with different cultures and a uniform approach to dementia care and knowledge transfer is followed making the existing service system poorly planned to achieve this objective.
The identification of disease and education and professional support should reach people who speak LOTE (language other than English) at home and there is little effort to improve care for such people under the service system. The only initiative in this regard is creating awareness through radio programs that may not be sufficient to meet the growing need of culture-based care for people with dementia.
Dementia Behaviour Management Advisory Service (DBMAS)
The foundation supports DBMAS project that helps in translating the acquired knowledge into action through he availability of advice to family carers and to the community and residential service providers.
Training study centres for Dementia
The program provides various courses and training to care givers in order achieve the objective of improving the overall care of people with dementia. It is the Australian government that act as the major funding body for the project and supports the continuation of the training study centres. However, these centres lack a collaborative approach where a more project specific on going funding should be added to instigate long-term systemic change. The current status of program reports moderate amount of success by providing some better professional opportunities to health care professionals. However, the need is to focus on link the project and University-led centres in a close manner thereby strengthening the work undertaken. Such an approach is lacking in the National Dementia project hampering the transfer and translation of adequate knowledge. There is a lack of initiative for developing pathways outside the tertiary sector that is necessary for the future development of health care professionals and improving the overall dementia care.
2.2.4 Making people aware of their rights
A key objective of the project is to make people with dementia aware of their rights and their role in providing suggestions and input while caregivers design their care strategies, therapies and interventions. However, there is no evidence of empowering the target communities and language groups to become self-reliant in providing dementia care. There is a lack of specific interventions to build sustainability, enhance partnerships with different communities helping them to ensure early detection of dementia among youth of the communities. This is an important element in any primary health program as early detection is the key to better care and reducing number of patients with the same ailment in future (Brown and Cowart, 2018 and Jolley et al., 2007). Additionally, different communicates have different cultures, language, different meaning of stigma and required support in terms of communication and strategies. Such needs of communities are not addressed under the National Dementia project that can help in reducing social stigma and providing support for families as well as carers.
2.2.5 Ethical Principles
At the level of ethical principles of good practice, the National Dementia project does not follow any code of conduct to govern the relationship between the sponsors and researchers. There is no evidence of privately financed economics and therefore the evaluation at this level is not possible under the current evaluation plan.
Considering the five strategies of the Ottawa Charter, the current project is focused on creating supportive environment for dementia patients and strengthening community action. The strategies under the project help in developing personal skills but fail in preventing illness and re-orienting health care services related to dementia. It also has least focus on building healthy public policy related with care for patients with dementia (Better Health Channel, 2010).
3. Conclusion
As in case of any national level plan, the National Dementia project talks of increasing the awareness and reducing stigma among communities and the Australian society as a whole. This comprise of identifying the possible gaps between the knowledge about dementia and the understanding that is required to ensure a better living of people with the issues associated with dementia. However, every project needs a collaborative approach where caregivers, patients, families as well as other fields like physiotherapy and alternate therapies, counselling and facilitations should work towards increasing awareness as well as meeting individual needs and expectations based on community background, culture, values and beliefs. The current evaluated project has remained successful in meeting a majority of requirements and expectations in improving overall well being of people with dementia. It has the strategies to work along with young people who are newly diagnosed with dementia and identify individual level strategies through increased communication and confidential meetings.
The project also focus on identifying and meeting the needs of caregivers where the focus is on assisting them in handling the issues of stress, behavioural change and balancing work-life to meet their personal and professional goals. It also provides the opportunity to caregivers to discuss their experience with each other and explore innovative therapies and strategies to meet the needs of dementia patients. However, there is a need to improve the strategies of identifying and reducing the incidence of youth dementia to avoid complexities in later stages of life. An early identification strategy is required to ensure reduce the stigma as well as improve well being of young patients as well helping them live with dementia in a better way when they grow old (Luscombe et al., 2008 and Chaston et al., 2004).
Furthermore, at several instances the evaluation draws attention towards the need of improving the collaboration and coordination among various elements and stakeholders involved in national Dementia project. This can be achieved through an action-oriented approach driven by consumer perspective where the translation of knowledge is taken as the key to identify the complex elements related with dementia. A detailed knowledge of interlinked factors and elements will help in improving the overall service initiative by providing community level care depending upon individual community-based needs.
Appendix 1: Project Logic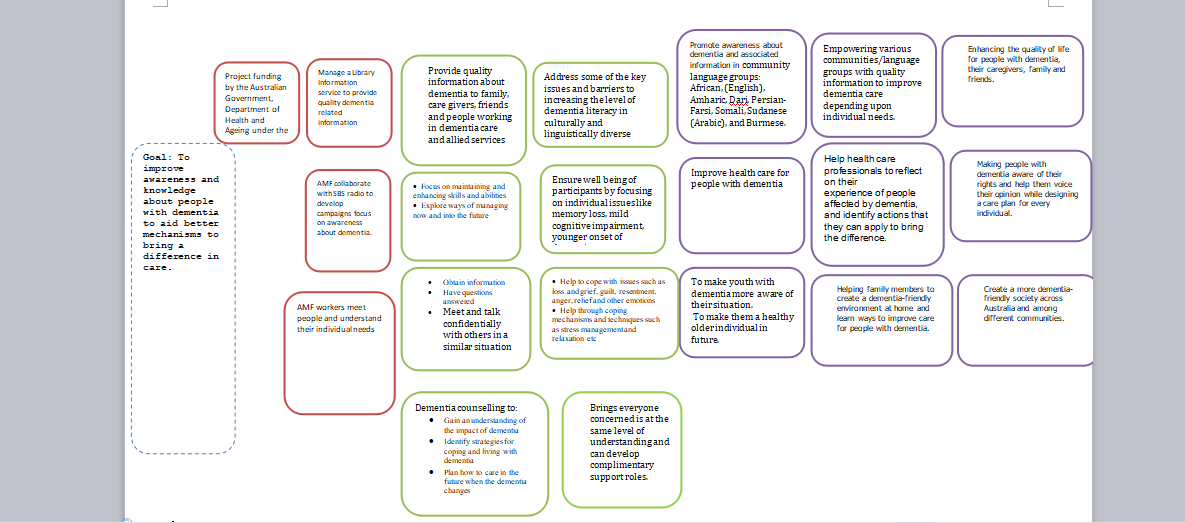 Appendix 2: Evaluation Plan
Objective




Strategies




Process Indicators




Data Collection Methods




Outcome




Data Collection Method




Objective 1:




To improve awareness about dementia and care




Care givers access library resources to access quality information about dementia.




Caregivers obtain detailed information on individual-basis.




Focus on individual issues like memory loss, younger onset of dementia and mild cognitive impairment




Care givers engage with dementia patients in planning phase of strategies




Appropriateness to Ottawa strategies on 3 levels.




Document Review




Nature and number of programs implemented to reach a wide range of people through radio.




Evidence of sustainability in the form of government funding




Document Review




Objective 2:




To ensure overall wellbeing of patients with dementia, their families and caregivers




Continuous focus on improving skills and knowledge of caregivers




Identify innovative strategies to manage health of dementia patients




Regular discussions among care provider groups to share experiences, skills and knowledge




Care givers engage with each other to explore new ways of providing overall care




Number of forums planned and delivered




Document Review




Evidence of various services directed at wellbeing of caregivers.




Evidence of various services directed at collaborative approach with providing voice to dementia patients in designing care strategies




Evidence of family support programs where focus is on developing more dementia friendly family environment




Document Review




Objective 3:




To create and maintain more dementia-friendly communities and society







Bring all stakeholders at same level of understanding




Focused on developing complimentary support roles




Engaging care givers and young dementia patients




Target new cases of dementia among youth




Suitability of proposed activities to improve mental and physical health




Document Review




Various activities designed to follow a collaborative approach




Various activities focused on helping different communities with different languages to reduce stigma associated with dementia




Document Review