Answer :
MARKETING PRINCIPLES
Introduction:
The process of marketing is present in every business organisation whether it is a multinational organisational or small business enterprise. As found out by Kotler et al. (2015), marketing is the process or activity that intends to create, communicate and deliver products or services having value for customers, business partners and the society in particular. However, the concept of marketing has changed little bit from making a sell to the satisfaction of customer needs. The current assignment therefore, focuses on identifying the various elements of marketing and marketing environment along with analysis of four P's of marketing mix to the 7 P's of marketing. It also focuses on understanding the different between international marketing and domestic marketing in the context of business to business scenario rather than business to consumers' scenario.
Task 1:
1.1 Explaining the various elements of the marketing process:
The marketing process seems to a very short and crispy process though includes a long term process that includes four elements as shown in the below figure:
Figure 1: The different elements of the marketing process
(Source:Hollensen, 2015, p.145)
The first step is scanning of the operating business environment. According to Hollensen(2015), it includes identifying the political, technological, social, economical and the competitive environment as well as identification of internal strengths and weakness. The second step is the development of marketing strategy based on the situation or environmental analysis. Foxall(2014) found 4 different strategies that can be implemented based on the existing market and the current market.
Thus, in a new market, the company can go with a market development strategy or diversification that enables it to gain competitive advantage. On the other hand, in the existing market, it can go with market penetration or new product development that will work as the tool of gaining competitive advantage. The third step is marketing mix decisions. Belch and Belch (2016) remarked that due to the changing nature of consumers, the traditional Four P's method of marketing mix has extended to 7 P's which after the implementation process helps in gaining competitive advantage. However, Armstrong et al. (2014) argued that it is the price, product, place and promotion that help in properly achieving the business strategy developed as other three elements like process, physical evidence and people works as supportive elements. The last step is the marketing process is that of the implementation of the strategy which if gains success retained the organisation.
1.2 Evaluating the benefits and costs of marketing orientation in an organisation:
As per the current scenario, car makers initially used hard sell for convincing consumers to buy a car. However, as time and consumer behaviour has changed, the concept of hard sell has become obsolete as marketing concepts and methods has taken their place. It has also influenced, Land Rover, one of best SUV making company in the world. As a sophisticated and luxury car making company, it has overcome the hard selling concept and comes with modern marketing tactics like TV advertising, event advertising and the new social media tools. However, according to Malhotra et al. (2013), even though the new methods are unlikely to dissatisfy consumers, they are quite costly though comes with long term benefits for a company. According to Akaka et al. (2013), being marketing orientation, can be effective for a company not only to serve on the needs of employees, but also to fulfil the needs timely. It helps in satisfying the customers and makes them bound to come back for next purchase. Kumar et al. (2011) explained that marketing orientation is able to bring constant improvement in organisational procedures and process due to the development of an experimental culture within the organisation. However, Kumar et al. (2011) also identified that due to lack of proper technological tools and strong market intelligence, a manager might not be able to make effective use of the marketing orientation for gaining competitive advantage. Further, marketing includes advertising as its core which requires huge financial investment, especially in TV and event advertisements. Land Rover can also gain these benefits by bearing the cost of marketing orientation.
Task 2:
2.1 Macro and micro environmental factors influencing marketing decisions:
Environmental factors can be divided into two categories-macro and micro environmental factors. This can be analysed with the help of PESTLE, Porter's five forces and SWOT analysis. PESTLE analysis is about identifying and analysis the operating business environment whereas SWOT is about identifying the internal strengths and weakness and external threats and opportunities. According to Baranenko et al. (2014), macro environmental factors like as political and economical factors influence marketing decisions. For example, if the political environment is stable and economy is well developed like as UK, marketing strategy is different than that of in a less developed economy or disturbed political environment. Technology also works as a macro environmental factor. For example, as UK is a well improvised country where latest technologies are used for business purposes, it helps making decision whether digital marketing or the traditional offline method will be used for marketing purposes. Social environment, for example, if consumers intend to buy designer clothes helps companies to fulfil this requirement by introducing new products.
Thus, the PESTLE factors shows the external threats and opportunities. The below table shows the SWOT of ZARA
High quality products

Low price

Exclusive products

Good relation with the consumers and suppliers

High competition

Unable to meet with overall consumer requirements




To gain the entire UK market

To increase the market share

Rivalry is high and fierce

Supplier relation is not proper
Pansiri and Temtime(2016) identified the importance of micro, especially the internal core competencies as major drivers in making marketing decisions. For example, if Zara does not have the potentiality of good human resource or high quality raw material suppliers, it might not be possible to fulfil the demand of value for money clothes of customers. The porters' five forces are able to show the importance of micro factors.
Figure 2: Porter's Five Forces
(Source:Pansiri and Temtime, 2016, p.149)
As seen from the above figure, consumer bargaining power, supplier bargaining power, market rivalry, threat of new entrants and substitutes helps in determining the marketing strategies for a company like Zara. For example, as competition in the UK, cloth retailing market is high, bargaining power of consumers and suppliers are moderate to high. Therefore, Zara would need to make the marketing strategy, specially price and product and promotional strategy in such a manner that it can provide competitive edge to the company. As marketing rivalry is high, both bargaining power and supplier power is high which also influence on the marketing decisions. Further, Zara may also face threat from new entrants keeping in mind the cloth industry where new entry is easier. On the other hand, the threat of substitutes is low as clothes are necessary for people on everyday basis. Thus, it can be said that both macro and micro environmental factors influence marketing decisions, especially the selection of marketing strategy and marketing mixes.
2.2 Segmentation criteria that can be used for products in different markets:
There are four types of segmentation criteria-psychographic, geographic, demographic and behavioural segmentation. However, Schlegelmilch (2016) argued that as characteristics of different markets and products are different, each of the segmentation criteria can be applied as per the market situation. For example, for a multinational company like Apple, geographic segmentation criteria are effective for making the marketing decisions. Geographic segmentation can be done in a domestic market based on age, gender and population. For example, Zara can divide the entire UK market based on the population in each area and thereby can initiate the marketing mixes for attracting consumers and fulfilling their requirements. Diamantopoulos et al. (2014) remarked that nature and lifestyle of different regions are different in nature and therefore, only going with geographic segmentation might result negative. However, applying psychographic segmentation can be effective based on the life style choices of people. Zara as a fashion cloth company, psychographic segmentation can be used by identifying the psychology of UK people. However, Solomon (2014) argued for behavioural segmentation for every market as it is based on consumer behaviour, their purchasing intention and knowledge of products. It not only helps in the identification of actual needs of consumers, but also helps in developing strategy that can meet with the requirements. Therefore, it can be said that whereas psychographic segmentation might help the company to identify and locate the psychology, behavioural segmentation would be more effective for the company as Zara would be able to meet with all the requirements of consumers by identifying their requirements.
2.3 Targeting strategy for selected products:
The product selected for targeting is that of clothing product of Zara. According to Jha et al. (2016), targeting strategy depends on the segmentation of a market. As Zara deals mostly in fashionable clothes, it can go with undifferentiated targeting strategy. However, Kotler et al. (2015) argued that sending the same promotional message to everyone cannot be effective as lifestyle choices, product knowledge, satisfaction criteria and social status of people are different. Therefore, by going with differentiated strategies that intends to focus on different market segment through different promotional strategies might be effective. Differentiation strategy is applied when a company wants to target different target segments. Zara has fashionable products which are not meant for everyone. However, there are social changes where the demand for new, exclusive and fashionable products has increased. Therefore, Zara can go with differentiation strategy. However, it is a matter of fact that differentiated strategy has increased cost of promotion. Further, keeping in mind the nature of the product that is fashionable clothes; concentrated targeting that can focus on the segmented group that intends to buy fashionable products can be effective in this scenario. Another reason for going with concentrated strategy is that due to fashionable products which are made from high quality raw materials, the price for the products are in the premium range and therefore, concentrated targeting strategy would be feasible.
2.4 Demonstrating the ways by which buyer behaviour affects marketing activities in different marketing situations:
Buyers are the main drivers of marketing activities within an organisation. As identified by East et al. (2013), in some cases, consumers are highly involved and lowly involved with organisations and in some other cases, consumes are lowly involved, but has a number of substitutes to buy from. Further, Solomon (2014) pointed out that as consumers go through a five stage process for making their buying decisions, organisations have to make marketing activities that can influence their behaviour during the decision making stages.
Figure 3: Consumer buying decision making process
(Source: Solomon, 2014, p.225)
As seen from the above figure, the very first step of consumer decision making process is to identify their requirements which lead the consumers to search for information and compare it to alternatives. Thus, businesses need to position their product in such a way that it seems providing the best benefit to them so that consumers can make their buying decision that is the action of buying. As Zara provides fashionable products, it needs to develop and provide high quality products to consumers along the making of aggressive marketing exercise. Thus, whenever consumers will identify their need, the name of Zara will be in the first place whereas after information search and alternative selection, the buying decision would be made for Zara. However, repeat purchase for Zara would be based on the post purchase evaluation which also ignites the requirement for high quality products and services from Zara. Thus, it can be said that buying decision making behaviour influence the marketers to make their marketing decisions so that they can attract the customers.
2.5 New positioning strategy for a selected product:
The fashionable products of Zara can be positioned as high quality moderate pricing tactic. The main reason is that fashionable products are costly though high priced products might not be able to attract the average buyer. In this context, by using high quality, moderate pricing positioning strategy, it can be able to compete with the competitors as well as can be able to fulfil value for money product requirement of consumers.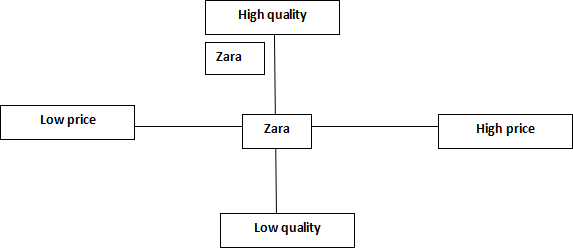 Figure 4: Product positioning map for fashionable clothes of Zara
(Source: Self developed)
Thus, from the above figure, it is identified that Zara has taken the positioning strategy of high quality and moderate pricing that can be linked with market oriented pricing strategy based on the competition. The main plus point for Zara is that of its unmatched quality whereas the market oriented pricing would be helpful for Zara in gaining competitive advantage from other competitors in the market.
It is identified that in premium products, consumer focus is not towards price, but towards quality. Failing in providing high quality products might be catastrophic for Zara. Therefore, the current positioning strategy which is high quality, moderate pricing would be able to overrun other competitors whereas will be able to provide the company with competitive edge.
Task 3:
3.1 Explaining the ways products are developed for sustaining competitive advantage:
Retail banking has become as competitive as that of other retail business which has initiated the importance of including marketing mix for gaining competitive advantage. According to Fan et al. (2015), products need to be developed in such way that at the very first extent, it can satisfy the perception of the customers and then their requirements at large. The main concept is the benefit to consumers by providing them with value for money products. However, Barghi and Kazemi (2013) has come with the point of view that new product development is the main key to sustain competitive advantage as consumer requirements change over time. In a new market, market development and in the existing market, new product development can help a firm to sustain the competitive advantage. Ansoff Matrix provides a clear view regarding product development or market developed.
Figure 5: Ansoff Matrix
(Source: Barghi and Kazemi, 2013, p.201)
As seen from the above figure, in an existing marketing, new product development or marketing penetration strategy works for gaining competitive advantage whereas in a new market, marketing development and product diversification strategy helps in gaining competitive advantage. For example, in the banking sector, retail banks are coming with new online services that is not helping the customers, but also helping the customers to fulfil their requirements. Therefore, in HSBC Holdings, new products that provide benefits to consumers can be developed for gaining sustainable competitive advantage. Further, market penetration by using a number of promotional marketing strategies can be used for gaining competitive advantage. For example, if the banking company uses aggressive marketing campaigns with all the available marketing channels, it might be possible for the firm to focus to create product awareness to such a level that whenever consumers think about retail banking, the name of the current bank will come in mind of the consumers which will help in improving the performance of the firm. Thus, market penetration would also be helpful in improving performance and gaining competitive advantage.
3.2 Explaining the ways by which distribution is arranged to provide customer convenience:
Distribution or place is an important element of marketing mix. Rossi (2014) remarked that in order to provide customer convenience, selection of distributor channel or retail stores needs to in maximum quantity. In the banking sector, branches of banks in every locality can be a way for providing customer convenience. Pavlou and Stewart (2015) remarked that in the current technological world, apart from physical existence, digital existence can be another away by which marketers can provide customer convenience. For example, in HSBC Holdings, by making a website page or through dedicated smart phone app, consumer convenience regarding a service can be achieved. With the help of the smart phone app, the consumers can be able to get all the services without going to the bank branches. Therefore, in the current modern world, both physical distribution management and online distribution management can work as a tool for gaining competitive advantage in a competitive market by HSBC Holdings. The company therefore, can establish new branches within different parts of UK whereas new smart phone apps can be developed for providing customer convenience.
Further, as far as HSBC Holdings is concerned, it can be said that the company will require to increase the number of branches whereas there can be mobile banking facilities so that consumers can get assistance regarding their queries from the mobile banks. Thus, by amalgamating physical and mobile stores along with the digital stores, the company would be able to provide customer convenience. On the other hand, in county areas where digital infusion is low, use of customer support centres are effective in providing customer convenience.
3.3 Explaining the ways by which prices tend to reflect objectives and market conditions of a company:
Price according to Fan (2015) is the main determinants of consumer attraction. However, Barghi and Kazemi(2013) pointed out that the pricing mechanism is also the reflection of the current market situation of a company. There are different types of price fixing strategies like as skimming pricing, competitor based pricing. In skimming pricing, a brand fixes the price of a product higher during the introductory phase and lowers the price gradually over time when new competitors come in the market. On the other hand, psychology pricing refers to the price mechanisms where firm try to penetrate the market based on emotion rather than logic and thereby urges consumers to buy products based on emotional attachment. In a competitor based pricing, prices of products goes higher or lower based on the competition present in the market. This price mechanism reflects whether a firm has a high market share or want to gain competitive advantage based on its core competencies. HSBC Holdings has a competitor based pricing which means that the company has good image and good market share in the UK retail banking market. It provides the company the choice to go with two strategies-cost leadership and product differentiation where the price mechanism is the main factor to drive in or away customers.
For example, if a bank is going with cost leadership strategy that is providing services in the cheapest price available, it can be assumed that the brand is trying to attract the middle class and lower middle class segment. It thus reflects the marketing strategy. On the other hand, if a brand goes with high price, high quality strategy, it can be determined that the brand has a good presence in the market and has eyed to target the upper middle class segment. Further, pricing mechanisms like consumer centric pricing can be identified as the process to attract the average buyers as the company is growing in a market. Kotler et al. (2015) remarked that pricing not only determines the objectives or the position of brands in a market, it is also the reflection of the presence of competition in a market. For instance, if a market is highly competitive, prices are obvious to be lower whereas in a monopoly market, prices are higher. Therefore, it can be said that price reflects the market condition as well as the business objectives of a firm.
3.4 Illustration of the ways by which promotional activity is integrated to achieve marketing objectives:
A marketing objective can be to earn 5% extra market share or increment in sales performance. However, according to Hollensen(2015), unless and until, consumer requirements are identified, products developed as per their requirements and they are being aware of the benefits that they will gain from buying the product, it is not possible to achieve the objectives. HSBC Holdings can use different types of promotional strategies with the help of which consumer awareness and market penetration can be created. Thus, the marketing objectives can be achieved. Promotional activities namely advertising through TV, radio, event advertising, social media and digital media advertisement helps in doing these activities, especially creating awareness among the consumers regarding the benefits of using the product. Thus, promotion works as a very important element to achieve marketing activities. The current bank as well can use advertising, especially social media to attract large consumers within limited period of time to achieve business results. HSBC Holdings can also take help of different types of promotional activities like as TV, radio, event and even social media marketing strategies in order to create awareness regarding the provided products and services. One example is that of Barclays Bank which promote the English Premier League in UK to create product awareness regarding the company.
3.5 Analysing the additional elements of extended marketing mix:
The extended elements of the marketing mix are product, price, place, promotion, process, physical evidence and people. Consumers want high quality products in low prices and therefore, in case of conducting marketing activities firms need to have high quality products and services along with consumer oriented or low or moderate pricing strategies (Pavlou and Stewart, 2015). However, it is also important to focus on providing consumer convenience for which the distribution or place of selling products needs to be near consumers. HSBC Holding needs to focus on these factors. Further, promotional activities like advertising through social media or the traditional media is required to create awareness of the benefits for using the product of the company. Pavlou and Stewart (2015) pointed out the importance of hard working and skilled human resource in the achievement of marketing objectives. If employees working are not skilled enough to provide extraordinary or at least sufficient service for customer convenience, the other marketing activities undertaken goes in vain. For example, the next element, process which is about providing convenient service is not possible without skilled human resource.
Every organisation needs to be make it sure that consumers are satisfied with the quality of products and service as well as after sales services. As far as the banking sector is concerned, the success of banks lies in providing excellent customer care service to consumers as well as the delivery of quality services. Therefore, both process and people play significant role. The last element of the extended marketing mix is physical evidence which is about the layout and designing. Even though layout and designing does not have to do anything with the banking sector, it is important to help consumers in providing them with convenience when they come in the physical branches.
Task 4:
4.1 Marketing mixes for two different segments for Vodafone UK: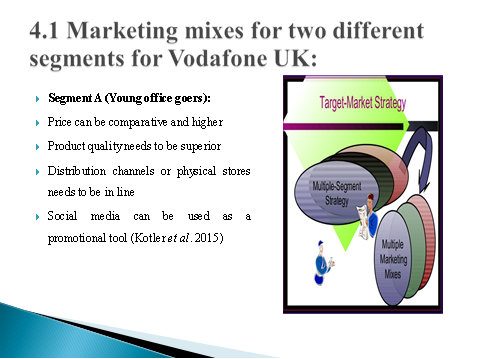 The first segment is the young generation who are in need of high speed internet. Targeting the young office goers requires improving high quality products whereas social media can be utilised as the main promotional tool for targeting this segment.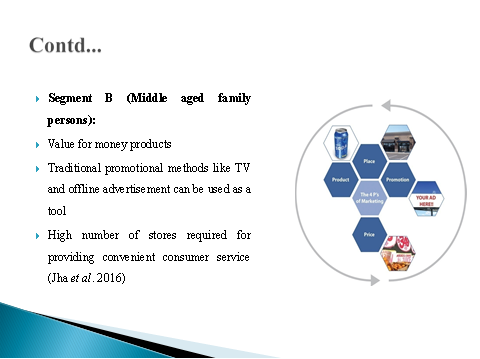 In order to target the segment B, Vodafone UK needs to come with value for money products. Further, as middle aged, preferably after 40 do not have that tendency to use social media, the traditional TV advertisement can be used as the main promotional method.
4.2 Illustrating the differences between marketing products and services to businesses compared to consumers for Vodafone UK: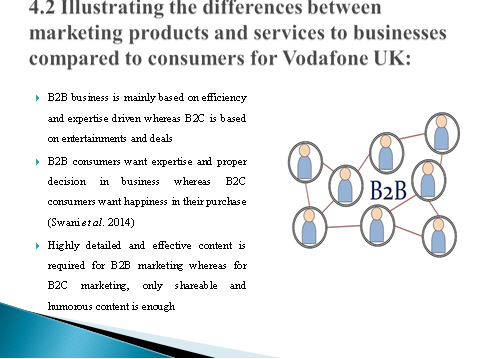 B2B marketing is about attracting customers who are running an organisation. For example, as Vodafone, UK provides broadband services, for attracting businesses that requires high speed broadband services, it will need to use enlightened content and expertise to attract them whereas for B2C consumers, cutting of price or providing extra perceivable benefit is enough which shows the true difference between the two types of the marketing.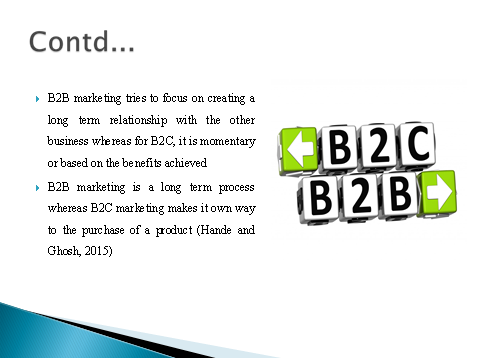 When a company tends to initiate B2B marketing, it tends to focus on creating a long term relationship with the company. Even in crisis situations, they support one another if good relationship is created. On the other hand, consumers shift to other firms when they get good deals from other companies.
4.3 How and why international marketing is different from domestic marketing for Vodafone, UK: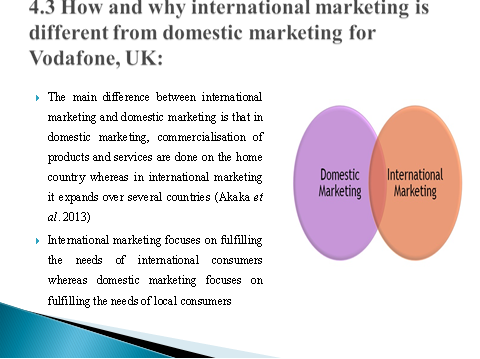 For Vodafone, UK, the main difference between international marketing and domestic marketing is that in order to expand internationally, marketing activities needs to be done over several countries for which the company might need to incur high cost.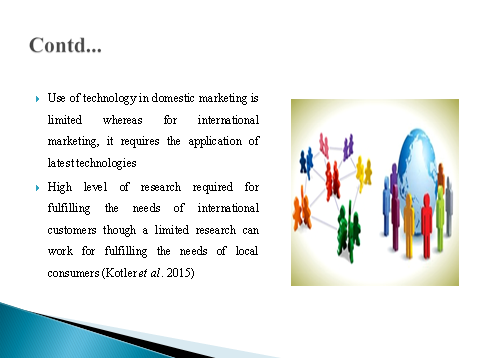 As Vodafone UK, focuses on expanding, it might require the access to latest technologies for obtaining customer information as well as to analyse it. On the other hand, a very high level of market research would be the main critical success factor for gaining success in international marketing.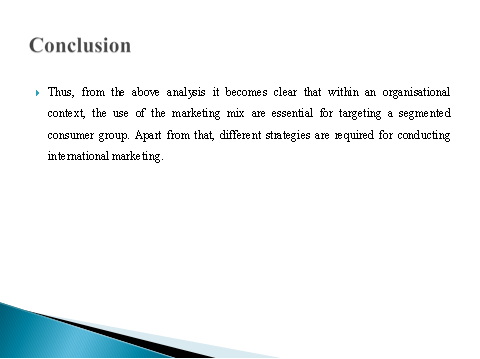 Conclusion:
Thus, from the above analysis, it becomes clear that marketing plays a very important role in the modern business scenario whether it is a car producing company, a retail firm or Telecommunication Company. The different concepts of marketing are in use in the firms for gaining competitive advantage in different market situations namely B2B and B2C. It also becomes clear that Micro and macro environmental factors only provides the insight of the current market situation, it is the duty of marketing manager to use the information for developing a powerful strategy and executing it for gaining competitive advantage from a market. The use of marketing mix elements plays a vital role in this context as well.