Environmental Epidemiology: Increasin...
Environmental epidemiology: Increasing Risk of Development of COPD Assignment 1 Answer
Answer
Environmental epidemiology – Assignment 1
Research question
Is excessive use of automobiles increasing the risk of development of COPD in children less than 5 years of age?
Search strategy
The search strategy was formed with the help of internet, peer-reviewed journals and with the help of teachers.
The search period was taken from 2014 to 2018.
The search strategy consisted of key terms like COPD, air pollution, asthma, chronic bronchitis, bronchitis, emphysema, breathlessness, dyspnoea and cardiac arrest.
Incorporation of keywords:
COPD or asthma

Air pollution and COPD

COPD and asthma

Cardiac arrest and neural damage

Dyspnoea or asthma

Bronchitis not chronic bronchitis

Wheezing or acute cough

Sinus blockage not COPD

Common cold not COPD

Lungs and heart
WHO studies show that 84 percent of the children in the world under the age of five years are in constant risk of development of COPD, because of the deteriorating global air quality. An estimated number of 600,000 children died at birth due to acute respiratory infections caused by polluted air (Lim et al., 2017). New findings from the World Health Organisation state that, pregnant women when exposed to polluted air are more likely to be involved in premature childbirth. This causes the child to be born small and have less weight than an average healthy child. The impact of air pollution includes but is not limited to neurological implications as well as the cognitive ability and also can prompt COPD as well as childhood cancer.
Contact to air pollution can lead to the development of cardiovascular diseases later in their life and can be at an increased risk of developing other chronic diseases (DeVries, Kriebel and Sama, 2017). Primary reason children have high affinity to develop illnesses due to air pollution rather than an adult is that children breathe more quickly than an average adult and hence absorb the air and the pollutants present in the air much faster.
Some key findings by WHO are:
Air pollution affects the development of neurological functions leading to adverse effects on cognitive ability and also concerning the motor ability of the children.
In the under developing countries, 98 percent of the children under the age of five either died during childbirth or developed chronic diseases such as COPD.
Children are profoundly affected by fine particulate matter of 2.5 levels, which are above the WHO guidelines for good air quality. The study was conducted by WHO on an estimated 2.5 billion children among which 630 million children were under the age of 5, and the rest were within the age group of 6 to 15 years.
The study also found that more than half the number of cause of air pollution leading diseases and deaths was caused due to vehicular infection.
Air pollution is aggravated in the countries with rapid economic expansion, increased industrialisation and increased traffic among others (Lopez-Campos, Marquez-Martin and Soriano, 2016). Vehicular emissions are of specific concerns in these countries which have the maximum impact in the deterioration of the air quality thereby impacting the respiratory health of children.
The number of vehicles in the world has increased from 37.3 million in 1997 to approximately 1 billion in 2018 that is almost 30 percent increment. The significant increase in the number of vehicles being operated in the world has left a drastic impact on the air quality of the world. As of 2017, the top most polluted countries due to vehicle emissions consist the under developing countries such as Pakistan, India, Bangladesh in Asia and other Gulf countries such as Qatar and UAE. The average concentration of the particulate matter in these countries is PM2.2, which is considerably higher than the ambient air quality index put up by WHO. The air pollution is mainly caused due to carbon emissions from cars as well as traffic.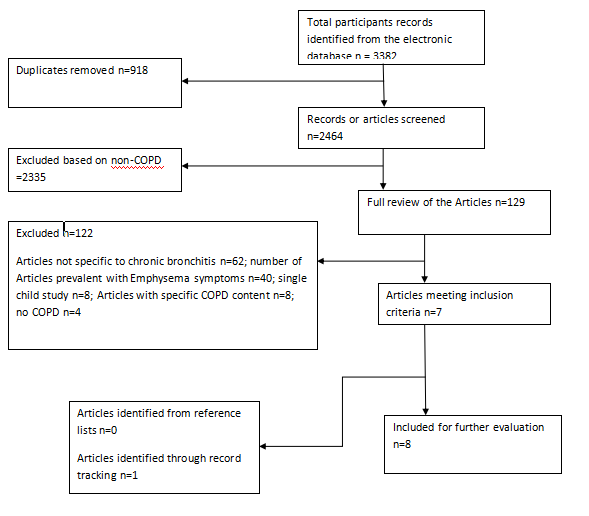 Figure: Flow chart of article selection process (PRISMA)
Summary of results of studies found
Author(s) and year

Research setting

Study design

Study population

exposure

outcome

results

Rob McConnell , Talat Islam, Ketan Shankardass, Michael Jerrett, Fred Lurmann, Frank Gilliland, Jim Gauderman, Ed Avol, Nino Künzli, Ling Yao, John Peters, and Kiros Berhane (2010)

The research was conducted near homes and schools in southern California of the USA.

Parent-reported physician diagnosis of the children. The research was based on Vehicular pollution being associated with unpleasant cardio-respiratory effects and an increase in the prevalence of COPD in children

(McConnell et al., 2010)

.

2,497 kindergarten and first-grade children

Increased Nitrogen dioxide levels are the leading factor in the development of COPD in children near homes and schools.

Vehicular pollution near homes and schools may lead to the development of COPD and Asthma in children

Increase in the risk of development of COPD with modelled vehicular pollution from roadways near schools and homes.

Escamilla-Nuñez, Albino Barraza- Maria-Consuelo Escamilla-Nuñez, Albino Barraza-Villarreal, Leticia Hernandez-Cadena, Hortensia Moreno-Macias, Matiana Ramirez-Aguilar, Juan-Jose Sienra-Monge, Marlene Cortez-Lugo, Jose-Luis Texcalac, Blanca del Rio-Navarro and Isabelle Romieu (2008)

The research was conducted in the Hospital Infantil de Mexico Federico Gómez which is one of the largest paediatric hospitals in Mexico city

(Escamilla-Nuñez et al., 2008)

.

The research was based on the assessment of primary COPD symptoms such as wheezing, coughing as well as breathing difficulty due to natural gas and diesel-fuelled vehicles.

One hundred forty-seven COPD children and 50 healthy children participated in the 22 weeks long study.

Pollution by Diesel fuelled motor vehicles was the significant factor associated with coughing and wheezing and also the use of a bronchodilator.

A significant increase of 8.8 percent and 9.1 percent were associated with the increase of 17.4 μg/m

3

in PM2.5 and 48 ppb of 0

3

levels respectively.

COPD symptoms were considerably associated in children with exposure to vehicular pollution especially diesel and natural gas fuelled vehicles.

Delfino, R. J., Chang, J., Wu, J., Ren, C., Tjoa, T., Nickerson, B., ... & Gillen, D. L. (2009)

The research was conducted in two hospitals in northern Orange County, California

(Delfino et al., 2009)

.

The research estimated the effect of nitrogen oxides and carbon monoxides pollutants leading to the development of COPD in children.

Hospital records of 2,768 children between the age of 0 to 18 years were obtained by the researchers to study the symptoms.

Recurrent exposure to carbon monoxide and nitrogen oxide and their significant ranges of effect for the development of COPD in children were studied.

The increased hazard ratio in the levels of carbon monoxide to 1.07 and nitrogen oxide to 1.10 shown significant associations of the pollutants for girls and infant in the development of COPD.

Locally generated vehicular air pollution near homes severely affects the children in the development of COPD, particularly in infants.
Biological plausibility
COPD or Common Obstuctive Pulmonary Disease is a common disease occurring in the lungs which makes the lungs hard to inhale or to exhale. There are two types of COPD; they are Chronic bronchitis and Emphysema (Van den Berge and Aalbers, 2016).
The recent information on genes and the toxicological studies provided evidence that predisposes towards the growth of COPD suggests - COPD is a complex disease caused due to the variety of compositions (Aguiar et al., 2019). The epidemiological evidence is quite convincing regarding the associations between COPD and ambient levels of air pollution due to vehicles which are prevalent to the children. The meta-analysis of the group studies found a relationship between COPD with vehicular pollution among children under the age of five years. Based on the evidence pertaining to the UK's medical committee of air pollution concluded the fact that the overall evidence is reliable with the apparent possibility that air pollution caused by vehicles might play a significant role in development of COPD in children with their homes close to busy roads (Goldizen, Sly and Knibbs, 2016).
Gaps in the literature and future research directions
The issue of vehicular pollution causing COPD in children is complex and has many questions unanswered. Firstly, the identification of the point of time, when a once healthy child becomes COPD is difficult. In epidemiological studies, the functioning sense of an incident of COPD is in terms of the episode of the first or recurring wheezing attacks over some time or the primary diagnosis of the doctor. Secondly, these descriptions are subject to alternative explanations which are mechanistic in nature. One is where the incidence of COPD is the result of exacerbations or the symptoms in children with existing medical conditions. Another important mechanistic explanation is the representation of the effects of COPD of multiple fundamental mechanisms responsible for the involvement of the underlying state of COPD (Berton et al., 2017).
Future research directions should include harmonised efforts to reduce the infant mortality rate due to COPD. The regional and national COPD relief programmes in the Netherlands, Portugal, Turkey, and Poland are significantly valuable and should be used as a basis to develop new state level as well as national level paediatric programmes. Necessary investigations should have to be made to understand the daily interactions between patient's COPD as well as their environment. There is more study required on the function of environmental factors on management of COPD in children in long-term (Zaidan, Reddy and Duarte, 2018). Research into different phenotypes of COPD and their long term impacts should be united with companion analytics as well as understanding of the effect of varying long term treatment on children such as vaccines, anti-viral treatments, as well as anti-inflammatory.
Customer Testimonials
I was in urgent need of Sample papers for my research work and when I inquired about the best place to take it from a set of teachers they pointed at ABC Assignment services and I went about signing into it. Their samples are top notch with experts who are very skillful and student friendly and has such rich content in their writings and I found it very helpful indeed and felt very useful as well.

Sam, Queensland
I keep getting caught amidst a lot of extracurricular activities that leaves me with no time to concentrate on my studies. On a friends recommendation I started using ABC Assignment Help's services. They're the best in the world with their premium assistance and originality. I owe it to them for my good grades and new accomplishments in my academic life!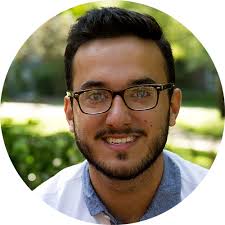 Andrew, Liverpool
I was genuinely surprised with the services provided by ABC Assignment Help! They proof-read all my assignments, following the exact same instructions provided by the university guidelines and offer one of the best writing services. Their writers are highly qualified and don't leave a single thing unnoticed. They structure every single idea of mine into a master piece!

Brian, Darwin