Linking Operant Conditioning Learning...
Linking Operant Conditioning Learning Theory with Five Fingers Facilitation Model
Answer
Part 1:
Conceptual Map: Linking Operant Conditioning Learning Theory with Five Fingers Facilitation Model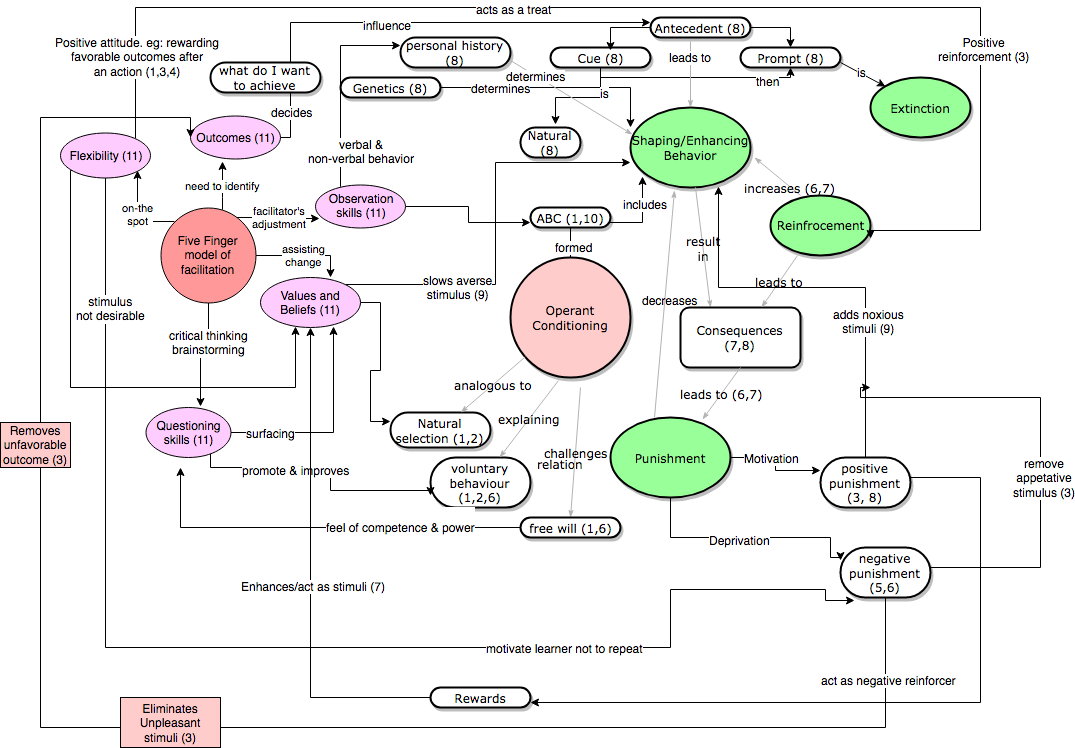 Reflection
The facilitation learning models help to find a relationship between the elements of the model and the major concepts of the concerned theory. In the current activity, the link between operant conditioning theory and five fingers facilitation model is explored to understand the way such a model can improve adult learning in an experiential manner. While working on the selection of facilitation model, I learned that there are several different models that can help improve adult learning within the classroom as well as at the workplace. These facilitation models like 'Five Fingers Facilitation' are directed at improving the leadership while allowing a focus on some of the key areas of effective facilitation (Zuieback, 2013).
The exploration of the said model helped me to improve my learning and understanding about the importance of outcomes and the way it is a key element in the facilitation of the rational and experiential outcomes. Further, I also get the knowledge about the role of facilitation process in managing challenging times through efficient questioning skills. The skill of asking appropriate and high quality questions lies in the link of questions with the expected outcomes (Zuieback, 2013). I also learned the way surfacing values and beliefs should be managed while assisting learning groups in bringing a change in their perspective and point of view. I was aware of the way beliefs and values affect the change process and results in conflicts and miscommunications. However, exploring five fingers facilitation model gave me a new direction towards managing such resistance while using questioning skills and designing appropriate processes as per the basic values of the group members helping to create a positive experience for individuals and groups.
It was working on the fourth finger concept of observation and sensory acuity where I realised the importance of non-verbal behaviours in facilitation of learning and leadership. I never considered non-verbal behaviours important and focused only on verbal communication to understand people's perception. However, while working in an organization or with a group, it is equally important to observe and interpret non-verbal behaviours of individuals to get adjusted with the group members and grasp the team outcomes (Zuieback, 2013). The role of sensory acuity is also important where facilitator or the leader need to focus on presenting the ideas, though and recommendations as well as allow the team members to come up with their own perception, creativity and ideas. Such a process when linked with operant conditioning learning theory, works as a stimulant to positive behaviour and individuals feel competent and empowered to present their view and take decisions.
Finally, the process of linking facilitation with the operant theory provide me the fresh perspective towards leadership where the need is to understand the nature of individual's behaviour along with the motivators that can help in improving the commitment and performance in the form of positive behaviour. The facilitation can come in the form of positive motivators or negative motivators that are responsible for developing the desired behavioural outcomes among individuals.
Thus, after conducting a detailed study of facilitation models, I have acquired much better understanding of the different ways and routes to support individual behaviour and motivate them towards a desired behaviour.
Customer Testimonials
ABC Assignment Help for one reason became my favorite because they don't have a very complex signing up process and it's very simple so everybody can use it. I was able to sign in without any hassle as my Company Law Assignment was due and they did it for me in a very efficient manner and I am very delighted with their service and a heartiest thanks. Emily, Sydney
I work part time to meet my expenses apart from college and I took this as a decision to not burden my parents. A while later I started feeling great amount of stress in balancing it all together and decided to seek help from ABC Assignment Help for my Commercial Law Assignment and they did my assignment for me and I am super satisfied with their work style. Thank you so much. Lawrence, Tasmania
I had a harsh week as I was extremely debilitated and every one of my assignments were getting excessively and caused me an incredible mental breakdown. A companion of mine seeing my circumstance asked me to utilize ABC Assignment encourage, their quick and efficient administrations helped me complete my Contract Law Assignment with less stress Rihana, New South Wales