Answer :
1.0 Organizational Culture
1.1 Employee Morale (800 words)
1. 1.1 Impact of fringe incentives on employee morale
Chukwudumebi and Kifordu (2018), aimed to find out the impact of fringe incentives on employee morale and productivity growth. Three theories were evaluated depending on the path and collection of data from different respondents via controlled survey questions and interview sessions. A total of fifty (50) survey questions were allocated to the company's employee groups. To test the hypothesis, the Chi-square test was used the conclusions were widely acknowledged. Findings have demonstrated that fringe benefits have a huge effect on staff morale and productivity. In support of this Power (2016) states that the number of empirical studies has demonstrated a close relationship between incentives and employee morale. Consequently Das and Moharana (2017), rewards are crucial tools which increase employee morale to perform as required and could involve a monetary form. Also, it could employ incentives forms like increased salary as well as leave bonus incentives that don't involve money such as promotions and job security.
1.1.2 Impact of workplace discipline on employee morale
Oley et al. (2019) state that workplace discipline can be viewed where worker themselves can address the absence of conduct and ensure conformity with the defined company laws. Right conduct is the object of the discipline implemented in either sector or organization. This analysis is focused on quantitative numbers or statistics. Both workers at the company are included in this study population. The outcome of this analysis indicates that job discipline and staff engagement have a direct impact on the efficiency of workers. In order to increase the efficiency of the organization, bank leaders should pay greater attention to employee morale. In contrast to this Patil et al. (2018) states that discipline is an organizational attribute which increases productivity and work engagement but is not directly linked to employee morale.
1.1.3 Impact of autonomy and empowerment
According to Bose (2018), empowerment is the encouragement and allowing of workers to take personal responsibility for their work to contribute to the achievement of the organization's goals. Often, workers have the perception that in order to do the work in the best way, they ought to work independently and allowed to be in the control of the work they are doing. In support of this McNaughtan et al. (2019) put forth that autonomy and staff empowerment gives employees authority and responsibility to act as they become the determiners of their destiny. Freedom and empowerment both increases employee morale, efficiency and effectiveness and also serve as an enhancer to staff satisfaction, work motivation and confidence in the company.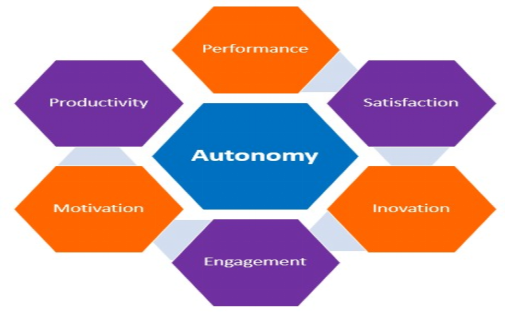 Fig: Autonomy and employee morale (Suriansyah et al., 2019)
In a study performed by Suriansyah et al. (2019) more than 50 per cent of the respondents acknowledged that much of employee morale and job motivation is primarily from the work features that offer a control sensor on the job and independency in decision making. Enhancing autonomy and freedom in the work environment could lead to a change of work experience resulting in improved performance and increases employee morale.
1.1.4 Impact of unbiased and fair treatment
Research has shown that fair treatment significantly impacts employee morale and hence, individual worker attitudes like own behaviour, engagement, satisfaction and motivation (Goswami & Pandey, 2019). Fairness outlook is related to employee morale and how individuals perceive the sharing of rewards, opportunities and process involved such as distribution and treatment of the individuals. They are important for every organization's success since they could impact the organization's long-term viability in terms of the relations between employees and employer. Thus, companies should strive to ensure that the spirit of trust is always available, along with a sense of significant satisfaction level and commitment amongst workers.
1.1.5 Impact of leadership on employee morale
According to Larasati and Martono (2020), leadership is the process of influencing people towards a specific or common goal. Similarly, Ward (2017) in her article Leadership Definition views leadership as the art of increasing employee morale for which a group of people to act towards achieving a common goal. These two authors show that leaders, therefore, must have certain traits or characteristics to get the desired actions from others resulting in enhanced employee morale which acts as the key for organizational development. It is noted that Ward (2017) focuses on "employee morale" in order for that common goal to be achieved. She believes that leadership captures the essentials of being able to inspire others and for employee morale.
Also, Bell and Raj (2016) state that having leadership skills also enable confined and improves morale. The study of 365 participants demonstrates that having leadership skills is linked with having strong morale. However, leadership does not always directly link to employee morale as there exist a number of different leadership styles, and some may actually do the opposite. Richards (2017) identifies the two most contrasting styles as autocratic and democratic, where each type has differing features. Under the autocratic style, the leader makes all decisions, stipulates the work and closely supervises, while the employee has little or no say. On the other hand, a democratic leader ensures two-way communication, workers' participation and delegates' responsibility and hence increase employee morale.
1.2. Employee Engagement (800 words)
1.2.1 Influence of performance feedback on employee engagement
Employee engagement may be defined as a high level of a worker´s commitment or involvement in the organization and job satisfaction. According to a study by Al Fadjar et al. (2016), workers who get helpful and continuous feedback from their supervisors not only perform exceptionally but are also engaged, motivated, and committed in their work. A research carried out by Zenger Folkman training firm to investigate the feedback practices of more than 10,000 managers across the globe through online surveys, discovered that managers who ranked top in giving feedback had workers who were engaged three times more than workers whose managers provided feedback less often or no feedback at all (Xing et al., 2019). Additionally, the study findings indicated that managers who provided feedback less often or failed to give feedback altogether had workers who were thinking of quitting or who were searching for other job opportunities. As suggested by Sexton et al. (2018), the study concluded that workers are far much satisfied to get more engaged in their work, stay in the organization longer, and develop a healthy relationship with their supervisors if their manager gives helpful feedback concerning their performance at the workplace.
1.2.2 Impact of performance reward on employee engagement
Although primarily employee engagement efforts are advanced through team-building initiatives, employee opinion surveys as well as through non-monetary reward systems, egalitarian reward systems have been found to influence employee engagement, commitment, cooperation and satisfaction (Mesepy, 2016). A study was conducted by Jauhar et al. (2017), whereby a sample of more than 6,000 rewards to professionals from different companies participated in the research investigating the impact of rewards on employee engagement. The findings found that about 44 per cent of the companies explicitly included employee engagement in their strategic plans, while 30 per cent failed to include it. In the study, participants were required to identify the specific performance reward system they thought would influence employee engagement. As indicated by the study findings, 40 per cent of the participants believed that base salary, base salary raise, and benefits had a strong or very high influence on employee engagement (Kanwal & Syed, 2017). Further, the findings indicated that short-term reward systems or incentives had even a more significant effect on employee engagement. Also, the study found out that the influence intangible reward systems had on employee engagement was viewed as very high. However, non-monetary reward systems were perceived as having the least impact on employee engagement (Kanwal & Syed, 2017).
According to Singh (2016), several studies have been conducted to investigate the influence of performance rewards on employee engagement. Consequently, employee engagement affects organizational performance positively. Various study findings have affirmed that efforts to engage workers through reward programs have influenced customer relationships, innovation, and led to the development of competitive advantage (Mesepy, 2016). Alongside the positive organizational performance results, higher levels of employee engagement have also been proved to lead to internal business efficiencies. Study participants have indicated that efforts to engage workers using reward programs have, for example, resulted in minimal employee turnover rates (Kanwal & Syed, 2017). According to Singh (2016), employee turnover is expensive, for instance, in an organization with over 2,000 workers and a yearly turnover rate of 5%, it translates to close to $4 million in turnover expenses and costs. Additionally, studies have shown that engagement-based reward systems can as well help establish more conducive and positive workplace cultures and environment that fosters teamwork and cooperation that can translate into high performance.
1.2.3 Influence of performance target setting on employee engagement
As demonstrated by Jeske et al. (2017) employee engagement is crucial to a worker´s commitment and dedication to his/her work and an organization´s ability to retain that worker. An organization can enhance employee engagement by assisting workers to set job-related performance targets or goals. Shoaib and Kohli (2017) stated that workers are more likely to stay with an organization if they know the organization´s expectations of them and the contribution that their performance targets make to the organization´s strategic plans. Nasir et al. (2017) add that managers arrange meetings with workers to oversee how employees are faring, make adjustments to the targets as required, and provide necessary feedback. SMART goal setting model enhances employee engagement by offering workers with a sense of recognition and accomplishment when the target they set is realized (Mesepy, 2016).
According to a study by Nasir et al., (2017), the process of setting performance targets, working towards the realization of those targets, and the achievement of the goals enhance employee engagement through making the worker feel like a valuable asset of the company. Jeske et al. (2017) also noted that managers should help their workers in setting their performance targets that are related directly to the objectives of the organization. For instance, if an organization establishes a goal to raise gross organizational revenue by 10% in a specific financial year, each sales worker should set targets to boost their sales income by more than 10% as compared to the previous year. As suggested by Shoaib and Kohli (2017), the clearer the link between employee targets and the organization's goals, the better the workers will understand how their work engagement would impact the organization.
1.3. Work Motivation (800 words)
Different researchers established that motivation comprises two significant elements – extrinsic and intrinsic motivators. According to Olafsen et al. (2018), self-determination theory, extrinsic and intrinsic motivations are the two forms of motivation, which affect employee performance in a firm. Such an argument was backed by Ferraro et al. (2020), who claims that two main kinds of motivation could be categorized as extrinsic and intrinsic motivation. Therefore, it is perceived that motivation is a key element when it comes to obtaining the best from workers, so, the manager's ought to understand the impact of the two motivators and the mechanism involved in them; the relationship between internal and external motivators.

Fig: workplace motivators (Shirazi et al., 2017)
1.3.1 Extrinsic factors affecting motivation
Extrinsic motivation denotes tangible rewards like work environment, job security, work conditions, personal life, co-workers, fringe benefits, pay, and supervision. The work itself cannot satisfy the extrinsic motivation, that is, the job done by an individual is only a tool for meeting the individual's needs via the payment from the work done. According to Shirazi et al. (2017), conducted a qualitative study using extrinsic motivation calls for an instrumentality between the activity and specific separable impacts like verbal or tangible rewards, and also satisfaction is not a result of the event in place but instead the extrinsic effects of the action. Nguyen (2019) supported this claim, positing that the attitude of individual worker attitudes towards work is influenced by the estimated benefits and resultant values from the activity.
Sudiardhita et al. (2018), conducted a technical and quantitative study and 346 participants were included. Results show that money is the most important motivational factor for enhancing the extrinsic motivating factor. Recent studies have indicated that monetary compensations and remuneration are the most crucial inducement in an individual's decision for accepting or rejecting a job offer. It can attract, retain, and motivate people towards higher performance (Sudiardhita et al. 2018). According to Hu and Hirsh (2017) and their scientific management associate, money is the essential element in driving the employees to achieve higher productivity. Reward effects work motivation and encourage employee performance.
One of the most critical factors considered by both companies and employees is job security, mainly because of economic reasons. Job security is among the most fundamental aspects which drive workforce motivation and performance (Parrung et al., 2018). Studies have revealed that worldwide, around 75 per cent of the workers preferred keeping their jobs in comparison to other factors in their list of preference (Lee & Kuo, 2019). The primary desire of each worker is to keep their jobs for the longest time possible. Thus, it is understood that job security is a determining factor and significant aspect which influences a worker's decision on whether to work in an organization or not.
Empirical studies show the presence of a positive relationship between employee performance and job security as a motivational element. Job security significantly affects the performance of an employee; working motivation is directly proportional to job security. According to Hur and Perry (2020), job security results in a high motivation among workers as well as influencing other motivation levels.
1.3.2 Intrinsic factors influencing motivation
The intrinsic motivation concept has a close link to the intrinsic value. Nyambegera and Gicheru (2016) state that intrinsic motivation is motivation which is boosted by a commitment to job, interest and personal enjoyment. Intrinsic motivation refers to the performing of action for its innate satisfaction instead of the specific different outcome. Once intrinsically motivated, an individual is driven to act for the challenge or fun involved instead of external reward, pressures or products. Further, once inherently motivated, the person will strive to meet three inherent psychological needs including competence and relatedness (Ommering et al., 2018).
According to Muckaden and Pandya (2016), personal growth opportunities influence worker motivation substantially. Quality and range of worker development and training present at the place of work are essential for worker motivation. Further, the authors used semi-structured interviews to research the above factors, in-depth interviews were performed. Themes were identified as well as the data were processed using coding. Results show that staff view of opportunities for personal development and growth is among the critical determinants in employee motivation. Most workers fight to grow their carries and avoid stagnation. Quantum Workplace conducted an empirical survey in which existing workers listed the absence of development opportunities as the second most significant reason for quitting (Ezenwakwelu, 2017). On the contrary, they listed career growth opportunities as one of the greatest motivational drivers. The study implied that organizations which provide opportunities for staff development have a likelihood of having high rates of retention whereas the absence of staff development prospects is bound to cause worker turnover (Jordan et al., 2018).