Answer :
INTRODUCTION
The CNAQ software company is planning to move into a new office building. Where they require a new server room installation plan, which is a twenty feet square room. The new network is installed with all the new equipment's i.e. servers, computers, cables and other networking devices. The CNAQ having 280 users in the office and divided into seven departments and accessing server services from the server.
This report describes the physical and logical diagram of the network. The physical diagram describes about all the connected devices and connectivity architecture. It also has the design layout description with justification of devices used in the network designing process. Both the requirement and amount of infrastructure is described in detail.
LOGICAL DIAGRAM
A logical diagram is presented here with a detailed floor plan –
The above figure represents the complete floor diagram of CNAQ software company. Here, a server room is established which is having the new server installed there. Rest of floor is divided into seven departments, reception and entry area. All the end user devices are installed in their respective departments and are connected with the server via ethernet cables.
PHYSICAL DIAGRAM
A physical diagram of the network is represented here –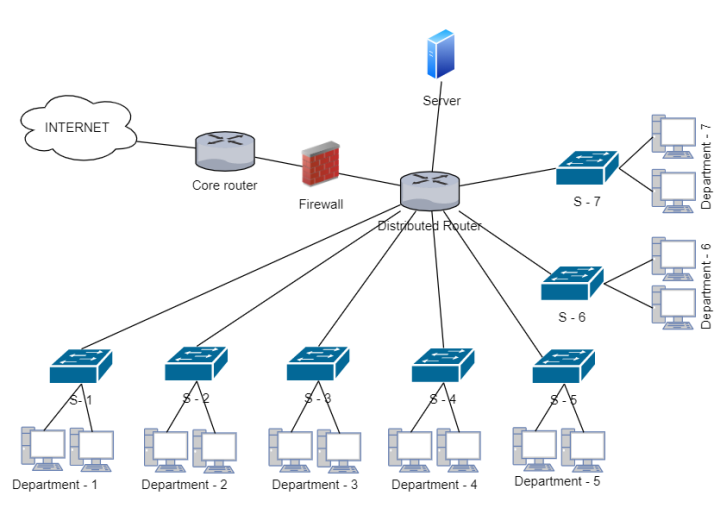 The above diagram is a typical representation of the physical placement of networking devices in the company area. The network is built with Cisco's three-layer architecture of networking. This architecture has three layers where devices are placed. The core layer consists of a Core router. This core router connects internal network to the ISP to provide internet services. The second layer consists of the Distributed router that connects switches to the core router. To provide security to the configured network, a firewall is installed after the core router. The third layer consists of a number of access switches. All the end user devices are connected by these switches and can access external network or ISP services. Each department is having its own 48 ports switch to connect an ethernet device to the network. [1] Academy, C. (2019).
REQUIREMENTS AND AMOUNT OF INFRASTRUCTURE
A list of required networking devices is here –
Router – A router is a layer three, network layer, device of OSI model. The router connects two or more different network subnets with each other. This feature of router is called routing. When multiple routers are used, they maintain a route list that called routing table. Basically, two types of routing are performed by a router as, dynamic and static routing. In static routing, a default path for the forwarding packet is defined and the packet is by default deliver to that destination. In dynamic routing, the forwarding packet is delivered to the destination using routing protocols. Router is used in this configuration to connect all the networked devices and make them communicate with each other with the configured routing protocols.

[2] Services, P. and Routers, B. (2019).

Switches – This is a layer two, data link layer, device that works on ethernet network. It is more capable than a hub and less capable of a router. A switch is typically having 24 or 48 ethernet ports to connect devices. End user devices are connected by a switch such as PCs, printers etc. Also, we can install a series of switches to connect large number of devices. Switch can control network traffic on the connected ports. Switches are used in our network to provide basic ethernet connectivity to the end devices.

[3] Support, P. and Switches, C. (2019).

Cable – Internal network is working on ethernet connectivity that is provided by the CAT6 cables. These cables are of twisted pair type and used in gigabit ethernet connections. CAT6 cables has four pair of wires that support the bandwidth of 250MHz and data transfer speed of up to 10 Gbps for the distance of 100 meters.

[4] Lifewire. (2019).

Firewall – The firewall is used to provide security in the network. It monitors and filter the incoming and outgoing traffic. It works as a filter in between internal and external network. When a packet enters into the trusted internal network, firewall monitors the packet and the packet is permitted or denied according to the trustworthiness of the packet. If a packet is found to be suspicious, firewall blocks that packet from entering the internal trusted network. There are two types of firewall i.e. software based and hardware based that protects the sensitive information or the complete network from being attack.

[5] Services, P. Sheets, D. and Literature, D. (2019).

IDS / IPS device – Intrusion prevention and detection devices are useful to monitor network activities. This device monitor and analyze possible network incidents, security violation and restrict unwanted users. It first detects a network to security breaches and then prevent that detected threats. This device is used in our scenario to maintain security of the network.

[6] Juniper.net. (2019).

Servers – These are the computers with high configurations that are running windows server 2016. These servers have configured with IIS (Internet Information Service) service role to provide web server service to the internal and external users. Database servers are also there to manage the access of database.

DHCP, DNS and other server roles - The installed server has installed several server roles. DNS role is used to perform host naming conversions (IP to name & vice-versa). DHCP is used here to distribution of IP addresses to the connected client computers. Other roles include print server to manage printing, storage server to manage storage etc.

Routing protocols - Routing protocols are used to perform routing at routers. We use RIPv2 as a routing protocol. RIP is a distance vector routing protocol that best works for small network and support VLSM, triggered updates and fast convergence of routing updates.

VLANs - It is a logical separation of one physical LAN network. VLANs are configured on all the switches to separately manage all seven departments. VLANs has other advantages also such as easy od administration, reduce broadcast and easy apply of security in the network.

IP addressing plan - Each system or network device is identified in a network by its IP address. We use class C IP addressing in this designing. IP addresses are assigned in a way so that it can be expended in the future. A proposed list of IP addressing for all the seven departments or VLANs are here -
| | | |
| --- | --- | --- |
| Department or VLAN | IP address range | Sub net mask |
| Departments - 1 | 192.168.1.1 - 255 | 255.255.255.0 |
| Departments - 2 | 192.168.2.1 - 255 | 255.255.255.0 |
| Departments - 3 | 192.168.3.1 - 255 | 255.255.255.0 |
| Departments - 4 | 192.168.4.1 - 255 | 255.255.255.0 |
| Departments - 5 | 192.168.5.1 - 255 | 255.255.255.0 |
| Departments - 6 | 192.168.6.1 - 255 | 255.255.255.0 |
| Departments - 7 | 192.168.7.1 - 255 | 255.255.255.0 |
Table containing the quantity of devices needed in this network configurations –
| | | |
| --- | --- | --- |
| Name of Device | Model | Quantity |
| Router | Cisco 4000 series | 2 |
| Switch | Cisco Catalyst 2960-48 port | 7 |
| Firewall | Cisco ASA 5505 | 1 |
| CAT6 Cable | N/A | 800 meters |
| IDS / IPS | Cisco Firepower NGIPS | 1 |
| Server | High configuration | 1 |
LOGICAL JUSTIFICATION
The new server is installed and configured with all the server services. To figure out the network design, the Cisco's three-layer network model architecture design. The three-layers include distributed layer, core layer and access layer. This three-layered architecture has several advantages such as better security, better access control, better restrictions over server services and other resources. The devices used in the network like router, switches and firewall or IDS IPS devices are the mandatory equipment to build a robust network