The case study is attached....you can give its name and few lines in question
Issue identification, address the underlying marketing issues/problems/themes in the case
The depth of analysis, balancing qualitative and quantitative analyses. insights, recommendations, and conclusion.
The solution is to come up with a corporate level strategy for the organisation. This part consists of solutions that address issues faced by the organisation on a strategic level. This could include suggestions, changes or recommendations to the company's vision, mission and its strategic objectives. It can include recommendations on how the organisation can work towards achieving these strategic objectives. Furthermore, it needs to be explained how the stated recommendations will help in solving the main issue mentioned in the case and where the company will stand in the future as a result of these.
Marketing Mix; Ansoff Matrix; BCG Matrix; VRIO Analysis; Porter Five Forces Analysis; Marketing Analysis Toolkit: Customer Lifetime Value Analysis
Hunley, Inc.: Casting for Growth
On Friday afternoon, January 26, 2018, Charles Wesley Hunley III (C.W. III), president of Hunley, Inc. (Hunley), glanced at the framed picture on his desk. It showed him holding a prize steelhead trout that he had caught on the Kootenay River in British Columbia, a mountainous spot whose challenging rapids were enjoyed by fly-fishing aficionados from the United States and Canada. C.W. III was passionate about Hunley's fly rods. He was confident the company could recover from a recent downturn, which he compared to a cold, windy day on the river when the fish were not biting.
Hunley's fly-rod revenues had risen by 10% in 2016, but had declined in 2017. Exhibit 1 shows Hunley's income statement. C.W. III was considering two options to improve sales. One involved introducing a higher-priced line of fly-fishing rods made from a new graphite compound, which Hunley would brand as Titaluk River. C.W. III envisioned that the new line would ultimately supplant the company's tiring Klamath line and its sub-brands. The other option entailed distribution of a new low-cost line of rods into Walmart, which was known for its low prices and was the largest retailer in the United States. C.W. III needed to decide by next Monday to ensure that shipments of either line of rods could reach stores in time for the peak 2018 season. He also wondered if Hunley needed to use different marketing and advertising to position itself. Competitors that it had once viewed as peers were now succeeding with higher-priced offerings. Further, Hunley was currently unable to respond to competitors at lower price points. C.W. III suspected these issues were related to whatever the company decided to do with the Titaluk River line or Walmart and felt his team needed to discover the connections. Company Background
In 1939, C.W. Hunley (C.W.) opened a specialty store in Cambridge, Idaho, that sold fishing equipment and offered guided fly-fishing expeditions along the Snake and Salmon rivers. At that time, fly fishing was an esoteric sport due to the significant cost of equipment, mostly handcrafted bamboorods that took an experienced craftsman as much as 100 hours to make. Flyfishing also often involved expensive travel to reach the remote areas that ardent fly-fishers preferred.
C.W. began making his own rods in 1954, when fiberglass emerged as an alternative to bamboo. He recognized that the far-less-expensive fiberglass rods would make the sport available to a much larger market. His deep knowledge of all types of freshwater fly rods and his expertise in flyfishing enabled him to design and craft rods with an action and responsiveness that soon made the Hunley brand a top choice among serious freshwater anglers. The more affordable designs were also attractive to occasional fishers. Several of his designs were significant enough to patent.
C.W.'s son, C.W. Jr., joined the company in 1969 after receiving a mechanical engineering degree. When his father retired in 1981, C.W. Jr. became president of Hunley. Under his leadership, the company rapidly expanded as it developed state-of-the-art fly-fishing rods from new graphite composites, which weighed less but were stronger than fiberglass. C.W. Jr. maintained his father's tight focus on freshwater fly-fishing by avid and competitive anglers
In 1991, C.W. Jr. moved the company to a new manufacturing facility near Boise, Idaho. Hunley began to roll its own blanks (flat stock that was formed into the rod) and control the entire manufacturing process. It introduced several rod designs, including the Klamath River brand, which used a new boron/graphite composite that was even stronger and more versatile than graphite. Klamath River became Hunley's master brand for a full line of freshwater rods that offered different performance features and a range of price points. The line won considerable praise from fly anglers, and the company was recognized as a high-quality supplier—in a class with the industry's best.
C.W. Jr.'s son, C.W. Hunley III, joined the company in 1993. C.W. III, who had an MBA from the University of Washington, started as Hunley's marketing director, implementing a communications program that increased awareness of the company and strengthened its position as a leading brand for serious freshwater fly fishers. He expanded the Klamath River line by developing several sub-brands with differing characteristics and price points. He also led the opening of Hunley's distribution to some emerging large retailers of fishing equipment, like Cabela's and Bass Pro Shops. C.W. III became Hunley's president in 2011. His father stayed on as chairman of the board.
Hunley concentrated on freshwater fly rods aimed at a variety of anglers, from competitive to occasional, but its primary market was avid anglers between the ages of 40 and 65, whom the company believed could commit substantial time and dollars to the sport. Its Klamath River brands—the Classic, the Multi-Section, and the LongCast—were all positioned as high-quality, multi-use rods. Each item in the line had specific characteristics appropriate for different fishing conditions, but all were targeted to avid anglers. Hunley also provided strong point-of-sale (POS) support to its specialty retailers and sponsored fly-fishing clinics at many of them. C.W. III believed that Hunley differentiated itself by using the most advanced materials available and careful craftsmanship. However, he was concerned that avid anglers might not view it as a leader. C.W. III believed that Hunley did not fully understand the motivations of the various consumers of fly-fishing equipment, especially regarding brand perceptions. He felt that Hunley's marketing efforts had failed to convey its quality and value story and that as a result, the company's equipment was now considered mid-tie
The U.S. Fly-Fishing Market
Fishing equipment was a $7.4 billion retail business. Over 47 million U.S. residents participated in some form of fishing annually.1 Rods, reels, poles, and components were a $2.5 billion part of this business. Thirty-two percent of anglers bought rods annually at an average price of $224.2 Of this consumer group, 6.5 million U.S. residents were fly-fishers. Fly-fishing was different from "regular" fishing in several ways. It required considerable skill and special gear (see Exhibit 2 for an image of a fly-fishing rod). Flies (artificial bait) were constructed to resemble insects and came in many varieties, reflecting the type of fish sought and prevailing fishing conditions. The flies were attached to a nylon filament line that played out from a spinning reel attached to the rod. The fly was cast (thrown), usually to a specific spot, to mimic an insect landing on the water's surface. Regular fishing also often involved casting, but it used baits and lures that attracted fish under, rather than on, the water.
The fly-fishing population ranged in age from six to 90. Most had some college education (65%). Many had annual incomes above $75,000 (45%), and a large percentage were women (31%) and/ or and ethnic minorities (30%). Fly-fishing was a growing sport, especially as more people retired. The industry segmented customers as beginners, occasional, serious/avid, and competitive and/ or professional anglers.3 Competitive and avid anglers accounted for 80% of the travel and equipment spending in the category, but comprised only 3.5% and 40% of fly fishers, respectively.4 (See Exhibit 3 for a summary from a market survey that Hunley conducted in 2017.) Fly-fishing suppliers tended to be very conservative in advertising and promotion, with most ads using similar messages and visuals and targeted to key consumers. Most fly-fishing occurred in fresh water (lakes and streams), but some anglers also fished in saltwater locations (marshes, estuaries, and oceans).5 Along with different flies, fly fishers used rods and reels of different lengths and weights, depending on water and weather conditions and the type of fish sought. For example, salmon fly rods could be up to 18 feet long. Some rods were made in multiple sections for easy assembly when traveling. Fishing lines were also made in a variety of weights meant to match with specific rods. Table A shows rod weight varieties and their uses

Sources: Compiled from www.dec.ny.gov/outdoor/ http://www.uky.edu/~agrdanny/flyfish/ newfaq.htm; and wildlife.utah.gov.
1 https://outdoorindustry.org/wp-content/uploads/2017/05/2017-Special-Report-onFishing_final.pdf. 2 U.S. Fish & Wildlife Service, "2016 National Survey of Fishing, Hunting, and Wildlife-Associated Recreation," National Overview. 3 2016 Special Report on Fishing, Serious and Avid Anglers Made Up About 28% of the Total Market and Spent 63% of the Total for Equipment. 4 2015 National Survey of Fishing, Hunting and Wildlife- Associated Recreation. 5 https://www.fieldandstream.com/.../flytalk/.../interesting-facts-about-fly-fishing-market.
Competition
The fishing equipment industry was fragmented, with over 25 companies selling more than $20 million worth of fly-fishing rods annually.6 Several well-known suppliers, such as Orvis and Berkley, provided full lines of equipment and accessories. Major sporting goods retailers, such as L.L. Bean, Cabela's, Bass Pro Shops, and Dick's Sporting Goods, carried several prominent brands and sold their own private-label offerings. Although some companies offered multirated rods that compromised flexibility (action) to accommodate a wider range of line weights, most competitors concentrated on narrow market segments that often reflected their owner's identification with the segment rather than objective research. For example, Thomas & Thomas focused on saltwater rods built to handle powerful fish and to cast large, bulky flies over longer distances or into strong winds. Other competitors specialized in fast-action, flexible rods with considerable feel. Generally, the more expensive the rod, the more likely it would be designed for a single line weight and a narrow focus on a certain fish species. Most fly-rod manufacturers supported their lines with consistent, geographically concentrated distribution and marketing activities. For example, Thomas & Thomas sold its saltwater rods via coastal area distributors, sponsored deep-sea fishing tournaments, and hosted local saltwater flyfishing clinics that employed well-known, and often local, fishers. Like other sporting-goods marketing, fishing-equipment companies tried to position their products as the choice of professionals ("You know it's the best if the pros use it").
Sales and Distribution
Many retail outlets sold fishing gear. Exhibit 4 lists the largest retailers by number of stores. Large retailers such as Bass Pro Shops and Walmart accounted for almost 80% of fishing equipment sales, but only about half of fly-fishing equipment sales. Specialty stores (fly shops) sold over 40% of fly-fishing equipment. These stores were usually owned or staffed by knowledgeable anglers, who were trusted by avid fly fisherman to provide help in selecting the right equipment for them. The fly shops usually had higher prices—and higher margins—on equipment than the larger retailers did. Many offered guided fly-fishing expeditions and clinics to supplement their retail businesses, further enhancing their expertise value to serious anglers. Sales were mostly seasonal, starting in the spring and extending through the fall, although fishing equipment was also often purchased as gifts for Father's Day and Christmas.
Hunley's vice president of sales and the three regional managers who reported to him oversaw 12 independent manufacturers' representative organizations7, whose reps received a 5% commission on sales to fly shops, in their assigned territories. The reps also serviced Hunley's large accounts, and received a 3% commission for Hunley's sales to the major accounts' stores within their territories. For 6 Case writer's estimate from various sources. Most of the rod manufacturers are private companies
7 Manufacturers' representative organizations (reps) were independent organizations that worked strictly on commission, usually paid monthly on net sales. They were responsible for all their expenses. They sold in specific territories for a group of companies that were usually in related businesses, but were usually not direct competitors. Reps most often sold for smaller companies that could not afford, or did not want, the fixed expenses of an in-house sales organization. Hunley's reps carried other types of fishing equipment, but Hunley's fly rods were the only rods each rep group carried. Reps usually had strong relationships with retailers in their territories, but because they carried many different products, they relied heavily on their manufacturers to provide product and marketing support for their respective lines. example, if Cabela's had five stores within a rep's territory, the rep would receive a 3% commission on the sales to just those stores.
A rep typically called on a specialty store three or four times annually and visited major account stores as often as once a month. Calls with a specialty store might include inventory assessment; promotional product demonstrations, such as helping with an in-store fly-fishing clinic; ordertaking; and other activities. Servicing major accounts usually consisted of working with in-store personnel, doing demos, taking inventory, and ensuring stock was on the floor. The sales reps also staffed Hunley's booth at industry trade shows in Las Vegas, Nevada, and Orlando, Florida. Reps had a mutually beneficial relationship with the company; some had worked with Hunley for over 30 years. C.W. III had considered having a dedicated sales force, but felt that having most of the sales expense (commissions) as a variable cost was currently better for the company. Hunley's vice president of sales and his regional managers worked closely with the sales reps' organizations. They also called directly on major account buyers several times a year. Five inhouse customer service staff assisted sales by handling telephone/email interactions with accounts, including order taking and processing. Hunley had developed close relationships with many fly shops, which constituted approximately 60% of its dollar sales and about 45% of its unit sales. By 2018, Hunley had 1,200 active specialty store accounts. In the early 2000s, large outdoors retailers such as Bass Pro Shops had begun taking considerable market share from specialty stores. Although C.W. Jr. and C.W. III were initially reluctant to embrace these larger outlets, they concluded that many of Hunley's customers were attracted to the stores' huge selection formats and that Hunley's products had to be included. Hunley also sold directly through an in-house website that was overseen by a manager of direct sales. The website had several dedicated customer service agents who handled consumer's orders and answered their questions. Hunley's website accounted for about 5% of its revenues. Pricing Hunley's rods were priced between $200 and $800, with an average retail price of between $400 and $500. This pricing was consistent with many of its competitors for a quality fly rod, but the most prestigious and most profitable brands had higher average prices. In 2003, the average Hunley rod sold for around $400, then at the top of the price range. Hunley's average retail price in 2017 was only slightly higher due to two strategic pricing decisions C.W. III made to support the company's specialty retailers in 2001. As larger retailers like Cabela's became more important to all market segments, C.W. Jr. and C.W. III decided to offer Hunley's specialty stores the same pricing it provided to its largest retailers. If Hunley gave Cabela's a volume discount, for example, it gave that discount to its specialty stores despite their much smaller volumes. This policy helped Hunley strengthen its relationships with specialty stores. However, because this practice effectively discounted the price of its rods, the company's average price per unit sold decreased even as its total units sold increased. Hunley had also been reluctant to raise prices. C.W. III and the sales force felt that maintaining lower prices enhanced its products' perceived value for consumers, and now Hunley's average prices were now noticeably lower than those of its top competitors. But because many consumers equated quality with price and higher-priced items typically commanded higher margins, most of the specialty retailers had opted to focus more on selling higher-priced lines from Hunley's competitors. In 2018, avid anglers still viewed Hunley positively, but now perceived its rods as medium to upper-medium quality relative to competitors' more prestigious and expensive rods. C.W. III felt uncertain how to communicate Hunley's value when it was unclear from research how consumers evaluated fishing gear, apart from using price. In 2018, several of Hunley's competitors, such as Sage and Thomas & Thomas, were introducing and promoting even higher-priced rods targeted at the avid fly fisher. These products offered higher margins to specialty retailers; these retailers in turn gave the rods more prominent store displays and more attention from their sales staff. These rods were less likely to enjoy similar support at large retailers, further increasing the specialty retailers' ability to compete successfully at the high end. The differences in these products—such as titanium fittings instead of stainless steel—were small, and performance distinctions were hard to demonstrate, but they allowed Hunley's competitors to charge higher prices and enhance their brands among avid anglers (and fly shop owners) and increased the perception that the competition offered higher-quality products. C.W. III felt that the prestige of having the highest-priced and "best" equipment was driving these sales, as avid fly fishers vied for bragging rights among their fishing buddies. Marketing communications Hunley typically spent approximately 8% of its revenues on advertising and promotion. Its vice president of finance hoped to maintain this ratio in 2018, even if the company introduced a new line. In other words, a new product introduction would likely require investment spending for advertising and promotion, but might necessitate a reduction in spending for existing programs. Seventy percent of this spending occurred between May and September, and most of the remainder occurred between Thanksgiving and Christmas (Table B shows the items in this budget). C.W. III had noticed, however, that some of Hunley's higher-end competitors appeared to use more advertising throughout the year.
Table B Hunley's Advertising Budget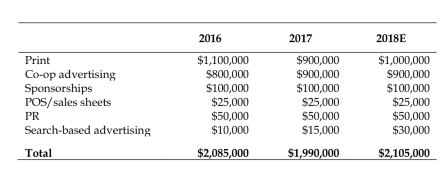 Most of Hunley's advertising was print in specialty fly-fishing magazines such as Fly Fisherman and Flyfishing & Tying Journal. Ads targeted serious anglers, mostly men between the ages of 35 and 55, and usually highlighted product features and distinctions and appeal of the brand to professionals. The ads usually referred potential customers to the company website and customer service number to "find a store near you." Measuring the effectiveness of the ads had been a constant problem for Hunley, and some in the company wondered if print advertising was still relevant given the rise of mobile advertising. C.W. III had been reluctant to move away from print. A new product might, however, justify the use of a different approach, such as heavier use of social media and paid placements in search-based advertising. A change in distribution might do the same. C.W. III felt that the ads could address the prestige and bragging rights values of the avid consumer by promoting an aspirational lifestyle approach instead of the "great product with great features and benefits" approach that Hunley had used for years. Hunley also engaged in various "behind the scenes" efforts to deepen its relationships with retailers and end users. First, it contributed up to 5% of the value of purchases of Hunlley products toward the cost of retailers' store advertisements that prominently featured Hunley merchandise. Second, it sponsored several professional anglers who provided visibility and credibility by participating in fishing tournaments around the country, as well as local events with retailers like fly-fishing clinics and outings. It also provided advertising specialty items such as bumper stickers to be distributed by sales clerks at the point of sale or during clinics and tournaments. Further, it benefited from word-of- mouth by its customers and the support of its retail partners. Options for Growth C.W. III was considering several options to grow Hunley's sales by 10% in 2018. The Klamath River product line was mature, although Hunley continuously updated it with small improvements like new ferrules (metal rings for strengthening) or different colors. Thus, more advertising and promotion were unlikely to make much difference. Hunley had recently introduced several saltwater rods into limited distribution for testing. They were well received by its coastal retail partners; however, since most avid fly anglers knew Hunley only as a freshwater rod maker, C.W. III recognized that it would take several years and patience to make inroads into the saltwater category.
Introduce a New Product Line at Higher Price Points
C.W. III had gathered his management team, several of its independent sales reps, and some specialty store owners for a weekend retreat at the Napa River Inn in Napa, California, to discuss the company's growth options and do some "product research" by fishing on the Napa River with its new Titaluk River rods, made from a potentially revolutionary new graphite compound, and trying out the entry-level rods that Walmart had requested. Around 4:00 p.m., after a few fishing anecdotes, C.W. III started the meeting by providing some background information on the upmarket option for participants to evaluate. He passed out a short note describing the potential new product: Hunley could introduce a rod made with an ultra-light material, Grand BassaraTM (GB) graphite, now being manufactured by Mitsubishi. It provides the feel of a rod designed for short, highaccuracy casts, but with the strength and capability of a rod that could comfortably cast lines over long distances (greater than 100 feet). This product would be the basis of a new brand from Hunley, Titaluk River. Lead customers, such as professional anglers associated with us and several specialty-store owners who are accomplished fly fishers, have praised it. These rods would have retail price points between $600 and $1,000, about $200 to $400 more than the Klamath River items. C.W. III addressed the team, "This afternoon, we're going to discuss the opportunity to introduce an exciting, new, high-performance freshwater rod. You've all had a chance to preview it. It may be a way to increase our sales over 10% for 2018 and beyond. I look forward to your comments." Hector Molina, one of the retailers involved in Titaluk's development, was blunt: This is one of the best rods I've touched, but going from $400 to $800 at retail may be a stretch. Your brand isn't believable for a much higher price. Hunley is viewed as a. midtier maker of quality, high-value rods. If we take on the Titaluk line, what do we do with the Klamath brand? What kind of advertising and marketing do you plan to do? Rick Myers, another retailer involved in the development of Titaluk, asserted: Hunley could maintain Klamath and the new Titaluk line, a "better/best" strategy. But you will have to do some strong advertising and promotion to get the avid fisherman's attention and persuade them that Hunley's Titaluk line is as good as the best, like Sage, but a better value, since the prices you are considering are still lower than those of the top brands. Later that evening, after a boisterous dinner at one of Napa Valley's wine bars, C.W. III took his inhouse team to a quiet table on the patio to sort out what the company should do. Staring at his glass, C.W. III shook his head, then faced and addressed the team: What if we cannot capitalize on this innovation because of marketplace perceptions? We know little about why avid fishers choose one brand over another, especially when the value comparison shows little difference. The GB graphite is exclusive to us for a year if we move forward with Mitsubishi's minimum order soon. We would have to commit to at least $1 million in purchases for the first year. This would produce about 7,000 rods that would need to be sold for at least $800 at retail, $400 wholesale, for us to pay 5% commission and still make a 50% margin. We would likely have to do comparative advertising to position the new rods against the top competitors like Sage. Assuming that our specialty retailers will continue to carry Klamath and pick up Titaluk, how much cannibalization should we expect? Selling just the 7,000 Titaluk rods would be about $3 million, but how much would it take away from present sales? We could introduce the new rods with a different brand besides Hunley, but that would entail marketing costs at least double what we anticipate now. It would likely require setting up a team dedicated solely to the new product, probably away from our current offices, with a new sales force. Virgil Alfaro, Hunley's vice president of marketing, added: We should consider different media such as the Wall Street Journal, Town & Country, and Garden & Gun to enhance the prestige of owning Hunley. We should also increase our Google presence, and social media may attract women. The recent National Report on Fishing indicated that the strongest motivation for fishing is enjoying time with family. We could play up this point in different media. We've typically spent about 80% of our print advertising budget on outdoors-oriented magazines like Field & Stream, and left only crumbs for other print outlets. We could do what we've always done, or we could dramatically reallocate those dollars by spending one-third or even half of these dollars on upscale print outlets. Further, the $30,000 we've budgeted for search-based advertising is far too little. We should quadruple or quintuple this amount, given consumers' migration to mobile devices and laptops. C.W. III brought the evening to a close by concluding, "Let's sleep on it and discuss our other big opportunity in the morning."
The Klamath Entry-Level Line of Fly Rods and General Rods for Walmart The next morning, C.W. III assembled the group for brunch to discuss the other promising option, which could have significant downside if not handled properly. Walmart's sporting-goods buyer had long asked Hunley to provide an entry-level line of rods under its Klamath River brand. Walmart sold general-purpose rods and other fishing gear at price points that started below $20, about one-tenth the price of Hunley's lowest-cost entry-level rods. Walmart wanted a name-brand line of rods to sell for $99. Walmart's sporting-goods buyer guaranteed Hunley placement in around 3,000 of its stores. The opening order would be for 72,000 rods at an average wholesale price of $65. To meet this price point, Hunley would have to source these rods from overseas. C.W. III knew several Chinese suppliers that could provide fly rods of adequate quality in large quantities. They had quoted Hunley costs ranging from $24 to $32.50 for a general-purpose fly rod that would be suitable for freshwater anglers. C.W. III felt that Walmart could sell up to 100,000 of these rods initially, and perhaps more annually. The company's vice president of product development, Mike Staffaroni, passed around samples from the Chinese manufacturers and asked the team for comments. Steve Lefler, one of Hunley's regional managers, was enthusiastic: "This rod is as good as our current entry-level offering and would retail for half the price. Walmart is a fact of life. We should be selling there—and at Target and Amazon. It gets us into the hands of beginners and occasional anglers, many of whom will trade up." Alfaro protested, We have succeeded because we focus tightly on our target market, and we serve it with our strong partnerships with our specialty retailers. C.W., if we start selling through Walmart, we risk everything your family has built. We've just developed a great new rod that is one of the best. We should put the effort behind it and make it happen. We're a private company, and we can afford to be patient as we invest in the long-term. The new GB rod may have a slow takeoff, but it will succeed, and it will enhance our position as a top-quality producer. Walmart is also very demanding. Can we risk being unable to meet its stringent delivery requirements while putting our brand image in jeopardy and into the hands of an overseas supplier that we cannot control? Further, Walmart is likely to ask us to commit to a quarter-million in advertising dollars to support this offering initially, and it could require a level of service from reps that doesn't make sense given the economics of this line. Lefler countered, Many companies do not damage their brands in other channels by selling to Walmart. Our core customer would never go to Walmart to buy fishing gear. We won't be risking our brand or our distribution by selling there. In fact, if we advertise the product wisely, use social media as well as search advertising, we can attract a whole new group of consumers to fly-fishing, who might trade up after buying the starter equipment. It would include first-time anglers. Many of our core customers would never see the ads. The opening order would provide over $2 million in gross profit, which we could use to develop a parallel marketing program. C.W. III had felt that it would not be feasible for Hunley to introduce the Titaluk GB products and expand distribution to Walmart with inexpensive new rods simultaneously. After the meetings, he was not sure that either option was feasible. Nonetheless, he had to decide what to do soon because Hunley needed to ship product shortly for the upcoming fishing season. Neither the new Titaluk rods nor the low-cost rods for Walmart could be produced in time if he did not plot a course of action. He asked Alfaro to provide a first-year sales and marketing plan for introductory advertising and promotion for each option that used as a guide. Each plan would assume a $1,000,000 budget, which would come mostly from ongoing marketing spending. This amount would be spent separately from the existing marketing budget and would be in addition to the minimum entry and manufacturing costs outlined in the meetings. C.W. III believed that the success of either option depended on a plan that clearly identified the best target customer with a message that articulated each product's benefits and value proposition. The message would be used in trade and consumer advertising and POS packaging and signage. He also felt that the sales force might require a special incentive to push the Titaluk rods because of their higher price. Sales commissions did not have to be paid for a Walmart sale; however, he thought the sales reps should be prepared to handle Hunley's retailers' complaints about selling in Walmart, which might require a financial incentive to keep them positive. C.W. III also wondered if there were other ways for Hunley to grow. Conclusion C.W. III received a text that evening from Lefler, who stated that the owner of a leading specialty retailer had told him that one of Hunley's mid-price competitors planned to introduce a higher-end fast-action rod that spring and would spend over $3 million to support it. C.W. III also learned that several competitors with strong brands, including Orvis, had been approached by Walmart with offers similar to the one made to Hunley. C.W. III believed that if another firm accepted Walmart's offer, Walmart would no longer be interested in partnering with Hunley. These developments added urgency to his decision. C.W. III wondered if Hunley should introduce its new rod with heavy advertising and promotion—if it decided to introduce it at all. As for the Walmart option, he wondered if this was Hunley's only chance to develop a presence in the lowerpriced market segment.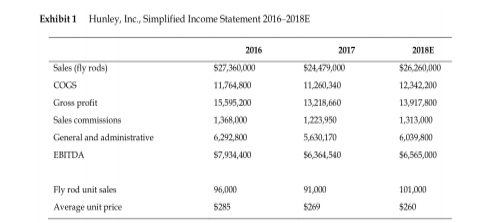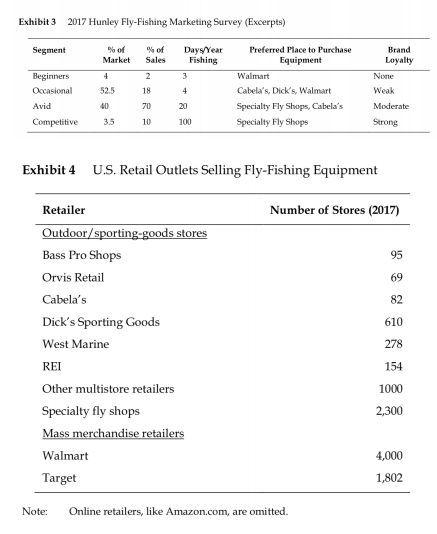 Avid fly-fishers are product loyal. They will purchase equipment they feel provides the best performance that they can afford. Avid fly-fishers are somewhat brand loyal, they do equate rod quality with price and perceive higher-priced brands as "more prestigious". Avid fly-fishers prefer shopping in specialty fly shops for their service, but they will seek value at large stores, such as Cabela's. Hunley was perceived as a medium to high quality freshwater brand that provided good value. Survey comments indicated that it was viewed as a company that had led in introducing new products with state of the art materials in the past, but it now was at parity with its competitors. Note: Source: Online retailers, like Amazon.com, are omitted. Compiled from company websites, U.S. Fish & Wildlife Service, "2016 National Survey of Fishing, Hunting, and Wildlife-Associated Recreation," National Overview, and case writer estimates.