Answer :
Subject Code: MGT601
Title: Dynamic Leadership
Executive Summary
The report involves reflecting on my experience and learning as a leader. Hence, I have analyzed the roles, responsibilities and leadership issues at the first place associated with my job role as a sales manager. In the next part, I highlighted the key aspects of my leadership journey. Further, I analyzed the Gallup report, where my strengths as a leader are provided. I have five strengths, including restorative, relator, competition, input and maximizer. Next, I considered the feedback of my partner on my leadership journey. Besides, the suggestions in the feedback I also presented here. Lastly, I applied the Kolb's reflective framework for structuring my leadership experience. I need improving my mentoring and social skill besides adopting the situational leadership style.
Introduction
The purpose of the report is reflecting on my leadership journey until now including my current position of a sales manager, the way I influence others, the way I lead, react and contribute to cultural and organizational changes. Moreover, I am also going to reflect on my present level of self-confidence and self-awareness of leading others in the company.
My current role, responsibilities and leadership issues-
I am the sales manager in my organization. My most important aim as a sales manager is achieving revenue targets of the company through the performance of my sales representatives. I focus on harnessing the strength of my direct intelligence, influencing the productivity of the sales force and taking out the highest performance from every individual person. My key responsibilities are:
Motivating and suggesting my sales representatives enhance their performance, hiring new salespersons and offering them training.

For achieving my objectives, I do effective planning, set goals, evaluate data on previous performance and anticipate future performance.

I am also responsible for ensuring that the sales department performs collaboratively with the executives of other departments. For instance, they work with marketing for generating sources of new lead and increasing the base of target customers or with research and production team for confirming that customer demands are satisfied.
However, while fulfilling my responsibilities, I face some leadership challenges as well, such as executing plans properly into actions and maintaining team spirit. I often fail to take feedbacks regarding my performance from others that I consider as an obstacle toward achieving the goal as a sales manager.
Major aspects of the leadership journey
My father was an HR senior manager in his office, and from my childhood, I used to copy my father's actions. He always inspired me for being disciplined, empathetic to others and being confident. Hence, it is my father, who influenced me to become a leader. In school, I also used to play the role of a monitor in most of the times and managed the class well. Further, while doing any group projects, my friends used to choose me as the leader, as I was good at managing tasks. Gradually, I discovered myself as a good leader.
When I completed my management studies, I decided to join as a manager in a company. When I gave the interview, they selected me for the position of a sales executive. However, after discovering my abilities in helping and encouraging my colleagues, they promoted me to the post of a sales manager and that was the turning point of my career. In the words of Prive (2012), for becoming a good leader, some essential qualities must be there in a person. Honesty is one of the qualities that makes a leader ethical and makes him followed by others. Communication is another important quality that a leader must-have. Without communicating the vision with all the team members, it is not possible encouraging them to reach the expected goal.
Therefore, I have been focusing on improving my communication skill continuously so that I can better communicate the targets to all the team members properly. It helps me communicating with my reps effectively, understanding their difficulties and assisting them to solve those difficulties. When it comes to honesty, I already learnt its importance form my father and I maintain this throughout my job role.
Result interpretation
From the Gallup results, it is found that restorative, input, relator, competition and maximizer are my major strengths. According to restorative, I am the kind of person who can deal with problems easily and can figure out the wrong thing to be resolved. Usually, I do this by studying my mistakes periodically, so that I do not repeat them. I am always ready to face my mistakes and make them correct. Considering my deficiencies and needs, I like to read books on self-improvements. As I am aware of my deficiencies, I seek opportunities in my workplace for improvement as a leader.
As per the input theme, I have the ability to accumulate and archiving ideas information, relationships and artefacts. As per the report, due to my strengths, I absorb the words of a book very quickly. I find it useful to read a book for releasing stress. I am a relator also means I am good at making and managing the relationship with others. I am comfortable with meeting new people, and I easily become friends of strangers. Thus, I am able to make my relationship stronger. I find high satisfaction in working with my associates for achieving an aim. According to the competition theme, I like to assess my progress by comparing it with others' performance. I try to win the first position and carousal in contests. Further, being a maximizer, I like to encourage personal and team excellence. I try to convert something resilient into something outstanding.
Major feedback points on a recent leadership role
The feedback that I received from my partner regarding my leadership journey is as follows:
Pertaining to my leadership style that is

transformational

leadership

, my partner said that I am efficient enough to manage myself without seeking direction from others, and I am capable of taking the right risks. I take calculated risks by gathering intelligence from my team members. However, he also said that sometimes, my ego comes between my team members and me that hampers the team performance. Hence, I have decided to work on reducing my ego and not letting it hampering my relationship with my sales reps. He also said that considering the needs of different circumstances, I should change my leadership styles accordingly, so that I can find a better manage my team.

In terms of leadership capabilities, my partner commented that I have the ability to make challenging decisions. I make decisions focusing on the vision, values, goals and objectives of the company. He also said that I am able to share mutual consciousness of the whole organization. It helps me understand the decisions that I need to make for producing desired employee actions.

By means of effectiveness, as per my partner, I am a good motivator, who motivates all the team members to complete their tasks within the allotted time. I use to motivate the sales reps by providing inspirational speeches regarding the firm's vision in intense detail. Further, he also added that for improving a team's performance, I carry out team development exercises, as a collaboration among all the members is important. However, I lack the mentoring skill through which a leader helps his/her followers developing their own leadership capabilities. I usually do not focus on developing the leadership skills of my team members.

As per my partner, I have good interpersonal skills linked to personality assessment. I am able to develop a relationship with my team members by applying effective interpersonal communication by showing a positive attitude while talking to them, listening to them actively and speaking confidently. However, I have a poor social skill means I fail to handle and influence the emotions of other people effectively. Sometimes, I overlook the emotions of my team members that affect their motivation and commitment.
The suggestions of the feedback and reflection on the importance
The feedback provided on my leadership journey highlights some important suggestions. First, I need to adopt the situational leadership style, so that I can adjust my leadership style to fit the development level of my subordinates I am trying to motivate. According to

Schweikle (2014

), situational leadership is advantageous for every firm. However, for being able to use the model correctly, I must know well about my subordinates and making them a part of the team. Hence, I need to increase my ability to recognizing various situations and the particular style I need and adapt it based on the situation for becoming an efficient leader. I find this important for me to adopt the skill so that I can better lead and manage my team.

Further, I need developing the mentoring skill, which I lack as per my partner. I think it is essential for being a good mentor, as it is a strong way of improving learning and leadership skills of my sales team. I need to help people clarifying issues and offer feedback for making them understand their performance-related issues and improve on the same. This will help me gain the respect, trust and commitment of my team members toward achieving organizational goals.
Mentoring is a useful strategy to help people developing decision-making skill, team-development skill, leadership skill and navigation skill. The leader, by playing the role of a mentor, can guide the subordinates identifying proper courses of activities for challenges within the firm (Semanticscholar, 2019). Thus, by developing my leadership capabilities, I can allow the sales reps moving into rapidly challenging management or leadership roles in the future.
Based on the feedback, I need to improve my social skill as well, so that I can better recognize and manage different emotions of different members of the team more effectively. It is important for gaining their trust and dedication in the task. If I value the emotions of my team members, they will definitely appreciate my effort and be comfortable to share every problem with me. In the words of

Brotheridge

et al.

(2008

), a shared theoretical framework related to social and emotional skills coupled with leadership efficiency is required for directing the training and development of leaders. Social skill signifies a wide range of abilities, which is most diligently connected to the development of social intelligence. It refers to the capacity of thinking and reacting wisely in different social situations. A leader requires having emotional expressiveness, emotional sensitivity, emotional control, social expressiveness, social sensitivity and social control.
Hence, as a leader, it is my responsibility to inspire my team by conveying positive regard and affect through sending non-verbal expressions of dominance, attitude, interpersonal orientation and emotional messages. I need understanding the feelings and needs of all the team members for establishing rapport.
Linking conceptual framework and theory explaining feedback and experience
For better reflecting on my learning, I am using here the Kolb's reflective cycle. The cycle has four stages, including concrete experience, reflective observation, abstract conceptualization and active experimentation (Mcleod, 2019). The first stage, which is concrete experience, occurred, when I found that the performance of two of my team members declined notably. I found that they used to stay demotivated and depressed most of the time. Initially, I ignored the incident. However, after getting feedback on my leadership journey from my partner, I decided to reflect on my experience and performance. Thus, I reached the next stage. Here, I realized that the demotivation of my team members was due to my lack of social skill linked to emotional intelligence. I failed to recognize their feelings and helping them out of the situation. Hence, I moved to the abstract conceptualization stage, where I learned the importance of having social skill. I also understood the significance of adopting different leadership styles in different situations. Now, I have reached the stage of active experimentation. I have decided to become more empathetic toward my team members so that I can solve their problems actively. I need to apply my learning into my actions that will influence my capabilities as a leader, who can understand and manage the team more effectively.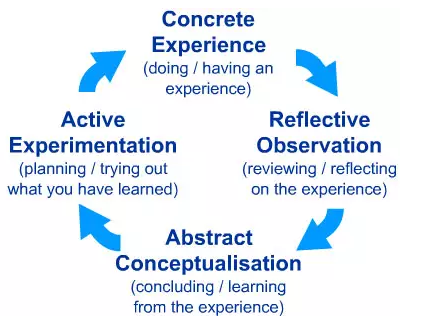 Figure 1: Kolb's reflective cycle
(Source: Mcleod, 2019)
Conclusion
The entire reflective piece of work helped me identify my strengths as well as weaknesses. The result of the Gallup report revealed the kind of leader I am and the leadership qualities I have in me. The five themes that described me as a leader facilitates me identifying and understanding my abilities. I am good at problem-solving, relationship building and maintaining, decision-making and inspiring people to give their bests. I have learned so many things while doing the reflection. For example, the feedback on my leadership style has encouraged me to adopt various leadership styles considering situational demands. Further, I have also acquired knowledge about the significance of mentoring and social skills for understanding the feelings and needs of people better and helping them accordingly.