Answer :
Introduction
As per the systems thinking approach, Walmart is facing some serious operational issues related to inventory management at its e-commerce venture. Earlier study focused on the operational activities of the retail industry, US along with operational issue and inventory shortage affecting the operational function of Walmart. However, there is a need to explore the issues further and look for possible areas of improvement that may go beyond the operational issues and may be related to cultural change and other management issues in the inventory of e-commerce stores.
The following sections of this paper presents a detailed Rich Picture and Root Definition Report using CATWOE aiming at identifying the real issues and possible solutions faced by the company while relying on a systems approach.
Rich Picture for Walmart's E-commerce Issues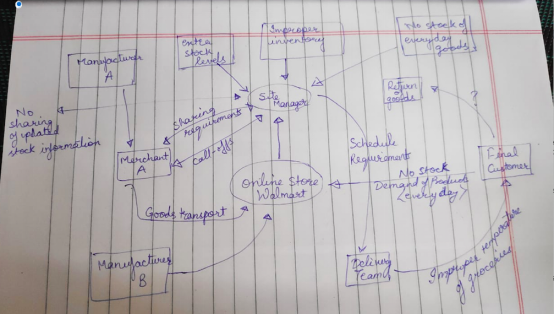 The above rich picture clearly depicts the lack of information sharing by the site manager and making it difficult for suppliers to ensure stocking of required products at e-commerce stores of the company. The final customer is also finding it difficult to access a majority of product as these remain out of stock due to mismanagement of the inventories (Corkery, 2018). Additionally, the rich picture presents some other issues related to return of products, temperature of groceries to be delivered and call-offs that should be addressed along with basic inventory management issues at Walmart.
Application of the CATWOE Analysis
Customers
The customers of Walmart's e-commerce venture include the users or customers of this system. The customers looking for online availability of various everyday items like groceries, kitchen essentials, ready-to-eat food items and several other products like electronics, toys and gifts are the target of this e-commerce venture. These customers should be benefited with the new system where they can purchase the required products from comfort of their home or workplace and get the required things anywhere anytime delivered directly at their preferred address.
Actors
This particular e-commerce system requires a proper contact and connection between the online stores and suppliers of various products depending upon the forecasted demand. Along with this a strong team of employees required to manage the orders, make proper and timely delivery and maintaining inventory control is a key actor related to the situation (Grewal et al., 2018). However, Walmart's e-commerce venture failed to ensure proper flow of every product and remained focused on electronics, toys, gifts etc. during the peak times and was unable to meet the demand for everyday products like groceries. There is a lack of proper communication and updated information sharing with the suppliers that made it difficult for them to ensure adequate availability of high demand products at e-commerce stores of Walmart.
Transformation process
Walmart faced issues with the operational processes as it failed to manage the intermediate steps in the transformation procedure of the new system (Wahba, 2018). The e-commerce stores require a systematic flow of information as practised in brick and mortar stores of the company. The latest and regular information about the stock availability is not shared with suppliers and he stores failed to focus on everyday use products that other competitors like Amazon has a strong hold. Furthermore, the delivery process of such everyday products is not managed efficiently as many customers reported issues related to packaging and protection of products (Ladd, 2018). People find the system non-user friendly in nature and its difficult to return the products. There are problems like proper temperature of groceries delivered and security of high-value merchandise like watches and electronics.
World View
While the customers will look for a wide range or products available at an affordable price, they will also desire to get a resolution to issues of delivery, proper packaging and return of products. Furthermore, customers will expect the brand to engage with them irrespective of the channel or device (Bell and Harper, 2003 and Wahb, 2018). An overall great experience of online shopping is expected while the every part of organization should be connected with customers where effective interactions with customers should be focused through various possible touch points. At the same time Eisenberg (2016) points that the issues faced by Walmart are not only operational but needs a complete cultural change to manage the situation.
Owners
Walmart's e-commerce team is the owner and responsible to control the complete system to solve the problems.
Environmental Constraints
The delivery of products may face the environmental constraints in the form of road regulations, constraints associated with use of temperature maintaining systems for grocery delivery, cost and time involved in delivery and return of products, and issues with maintaining quality of everyday products during transit.
Recommendations
Considering the issues faced by e-commerce venture of Walmart, there are certain recommendations identified through the two models used for analysing the situation. These suggestions are discussed as below:
As evident from the Root analysis and Rich picture analysis, Walmart is required to focus on efficient communication and transparent sharing of information between online stores and suppliers of various products. This will ensure adequate flow of products and avoiding non-availability of necessary products. It is important to maintain inventory system efficiently as done in case of brick and mortar stores of Walmart that is managed through a seamless information sharing system between the store warehouse team and the suppliers.
It is important that Walmart make efforts and investment to attract more customers from different target groups and focus the marketing efforts according to customer groups like urban shoppers that are more affluent and pricier to win over. Additionally the focus on Walmart should be on improving the packaging, deliveries and process of return for customers. It is important to make the system user-friendly where customers can access a wide range of products for everyday use and get those delivered at a proper temperature and in proper packaging.
Walmart is suggested to introduce an e-commerce package and grocery delivery solution for consumers as well as retailers to act as a solution for packages to be returned to retailers, providing security of high-value merchandise, allow delivery of grocery at required temperature and protect packages from theft.
Furthermore, it is clear from the analysis of the situation that Walmart is not just facing the operational issues but need to focus on a cultural change where available digital information should be used by the organization for analysis of the data, learn from it and act upon the available results. The focus should be on getting in direct interaction with online customers and target groups as well to provide a complete shopping experience while dealing with the issues of stock availability and delivery. Customers should be allowed to share their requirements, expectations and feedback and assisted on a real-time basis to make the availability of products as per their need and convenience.