DEAKIN BUSINESS SCHOOL
DEPARTMENT OF INFORMATION SYSTEMS AND BUSINESS ANALYTICS
MIS784 Marketing Analytics
Assignment Two
Background
This is an individual assignment, which requires you to analyse a given data set, interpret, draw conclusions from your analysis, and then convey your conclusions in a written report
Percentage of final grade 30%
Due date Sunday, 26 January 2020, 11:59pm
The assignment must be submitted by the due date electronically in CloudDeakin. When submitting electronically, you must check that you have submitted the work correctly by following the instructions provided in CloudDeakin. Please note that we will NOT accept any hard copies or part of the assignment submitted after the deadline or via Email.
Extensions of time are not permitted. 5% will be deducted from the 30 marks allocated to this assessment task for each day or part of the day that the assessment is late, up to five days. Penalties include weekend days and public holidays. Where work is submitted more than five days after the due date, the task will not be marked and the student will receive 0% for the task.
The assignment uses the MIS784_Assignment 2_Data.xlsx file, which can be downloaded from CloudDeakin.
Assurance of Learning
This assignment assesses following Graduate Learning Outcomes and related Unit Learning Outcomes:
Graduate Learning Outcome (GLO)
GLO1: Discipline-specific knowledge and capabilities: appropriate to the level of study related to a discipline or profession.
GLO3: Digital literacy: using technologies to find, use and disseminate information
GLO5: Problem Solving: creating solutions to authentic (real world and ill-defined) problems.
Unit Learning Outcome (ULO)
ULO1: To apply analytics models to a wide range of marketing activities ULO2: Use computer software to analyse consumers' data and understand the strength and limitations of each software
ULO3: Analyse and interpret the output of a range of Customer analytics models in order to improve the decision making process
ULO4: Demonstrate comprehensive understanding of Customer analytics models
Feedback
Prior to submission
Students can seek assistance from the teaching staff to ascertain whether the assignment conforms to submission guidelines. Please post your questions on CloudDeakin's discussion forum for Assignment 1.
After submission
Your assignment feedback will be returned in a rubric via CloudDeakin with an overall mark together with comments.
Case Study
The luxury watch market is dominated by two brands – Rolex and Patek-Philippe. At the very top end of the market, these watches can sell for over $500,000. These watches are handcrafted precision mechanical instruments. They hold their value well and are highly sought after by the rich and famous.
Oris is another brand in the luxury watch market, but to date it hasn't achieved the same status as these market leaders, and has therefore been unable to command the same level of price premium. Oris is planning to change that by launching a new style of watch next season in direct competition with two recently released limited edition watches by Rolex and Patek-Philippe.
As an initial step, Oris has conducted a conjoint study to identify the gold watch profile which is most likely to succeed in this niche market. In a pre-test conducted among 20 participants each with a minimum net wealth of $5 million, brand name, size of watch case, number of complications1 , type of gold, and price were identified as the main attributes that wealthy consumers look for when buying a watch. Following are the possible levels that each of these attributes can have.
Attribute: Brand, size of watch case, number of complications, type of gold, price
Level:Rolex / Patek-Philippe / Oris, 39mm / 42mm / 45mm, 0 / 3 / 5, White / Yellow / Rose, $40,000 / $50,000 / $60,000
Assume that, apart from price, higher levels of any of these attributes doesn't necessarily mean that it is superior to a watch with a lower level. For example, each additional complication reduces the simplicity of a watch.
After identifying the attributes and their levels, Oris collected purchase intentions for different product profiles using a fractional factorial design among the 20 participants who are representative of this segment of the population. Each participant was given 18 different watch profiles and asked to indicate how likely they would be to buy the watch profiled on a 0-100 scale where 100 represents 'Highly likely' and 0 'Highly unlikely'. The watch profiles used for data collection are given below and the purchase likelihood data is given in the case Excel file.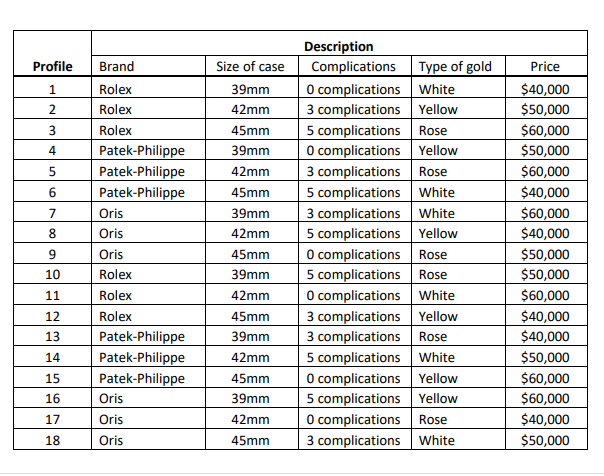 The limited edition watches by Rolex and Patek-Philippe have the following profiles:
Rolex + 39mm + 3 complications + Yellow + $60,000

Patek-Philippe + 39mm+ 5 complications + White + $50,000.
Oris's objective in this conjoint analysis is to identify the product profile which is likely to give the greatest profit. While Oris management have already decided that its limited edition watch will have a case size of 45mm, they are flexible in terms of the number of complications, type of gold, and price of their limited edition watch.
Your tasks are as follows:
1. Discuss the importance of different watch attributes in determining consumer preferences.
2. Identify the product profile for Oris which is likely to get the highest market share. How much market share can that product obtain? (Hint: a. For each respondent, first calculate the part-worths of attributes using regression. b. Construct all possible product profiles that Oris can offer. (Note that Oris is only intending to offer its limited edition watch with a 45mm case size.) c. Calculate the purchase probabilities of each possible Oris watch with respect to the two existing products in the market. Estimate the market share of each product profile).
3. Oris has estimated the potential size of the limited edition watches worldwide to be 100,000 consumers, with each consumer buying one watch on average. Fixed production costs are $2,000,000, and marketing and distribution costs are projected to be $18,000,000. The costs associated with producing a watch with 0, 3, and 5 complications is $0, $15,000, and $30,000 respectively. The costs associated with producing a watch in white, yellow, and rose gold is $10,000, $15,000, and $5,000 respectively.
4. Under this scenario, evaluate which of the watches will give Oris the highest profit. Present your recommendation on which limited edition watch Oris should offer.
(Hint: Profit = Sales × (Price – total variable cost) – fixed costs (production, marketing and distribution) Sales = Market share × Market size Total variable cost = Base variable cost + additional variable cost (if required for the product)).
Submission
The assignment consists of two parts: Analysis and Report.
You are required to submit both your analysis file (in MS-Excel) and a written report (approx. 2000 words in MS-Word). Do NOT submit your Word file as a pdf.
Analysis
Students are required to complete the analysis task in MS-Excel. The analysis file is to be a part of your submission.
Before submitting your Excel file make sure it is logically organised and any incorrect or unnecessary output has been removed. Note that all calculated numbers should be tied to appropriate Excel functions.
Report
Your report should be written as though it was commissioned by senior management at Oris. You should assume that management has limited familiarity with spreadsheets and technical terminology, and so you must write your report from a business perspective rather than a technical one. Your report should be comprised of the following five sections:
1. Brief introduction Include any relevant background contextual information, and state the purpose of the report. 2. Methodology Outline the method/s you use to analyse the dataset. Explain why you have chosen to use that method/s, and discuss any limitations. 3. Interpretation State the major inferences/findings that can be drawn from your spreadsheet analysis. 4. Recommendation Recommend a course of action. Justify your recommendation/s. 5. Appendix The purpose of the Appendix is to display tables and figures (charts and diagrams) that enable the information obtained from the analysis to be readily understood by Oris management. You can include up to 4 items in the appendix (e.g. 1 table, 2 charts and 1 diagram). All tables and figures must be numbered (e.g. Table 1, Fig. 1, Fig. 2, Fig. 3), must have a title, and must be cited in the body of your report. Please do not include any other text in the Appendix section, as it will be ignored by the marker.