Answer :
Tourism Planning Environments (MKT01760)
Assessment 3: Discussion Paper
Topic: Policy approach for developing Sustainable Tourism in Australia
Introduction and position statement
Sustainable tourism is one of the pressing needs of global tourism. Australia is the foremost global tourism spot, the Australian Government and the Department of Resources, Energy and Tourism are working relentlessly towards the goals of establishing and promoting sustainable tourism practices across all sectors directly or indirectly associated to the tourism industry (Moscardo & Murphy 2014, p. 2541). Sustainability has become a pressing need of this sector influenced by economic, social and environmental issues. Thus, the policy approach must focus on the triple-bottom-line of sustainability, i.e., Economic sustainability, social sustainability and environmental sustainability policy aspects relating to the tourism industry. This is because tourism while is a key revenue generator, GDP promoter and employment generating industry also impose a range of issues which prohibits the promotion of sustainability in this sector (Basu 2017, p. 143). Keeping these aspects in mind, the Department of Resources, Energy and Tourism has set the goal of sustainability with specific goals of proposing a plan for policy development, the process of policy development, detailing the scope of the proposed plans and developing policies for addressing the issues associated to sustainable tourism in Australia.
This discussion paper is focused on establishing a background context to the policies by detailing the issues associated to sustainable tourism development in Australia, detailing the scope of policy development, proposing the policy development plan and policies for addressing the identified issues. The aim here is to present well augmented and researched policies for supporting sustainable tourism development in Australia benefiting the tourism industry by ensuring economic, social and environmental sustainability through various tourism practices.
Background
The background context of this discussion paper presents the various issues affecting sustainable tourism development in Australia, thus detailing the need for proper policy development with respect to addressing the identified and discussed issues. For the purpose of focused research on sustainability, the issues have been approached from 3 different aspects, namely economic issues to sustainability, social issues to sustainability and environmental issues to sustainability. This also serves the purpose of focused discussion considering the triple-bottom-line of sustainability (Figure 1).
Figure 1: Triple-Bottom-Line of Sustainability
Source: (Sustainability 2019)
Economic issues to sustainability
Economic sustainability requires addressing the economic issues hampering the sustainable growth of Australian Tourism industry. Over the years, a number of pressing economic issues have been identified by experts that gives a clear picture of the major economic issues to sustainability. Some of the major economic issues to tourism development are increased fuel prices, labour shortages, flat growth observed in domestic tourism, falling exchange rates, unstable distribution system, regulation and deregulation in the Airline industry. The global economic downturn has played a major role in causing many of these issues, such as falling exchange rates and increased fuel prices. The cost of airfare for both domestic and international tourists has increased due to a surge in fuel prices. As per figure 2, the petrol price has steadily increased nationally. This has resulted in increased costs of travel for tourists visiting different places in Australia (Lisa & McLennan 2019).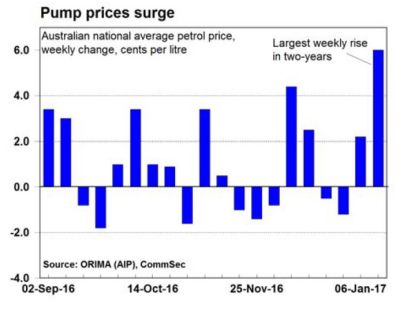 Figure 2: Change in Fuel Price in Australia
Source: (Scutt 2019)
As per statistical data, the share of employment by the tourism sector had fallen to 5.6% in 2004-2005 since 1997 (RBA 2019). The cause is a shortage of skilled labour to be employed in the industry. The seasonal nature of the industry for a major part has played a role in people being less enthusiastic in finding employment in this industry. Moreover, a persisting lack of skilled workforce having the geographic and demographic knowledge of the nation is also a major issue resulting in economic problems to sustainable development.
Figure 3: Currency Exchange Rates
Source: (RBA 2019)
The economic issues are not limited to the issues of fuel price and labour shortage but also expands to the issue of falling exchange rates. Statistical data shows that exchange rates for AU$ to US$ has drastically fallen since 2013 (figure 3). As of September 2019, 1 AUD accounts for only 0.69 USD (Jan & Gopalaswamy 2019, p. 21). This suggests that income from the foreign currency is falling resulting is economic sustainability issues. Moreover, domestic travel instead of observing an exponential or steady growth, is observing flat growth, causing a national economic downturn. Together these issues are resulting in barriers for establishing sustainable tourism development from an economic perspective.
Social issues to sustainability
Social sustainability issues relating to tourism involves existing crime rates, child and human trafficking, sex trade, unethical tourism practices by tourism service providers and many more. Social sustainability is disrupted in Australia by a range of these issues. In Australia, the number of recorded victims of sexual assault in 2017 was 24957, and it is steadily increasing, making tourism unsafe for tourists. Many of these victims are likely to be the first tome tourists. Human trafficking is also a major issue. It has been estimated that 300 out of 1000 people fall, the victim of human trafficking, accounting for 30% trafficking rate in Australia (Gov 2019a). Many of these are tourists, and the majority of these are women and children making tourism in Australia for these demographic groups unsafe. Predators of such crimes are more active during the night than in daylight, making nigh time tourism in Australia more dangerous (Miller, Merrilees & Coghlan 2015, p. 27). Many of the tourism service providers also promote illegal sex trade as a part of tourism attraction, which results in a number of other criminal issues such as illicit drug use, mugging and robbery, breaking and entering and murder.
While the increased crime rate is a major issue in social sustainability, a number of other social issues such as loss of indigenous culture and harm to aboriginal community and culture influenced by increased globalisation due to tourism, lack of employment opportunity to local people are also imposing considerable threat towards sustainable tourism development. Specifically, tourism providers are not careful enough towards the preservation of the aboriginal community, the history and culture of Australia imposing threat to sustainable tourism development (Carr, Ruhanen &Whitford 2016, p. 1071).
Environmental issues to sustainability
The major aspect of environmental sustainability is threatened by climate change, increased pollution, unethical and irresponsible behaviour by tourists. The number of tourism receipt for Australia increases every year, resulting in an increase in population at specific times of the year. This threatens the indigenous natural environment in many ways. For instance, during tourism season, increased population results in more electricity and water usage, causing groundwater level to decrease, and increased demand for electricity production. The demand for transport facility also raises increasing the overall carbon output from vehicles. These are leading to climate change, global warming, increased water, air and noise pollution in popular tourism sites. Due to irresponsible tourism activity, the Great Barrier Reef, which is the largest coral reef in the world, is dying and being destroyed. Increased plastic use and plastic products ending up in sea are causing danger to marine life (Higgins-Desbiolles 2018, p. 158). Dead marine animals wash-up to the popular beaches as a result of overly polluted seawater. Most animals die as a result of plastic straws and eating plastic packaging maters left in the back and seawater by domestic and international tourists.
Climate change is causing many marine and land species going extinct. Hunting activities as a tourist attraction has caused endangering the lives of many valuable indigenous species of birds and animals causing misbalance in the entire ecosystem. Recent reports suggest that the wildlife, beeches, the national parks and unspoilt natural wilderness are all threatened sue to climate change, and the tourism industry is the least prepared industry in Australia for these changes. An estimated increase of 8% in tourism receipts in the financial year 2017 suggests that unprepared tourism industry is causing heavy damage to the environment (Glaesser et al. 2017, p. 86). Bleaching and erosion of the Great Barrier Reef, which is one of the most prominent tourist attraction has been caused by rising sea levels which is a direct result of climate change and global warming. It is a cyclic process in which irresponsible tourism practices are causing climate change and danger to nature and natural resources, which in turn in effecting the tourism industry earnings negatively.
Statement of need
The background context section of this discussion paper has detailed the major issues imposing threats to sustainable tourism development and practices in Australia. These issues also detail the need for tourism plans informed by policies and the need for government interventions. With respect to development and enforcement of proper policies, different direct and indirect stakeholders have specific roles. The government interventions are required for policy development and enforcement for addressing the issues like sex trade, human trafficking regulation of transport costs, decreasing the use of plastic, proper disposal of plastic waste, proper use of groundwater and recycled materials etc. (Budeanu et al. 2016, p. 286). In these aspects, the following stakeholders and their role in policy development and enforcement have been identified and detailed.
Figure 4: Identified Stakeholders
Source: (Gov 2019b)
Visitors
Visitors involve domestic and international tourists. They are direct stakeholders as the proposed policies relating to sustainability directly influence their behaviour, activities and tourism experience. Their role in this is to be informed regarding the laws and policies for protecting economic, social and environmental tourism sustainability of Australia and behaviour accordingly to encourage sustainable practices. For instance, in case of policies are made regarding banning the use of plastic bottles, straws, carry bags and regulations are formed for proper disposal of plastic waste, the visitors are responsible for abiding by these regulations and policies (Gov 2019b). Non-abidance, on their part, would then result in legal consequences such as fine and imprisonment, depending on the extent of criminal behaviour. Therefore, while policy development and enforcement is a responsibility of various other stakeholders, the proper and successful execution of the policies resulting in achieving desired outcomes is heavily dependent on visitors. Therefore, need to be informed and communicated the policies through proper channels such as government, tourism websites, tourism organisation and provider agencies.
Operators and Business
Operators and business are different sector players associated with the tourism industry. For instance, the hospitality industry works in close contact with the tourism industry; thus, they form this group of stakeholders. Policies associated with sustainable tourism practices would, therefore, directly affect these operators and business, and they have the role of both execution and enforcement (Randle & Hoye 2016, p. 141). While the operators and business are liable to abide by the policy regulations, they are directly responsible for informing these regulations to their customers (visitors) thus playing a major role in communication and enforcement of the proposed policies.
Tourism Organizations
These are mainly service providers. The Australian tourism industry has many privet and public tourism providers. The role of tourism organization in policy development, enforcement and execution are similar to the roles of operators and business. While public tourism organizations are highly regulated by government policies, privet organizations tend to take liberty with the regulations and their enforcement. The tourism organization can inform research regarding tourism behaviour, patterns and trends associated with the tourism demand, which can help in identifying detailed policy needs (Randle & Hoye 2016, p. 143). Active participation is, therefore, required by tourism organisations in order to ensure sustainable tourism practices.
Environment management agencies
Global and national Environment management agencies, whether public or independent, are also major stakeholders. They are responsible for raising environmental awareness among people, public institutions, service providers and visitors. These agencies work closely with government and conduct research and analytical studies that observe the changing trends, the change in climate, the impacts of tourism practices on the natural environment and natural resources, wildlife and environmental balance. Periodically these agencies publish reports of their study that informs the needs of reform to the existing policies and the needs for new policy development (Kay& Alder 2017, p. 281). The environment management agencies are also responsible for managing the natural environment by ensuring enforcement of policies and protection of nature and natural resources by controlling tourism activities in popular tourism sites. Thus, environmental agencies are needed for enforcement of policy and informing policy development need by the government.
Cultural heritage management agencies
Cultural heritage management agencies such as UNESCO provides tourism sites of historical importance the status of world cultural heritage site. This status ensures that such sites, be it a monument or a natural park are protected by the United Nations. Such agencies are responsible for conducting an analysis of sites which identifies their current situation of endangerment and provide financial aid for restoration, protection, preservation and maintenance of these sites' cultural, natural and historical significance. The list of cultural heritages can be accessed from the official website of UNESCO (Buckley 2018, p. 564). The government agencies or maintenance agencies can for gaining the cultural heritage status, and there is a prescribed process for that as well. Therefore, cultural heritage management agencies are needed and are important stakeholders for preservation and maintenance of tourism sites by both informing policies, developing own policies for preservation and protection as well as enforcement of the proposed policies thus ensuring sustainable tourism in Australia.
Local, regional and state government
These are direct stakeholders responsible for developing the policies and enforcing the policies by making laws and regulations. The local government assess the local needs for ensuring sustainable tourism and develop local policies which should also take into account regional and national policies. The regional government similarly assesses the regional needs informed by local needs and develop policies with national policies taken into account. The state or national government at the same time, take into account the global tourism policies and domestic tourism specific needs and develop policies applicable nationwide. For ensuring enforcement of these policies, the local, regional and state government ensures that possible consequences are also detailed for non-conformance as per law (Nunkoo 2015, p. 624). The local and regional government has specific rights relating to developing policies and enforcing those at local or regional level such as for banning plastic, or for regulating the price for tourist vehicles for hire.
Indigenous people
Indigenous people are directly and indirectly affected by the proposed policies. The policies impact their culture, habitat and lifestyle. For a major part, there is a need for developing policies that preserve and protects the indigenous people and informing these communities regarding the policies for proper enforcement (Carr, Ruhanen & Whitford 2016, p. 1071).
Communities
Local communities play a significant role in ensuring sustainable tourism development. Sustainable tourism policies affect the local communities in aspects of life, habitat, income and these communities ensure the policy practices are executed within the local region by the active participation of both community people and visitors.
Scope of the plan proposed
The policy plan in order to be developed appropriately needs to consider various possible policy approaches. These approached details the scopes of policy development and enforcement in order to address existing issues is sustainable tourism in Australia. The following subsection details the possible policy approaches for policy development addressing the sustainable development issues in the tourism sector in Australia.
Possible policy approaches
While developing the policy, the policymakers must consider should consider both short term and long term plans.

There is a need for establishing strong industry engagement in order to ensure strategic development and delivery of tourism services and this should be considered while developing policies.

The policies should take a triple-bottom-line approach addressing the economic, social and environmental reform needs addressing specific issues in these segments (Sustainability 2019).

The focus for policy development should be on challenges and opportunities presented by climate change (

Budeanu et al. 2016, p. 289

). A focus on sustainable destination management of regional areas is also required.

The policies developed should consider and communicate the possible implications of policy enforcement, economic costs associated with enforcing such policies and explore the existing capacities, opportunities and barriers.

Policy development should focus on the activities undertaken by Destination Management Planning Working Group. As these groups focus on increasing cooperation, the policies scopes are dependent on their contributions. For the policies to be realistic, the scopes of the associated agencies responsible for enforcing the policies should be taken into account.

For the execution of developed policies, the National Landscapes Program can be consulted as it stimulates cooperation between cross-jurisdictional tourism regions. This ensures establishing a link between the conservation of tourism sites and visitor experiences.

Policy development should consider promoting using renewable energy in supplying electricity. Switching to renewable energy sources will likely decrease carbon footprint and impart positive results in global warming and climate change. Economic sustainability can be ensured as well because renewable energy costs less than fossil fuel.

While developing policies, only economic and environmental sustainability should not be concerned, but the social security of locals and visitors must be ensured through controlling crimes and criminal incidents (

Basu 2017, p. 143)

. There is a pressing need for legal actions and stricter laws for sex offenders, human traffickers, and controlling service providers engaging in the promotion of sex trade. Unless social security from criminal outbreaks is ensured, sustainability in tourism cannot be ensured.

New policies can be made for developing government-funded programs for training people associated with the tourism industry or interested in joining the industry in order to increase the number of skilled labour.
The afore-mentioned policy approaches can be considered as these address the needs of sustainable tourism development.
Proposed Process
An outline of the proposed process for policy development is presented. The process involves different steps that would result in the development of policy.
Step 1: Identification of needs
Step 2: Identification of stakeholders and consultation
Step 3: Detailing the known aspects
Step 4: Detailing the needs, scopes and rationale for policy development
Step 5: Development of short and long term goals
Step 6: Consultation with existing policies
Step 7: Development of draft policy plan
Step 8: gaining approval on final policy plan after making all required changes on the draft policy plan
Step 9: Enforcing the policy by detailing the roles and responsibilities of enforcing agencies
Step 10: Periodic monitoring and review of outcomes of policy enforcement by specific agencies.
Details of consultation, implementation and review
For a consultation with stakeholders, it is necessary to identify the stakeholders and make a communication plan that can be followed for consultation. Periodic meetings, sending formal reports would be necessary for consultation. For implementation, a specific date and process of implementation need to be developed for nationwide implementation of policies. Yearly review of outcomes of policy enforcement can be conducted by a specific agency and reports can be published in official government websites.