Answer :
SOUTHERN CROSS UNIVERSITY
ASSIGNMENT COVER SHEET
| | |
| --- | --- |
| Unit Name: | Contemporary Tourism Issues |
| Unit Code: | MKT01762 |
| Assignment No.: | 3 |
| Assignment Title: | Report |
1.0 Introduction
France is a major tourist destination among the European countries as France is the most visited tourist destination in Europe as overall 86.9 million people visited the country for tourism purposes in 2017 (Rosen, 2018). France has hundreds of tourist attractions or destinations but among them, Paris is the most visited destination by the tourists and among the travel enthusiasts Paris is a must-visit destination because of the scenic beauty and historical attractions. This is why, in 2019 Paris was the second most visited city around the world and according to published statistics, 19.1 million tourists visited the city during this year (Millington, 2019).
However, despite these high numbers, the annual growth of tourist visits have slowed down over the years because of the terrorist attack in 2015 and the illegal migrant problems. The published statistics suggest the number of illegal migrants in Paris is more than 4,00,000 and people living on the streets of Paris has negatively impacted the tourist attraction towards this destination (Chazan, 2018). This report will focus on various associated issues which possibly have an impact on the development of Paris as a tourist destination. For example, issues and development areas such as transport, accommodation will be investigated and discussed in this report. Furthermore, crisis and risk management such as terrorism and crime prevalence and mitigatory steps undertaken will be investigated and discussed in this report as well. Based on the findings the tourist experience development potentials will be discussed in this report.
2.0 Main Body
2.1 Tourist Market Potential
There are various tourism market segments that are emerging around the world because of the tourist attractions such as adventurous tourism, spiritual tourism, historical tourism, LGBT tourism and others. Among all these tourism market segments, historical tourism is already prevalent in this destination because of the historical venues scattered around the city. Because of the vast amount of tourist attractions, Paris has managed to beat London in terms of visitor numbers by attracting 19.1 million international tourists (Millington, 2019). Paris has the potentiality to develop a new tourist market segment within its tourism industry and that is adventurous tourism. Therefore, future investments into this tourist market segment will ensure the development of this emerging segment and as this segment already has the potentiality to thrive because of the visitor interests and attractions, development of this segment will deem appropriate.
Paris already has various tourist attractions such as Indoor skydiving, Roller Coaster rides, Helicopter rides around the Paris, Air balloon ride, Water skiing and others. Tourism industry can capitalise on these existing tourist attractions and activities providers (Løseth, 2018). As Paris is mostly visited by the young demographic of international travellers annually, it will be easier to undertake the marketing activities to attract the visitors towards these facilities and furthermore further development of such adventurous activities will attract the adventure or adrenaline seekers more towards Paris.
As a result, based on the present traveller interests and potentiality of this tourist market segment it will benefit Paris as a tourist destination. Furthermore, it will also attract the young demographic of people or the millennials also known as the backpackers to this destination. As millennial have a tendency to try out new things or activities, which as a result will enhance the economic prospect further with the development of this market segment (Moreno et al. 2017). However, development of the adventure tourism and activities related infrastructures are costly and will require investments from the DMOs operating in this destination.
2.2 Transport Development
It is impossible to develop a tourist destination without the implementation of transportation. Because, among the other infrastructures such as accommodation, food and drinking water, transportation plays a crucial role as it provides the ability to the travellers to roam around or in an out of a tourist destination. As a result, in order to develop a tourist destination, that destination should be connected through multiple modes of transportation such as road transportation, railways, waterways or airways. Furthermore, within the destination, there should be a vast amount of road and railway transportation in order to offer effortless transportation to tourists while they travel.
Being the capital city of France, Paris has a robust public transport system and the entire city is covered with a mesh of tram, metro and bus service network. The robust nature of the public transport system of Paris has been globally appreciated and as a result in 2016 this public transport system was considered as the best by the ITDP (ITDP, 2016). The metro transport system of Paris is Europe's one of the first metro lines and currently spread across 16 lines. Furthermore, since 1992 the tramways have reappeared in the city and operate in 8 different lines across the city (Kilani, Proost & Van Der Loo, 2014). Paris has a complex and huge bus network as well, there are 347 public bus routes in this city. All of these transport modes, as a result, helps the tourists travel around the city and visit various attractions scattered across the city.
Therefore, this robust public transport system of Paris has helped with the development of the tourism industry of Paris as it helps the tourists to travel effortlessly and visit their desired locations easily. Furthermore, the 'Paris Visite Pass' is also available at affordable prices for the tourists and provides unlimited travel facilities using the public transport system within Paris.
2.3 Accommodation Development
Travellers or visitors require a place to stay overnight and therefore the accommodation infrastructure in the tourist destinations are must-have. Furthermore, accommodations are not only the places to stay for the tourists but they are also tourist attractions thus the concept of luxury hotels has developed over the years. Being the world's second most visited city by the tourists, Paris has a wide range of accommodations offerings and they range from cheap hostels to affordable family hotels to luxury five-star hotels and palaces. These accommodations also play an influential role among the tourists as well and their attributes such as affordability, service offerings attract a wide range of people.
For starters, there are various hostels available around the city as they attract youths because they are cheaper yet offers a convenient way to stay while travelling. There is also a wide range of hotels available in this city and they range from affordable hotels to five-star palaces. Such a diverse range of hotels helps with the attractions of people belonging to different economic levels and countries. Furthermore, these accommodation facilities have also taken the advantage of technological advancements and offer booking service through internet websites such as Booking.com and offer pre-booking service to the visitors (Heo, Blal & Choi, 2019). These hotels generally also offer buffet service for French and other European food items which as a result also attracts the tourists and enhances their travel experiences.
There are also luxury resorts scattered across Paris and their target customer segments are the high profile international tourists and earn valuable foreign currencies for the country. This, as a result, has helped with the development of the tourism industry in Paris and created an identity for Paris as a cultural hub for the destination as people from various cultures and countries visit Paris each year.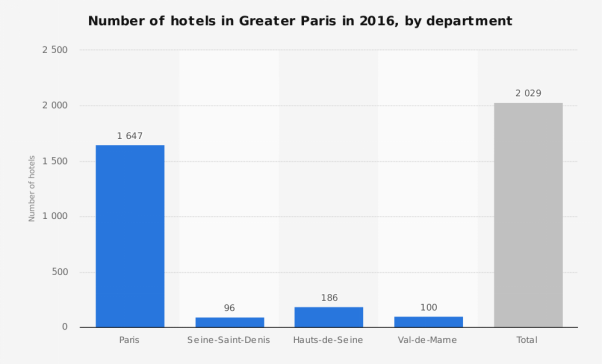 Figure 1: Accommodation in Paris
(Source: Millington, 2019)
2.4 Crisis and Risk Management
Even though the technological advancements and global economy has boosted the tourism industry in the 21st century, the major drawback has been terrorism and crime rates. Terrorism has become the most impactful aspect that impacts global tourism and each year this industry loses billions of dollars due to the prevalence of terrorism.
Paris has experienced one of the worst terrorist attacks in 2015 and which killed 130 people in this City of Light (BBC, 2015). Because of this attack, the tourism industry of Paris was heavily impacted as this attack changed the tourists' perception about this tourist destination and as a result once the most visited tourist destination has lost its place and has become the second most visited destination. In 2016 the tourist arrivals into France were down by 8.1% compared to the previous year. However, since 2017 the picture has changed and tourism revenue has plunged once again (Nail, 2016). But, because of this terrorism incident in 2015, the security measurement has tightened around Paris and which has both positive and negative impacts as well. The positive aspect being the security of the visitors and mitigation of a repeat attack in Paris, however, the negative aspect is that tourists now do not feel the freedom while roaming around the city and which adversely impacts the experience. As a result, Louvre, the most visited museum of Paris, now has around 20% drop in visitors due to the tightened security within and around this museum area.
Furthermore, Paris is now flooded with illegal African migrants and which also adversely impacts the tourist experience due to the high crime rate against tourists such as purse snatching, cheating and others. However, mitigatory actions are being taken by the authorities to handle this situation as well. Therefore, the required effort from the destination managers operating in Paris is expected to become much easier in the coming days.
2.5 Social Media Influence
As already discussed earlier in this report, the tourism industry of Paris has availed the technological advancements as a benefit to enhance the tourist perception of the accommodation facilities. Same goes for the marketing of Paris as a tourist destination as well, because this industry is also benefiting from social media-based marketing. Social media giants such as Facebook, Instagram, Twitter, and YouTube have been playing a key role in the marketing of Paris and helping with the instigation of desire among travel enthusiasts all over the world. The millennials are the most active netizens on social media platforms (Minazzi, 2015). They have been the most influenced demographic of people through social media-based marketing activities to promote Paris as a tourist destination. Thus, millennials or young demographic of people are the most tourists to visit the City of Light.
Furthermore, hotels and other tourism service providers are also using social media's chat feature as the customer service channel as well. This, as a result, has helped with the facilitation of instant customer service support to the tourists and enhancing their experience. On the other hand, social media has proven to be the most effective word of mouth based marketing tool as well. Because this platform has a sharing feature, tourists visiting Paris uploads and shares their photos and videos with their friends. Such activities, as a result, attracts the others towards Paris and without any direct investments, the tourism industry of Paris is enjoying free marketing through social media platforms.
Furthermore, it is a known marketing fact that acquiring new customers is always more expensive than retaining the existing ones. Therefore, hotels and travel agencies are using social media to maintain their relationships with their customers and offering discounts during the off-season and for pre-booking in order to attract more tourists to Paris to enjoy their holidays.
2.6 Visitor Experience Development
Tourists visiting a destination with a various and wide range of attractions tend to stay longer and thrives as each year millions of tourists visit them. Therefore, in order to stay attractive, the experience of tourists or visitors needs to be positive and needs to be satisfied (Packer & Ballantyne, 2016). Paris has always been the cultural hub of the world and Europe as since the middle ages Paris and France have attracted people towards this place because of the rich cultural values. Furthermore, in recent times the millennials are the most active travel enthusiasts and defining the backpackers' culture of tourism. Therefore, the following two tourist experience segments need to be developed because of their potential to further develop the tourist experience while visiting Paris.
Cultural Tourism:

Tourism based on culture has always been a potential tourism segment as they offer growth and development of the tourism industry of a destination(Packer & Ballantyne, 2016). Because of the cultural richness and various historical establishments, cultural tourism holds enormous value and potentiality to further development of this tourist destination.

Adventurous Tourism:

On the other hand, the young demographic of people or the backpackers are the groups of people who can be targeted through adventurous tourism-based experiences(Løseth, 2018). As Paris already has the potentiality to develop this experience because of the existing infrastructure and facilities, this visitor experience aspect and its developments can be pursued.
Fig 3: Adventure Tourism in Paris
(Source: Rosen, 2018)
3.0 Conclusion
The author of this present report focused on Paris as a tourist destination and focused on the discussion of current tourism and hotel issues relevant to Paris. Paris is the world's second and Europe's most visited tourist destination as during 2019 around 19.1 million tourists visited Paris. This number, as a result, demonstrates the relevance of this destination in the global tourism industry. Furthermore, Paris has also maintained the attraction of tourists since the early 20th century and as a result, this destination holds a lot of educational aspects for the destination managers as well.
This report has investigated and discussed the associated aspects that influence and impacts a tourist destination such as transportation, accommodation, and crisis and risk management and so on. Furthermore, the potentiality of an emerging tourist market segment has been investigated and discussed in this report. Author of this report has identified the adventure tourism and the young demographic or backpackers as the emerging market segment which has the potential to thrive. Furthermore, the investigation of the Paris' transport system has found that being a tourist destination, Paris has a robust public transport system and offers multiple ways of commuting for the visitors such as tram, metro and bus. Transport authorities also offer a prepaid unlimited use transport card which can be useful for the tourists and enhancing the tourist experience.
Various types of accommodation facilities offered in Paris have been discussed as well and suggests that a wide range of accommodation for a wide price ranges are offered. Which as a result has helped Paris to attract a diverse range of tourists and helped them to develop Paris as a tourist destination. Furthermore, the report has also discussed the adverse impact of terrorism has on the Paris' tourism industry and risk in terms of crime by illegal migrants have been identified as well. Social media's impact has been proven to be beneficial as well for this industry as they are being used for both marketing and customer relationship purposes. The author has also identified two potential tourist experience development areas and can be implemented for further development of the tourism industry of Paris.