ASSESSMENT 4 BRIEF




Subject Code and Title




MKT101A - Marketing Fundamentals




Assessment




Marketing Plan – Stage 4: Metrics Proposal and Reflection




Individual/Group




Individual




Length




750 words (+/- 10%) (or equivalent)




Learning Outcomes Addressed




Describe the marketing concept

Outline and apply the elements of the marketing process.

Identify and explain the macro and micro environmental factors impacting the marketing of a business or industry.

Demonstrate an ability to incorporate new trends to solve marketing problems and apply communication skills.

Describe key marketing metrics used to evaluate the

effectiveness of a marketing plan.




Weighting




20%




Total Marks




100 marks



Context
Congratulations! You are now in Stage 4 of your marketing planning process. Most of the hard work has been completed and now it is time to provide a metrics section and a reflection of what you have learned through this process.
Let's recap a few achievements during this process. So far, you have:
developed a situational analysis including various micro and macro environmental factors that could affect your client and/or industry from a marketing perspective;

identified different trends, target audiences and suitable marketing mix strategies, which altogether will contribute to add value to the client and its offerings from a marketing concept perspective.
In this final stage, you are required to identify and describe some evaluation and monitoring tools/systems and respective metrics. These should include metrics that would be suitable for your client to measure the success of your recommendations. By controlling and
evaluating marketing strategies, you can monitor if they are effective and you can adjust your approach if they do not bear positive results for the business. Here are some elements that could be closely monitored: sales growth, increase of brand awareness, number of social media followers, improvement in customer satisfaction levels and brand loyalty, just to name a few.
You are also required to write a critical reflection of the things you have learned through this marketing planning process and how it has improved your understanding of marketing overall.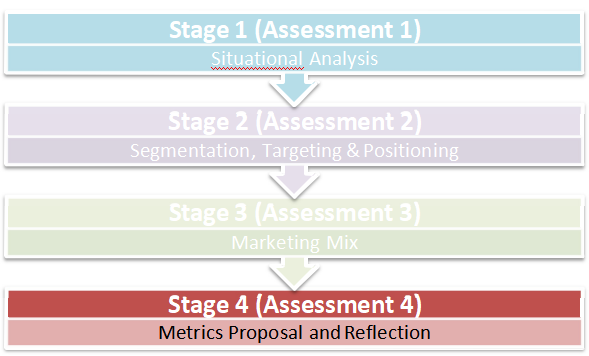 Instructions- Stage 4
In Stage 4 of your marketing plan, the focus is on describing key marketing metrics that you could use to evaluate the effectiveness of your marketing plan recommendations and support your client's current and future marketing decisions.
At this point, Stage 3, you must submit a word/text document which includes:
Cover page including:

Business name

Student Identifier (name and number)

Subject code and name

Marketing Metrics: A description of

a

t least

three (3)

monitoring & controlling systems/tools

and

a description of

t

he relevant

marketing metrics used for the system/tool. You should also explain why they are relevant tools to evaluate your recommendation strategies.

Critical reflection on what you have learned about the marketing process through the assessments.

References
Submission guidelines:
The presentation recommended for this assessment is REPORT FORMAT.

An executive summary is

NOT

required.

Use suitable

headings

and

subheadings

for the information presented, and page numbers should appear on each page of the document – ideally in either the header or footer.

The assessment should be submitted in a format that would be acceptable in the business world. All assessments are to be submitted to Blackboard. All work must be word-processed, spell-checked, grammatically acceptable, and professional in appearance.

The assessment submission should include the Similarity Report from Turnitin.

Assessments should not be written from a 1

st

person context, but rather from the 3

rd

person perspective. That is, "I, we, my, our" are not acceptable.

All claims and recommendations are to be supported by suitable and relevant marketing and/or theoretical principles and their relevant references.

The report should include a correctly constructed Reference List and accompanying in- text citations as per University guidelines (APA 6

th

ed. referencing style). Please see the

Academic Skills

page

on Blackboard

for information on referencing in APA 6

th

ed.:
h ttps://laureate-
a u.blackboard.com/webapps/blackboard/content/listContent.jsp?course_id=_20163_1
& content_id=_2498847_1&mode=reset
The use of any combination of narrative, point form, diagrams, graphs or charts including presenting the information in table form is permitted – particularly if these devices reduce the wordiness and increase the "readability" of the submission.