Needs Assessment Analysis For Control...
Needs Assessment Analysis for Controlling Diabetes Assessment 1 Answer
Answer
ASSIGNMENT ON NEEDS ASSESSMENT
Introduction
Diabetes has been the fastest growing chronic disease in Australia at present and includes almost 119,000 and 1.3 million patients of Diabetes type 1 and type 2 respectively in national level. Since 2000, the prevalence of the disease has grown in alarming rate including the Australian youths as well as aged people. This report presents a brief Needs Assessment analysis for controlling Diabetes in the state along with adoption of the specific stepwise approaches of needs analysis, discussion of the possible challenges that might be present and developing programme priority for succeeding the effort. Moreover, this assessment includes SWOT analysis of the services already been provided in Australia for controlling Diabetes.
Step 1: Needs Analysis Approach for Diabetes Control Service
For controlling rapid spread of diabetes A and B in Australia, a combination of Epidemiological and Corporate approach might be applied for generating better outcome. The Epidemiological approach would involve accessing information on risk factors encountered, its impacts and relations of these factors to demand of services. The Corporate Approach will involve assessment of major health and healthcare issues in Diabetes from professional perspectives (O'Reilly et al., 2016). Therefore, as the part of conducting this mixed approach, application of following methods would be made.
Questionnaire on Diabetes Knowledge, Health Beliefs, Problem Areas in identifying Diabetes and taking proper healthcare arrangements

Self-efficacy scale

Hopkins Scale Checklist-25 (

Scott et al., 2016)

Structure Interview of professionals
Application of the mixed approach of needs analysis would be conducted in national level considering the extent of spread of Diabetes throughout the nation, where according to figures (2020), 1.8 million people presently is living with Diabetes, out of which with 1.3 million received proper diagnosis. Almost 500,000 cases of undiagnosed diabetes 2 have been reported during 2018-2018 along with 119,000 patients with type 1 Diabetes in Australia. As mentioned by Australian Institute of Health and Welfare (2019), during 2016-2017, over 1 million cases of hospitalisation of Diabetic patients were registered in national level with 6% of Australian adults aged 18 and over. According to the facts provided by Speight et al., (2016), since 2001, prevalence of Diabetes among the Australian adults (18 and above) had doubled from 3.3% to almost over 6% at present. The rate of spread of the disease and death from the disease has been almost similar in major cities, remote places and various socioeconomic groups present in Australia. As per figures (2020), during 2016-2017, standardised rate of death from Diabetes in the country was 16.2 deaths pot of every 100,000 people.
Therefore, conduction of the Needs Analysis Approach in national level is necessary considering ever-growing number of cases of Diabetes and deaths from it and no restriction within any particular states would suffice.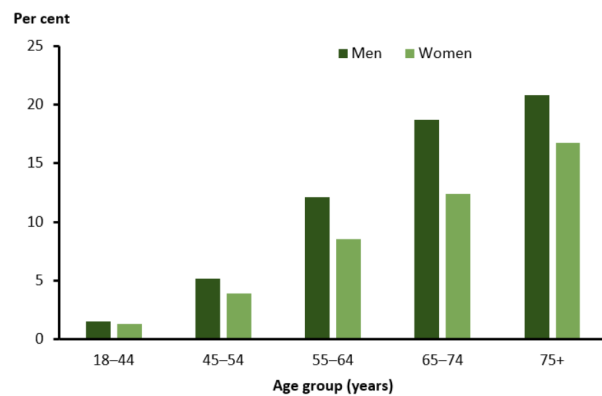 Figure 1: Prevalence of Diabetes among males and Females in Australia
(Source: Australian Institute of Health and Welfare, 2019)
Step 2: Challenges in undertaking the need analysis for Diabetes
In case of performing the need analysis for controlling Diabetes in national level, lack of proper awareness of people and associated knowledge might be a significant challenge with this regard. As stated by Glasson et al., (2016), lower level of self-efficacy among people might be a great disadvantage in conduction of such necessary needs analysis approaches in national level. Lack of community awareness in different regions and cities in Australia might pose significant issue in this connection leading to practical challenge in implementation of the methods like self-efficacy scale, Questionnaire on Diabetes Knowledge and Hopkins Scale Checklist-25. Apart from this level of stigma among people, living with diabetes might affect the success possibility of the needs analysis approach in various disciplinary and generic levels of operations.
Figure 2: Diabetes among persons aged 18 and over in various Places in Australia
(Source: Australian Institute of Health and Welfare, 2019)
While implementing the methods of Questionnaire and self-efficacy scale, lack of diabetes education and recent updates on acuteness of the diseases in the country might resist the effort of gathering valuable information on range of needs of heath prevention by general people. This might affect the different inter-disciplinary as well as generic levels of the needs assessment task. Therefore, according to Boothet al., (2016), the areas of gathering lived experience and the best current evidences might be disturbed due to all these reasons. Apart from this, effective compliance of the overall needs analysis process to the Needs Assessment Guide, provided by the Department of Health of Australian Government might be a significant challenge in this case. As per the Government regulations for assessment of needs in healthcare, fulfilling the steps recommended by the PHN (Primary Health Networks) Commissioning Framework is necessary (Booth et al., 2016). Application of the Mixed Approach therefore, needs proper addressing the community needs while acquiring the facts and information on needs felt by the Diabetic patients for appropriate medical intervention and monitoring. Moreover, the Needs Analysis Approach has to fulfil the terms and conditions of 'Commissioning', as per Australian legislature, for denoting the proactive and strategic roles of the overall approach.
Figure 3: The PHN Guidelines for Needs Assessment in Healthcare
(Source: Booth et al., 2016)
Therefore, from overall perspective, conduction of the mixed approach of Needs Analysis might face the above mentioned challenges due to the necessity of meeting the issues of self-efficacy lacks, lacks in interest of the professionals and legal policy oriented complexities fo the assessment of needs.
Step 3: SWOT Analysis
This SWOT analysis will help in understanding the overall areas of steps taken for identifying the risks of Diabetes and controlling.
Strengths:
Accessing prevalence of Diabetes and the key reasons of such spread extent

Inclusion of the Torres Strait Islander and Aboriginal people in the screening

Formulation of National Diabetes Strategy, 2016-2020 (

figures, 2020)

Developing people awareness on the necessity of earlier detection of Diabetes type 1 and 2

Healthcare education intervention for educating people regarding key factors for Diabetes
Weaknesses:
Lack of proper planning for ensuring timely diagnosis for type 1 and 2 Diabetes

Lack of attention towards screening the needs of Diabetic patients aged 17-20

Insufficient success in reducing Diabetes impacts on pregnancy (

Glasson et al., 2016)

Appropriate screening of all the Priority groups

Lack of Need Analysis Approach for different Priority Groups

Identification of the comparative needs of patients in national level
Opportunity:
Making screening of all people mandatory in national level by legal force

Setting specific targets for the high risks and vulnerable groups

Strategy development for prevention of gestational diabetes impacts in pregnant

Strengthening the policy for caring and prevention of Diabetes through evidential research and data analysis in national level
Threats:
Limited success in developing awareness of people regarding Diabetic aspects

Ever-growing rate of patients with undiagnosed Diabetes types

Lack of innovative strategy for wider screening in national as well as state levels
Step 4: Programme Priorities
Considering the above needs of applying Need Analysis Approach for Diabetes controlling and the key possible challenges areas and opportunities for further programmes, the following programme priorities have been developed here for turning the overall effort more effective.
Firstly, as part of the priority, special screening plans are to be developed based on the needs of accessing information on different levels of healthcare intervention needs for reducing the risks of Diabetes 1 and Diabetes 2 in the community. Plans would be developed for accessing the Normative, Felt, Expressed and Comparative needs of people with this regard. Programmes are to be arranged for inclusion of the all the priority groups within mandatory screening, including the age group of 17-25. Considering over 600,000 undiagnosed diabetes cases in Australia, presently, appropriate and timely medical intervention on this particular group is necessary as part of the priority programme (Scott et al., 2016). Specific attention would be provided for ensuring the impacts of pre-existing and gestational Diabetes on the pregnant. Moreover, the task of making screening of Diabetes compulsory throughput Australia by legal obligations will be the priority here. As stated by Australian Institute of Health and Welfare (2019), planning and implementation of specific guidelines for developing overall research and information capacity on Diabetes associated factors is necessary part of priority planning. Hence, the priority programme would include this particular aim also.
With regard to making effective plans and strategies of the Priority Programme, this would be necessary to ask for effective collaboration from all the stakeholders in the government level as well as the Australian health sector levels, which is necessary for effective execution of the plans suggested by the priority programme.
Conclusion
The overall discussion makes this clear that Diabetes has become a great concern for all stages of healthcare and disease prevention in Australia and presently, the state of spread of the disease has reached alarming stage in national level. Therefore, application of the Mixed Approach of Needs Analysis is necessary for conducting at the national level considering impact of Diabetes on almost all the communities living there. The necessary steps and plans discussed under the programme priority are essential to be implemented at national level for gaining higher control over all types and categories of Diabetes.
Customer Testimonials
ABC Assignment Help for one reason became my favorite because they don't have a very complex signing up process and it's very simple so everybody can use it. I was able to sign in without any hassle as my Company Law Assignment was due and they did it for me in a very efficient manner and I am very delighted with their service and a heartiest thanks. Emily, Sydney
I work part time to meet my expenses apart from college and I took this as a decision to not burden my parents. A while later I started feeling great amount of stress in balancing it all together and decided to seek help from ABC Assignment Help for my Commercial Law Assignment and they did my assignment for me and I am super satisfied with their work style. Thank you so much. Lawrence, Tasmania
I had a harsh week as I was extremely debilitated and every one of my assignments were getting excessively and caused me an incredible mental breakdown. A companion of mine seeing my circumstance asked me to utilize ABC Assignment encourage, their quick and efficient administrations helped me complete my Contract Law Assignment with less stress Rihana, New South Wales