GENERAL INFORMATION ABOUT
NRSG 138 ASSESSMENT TASK 3: Written Reflection
Task 3 is a reflective piece of writing about your learning experience through this semester and how it has contributed to your professional philosophy and your intention to practice Person Centred Care.
Consider how your understanding of Roper, Logan and Tierney's domains of Biological, Psychological, Socio-cultural, Politico-economic and Environmental factors will assist you in your future practice when you will be practicing person-centred care. How does the experience of learning about these domains influence your personal philosophy of nursing and person-centred care?
Structuring your assignment
Firstly, it is important that your submission is structured using Gibbs reflective cycle.
Please review the exemplars that have been written by the lecturers and provided for you on the WIKI page on the NRSG 138 LEO site. Reflective writing is a way of being proactive in your everyday learning and practice.
A reflective piece is all about YOU. It is expected that it be written in the first person. So, this way of writing is unlike other forms of academic writing and "I" and "me" and "I found" etc. are all not only acceptable butexpected.
The structure of the assignment should include:
An introduction including a coherent description of what you learned about the RLT domains (biological, psychological, socio- cultural, politico- economic and environmental factors)
Recognition of how you felt and your reactions to this new information -consider your own development in the unit
An evaluation of the learning experience
A critical analysis of what made sense to you – link this with academic literature
A description of your personal philosophy of nursing as an outcome of your reflective learning - link this with current nursing literature
Link your stated personal philosophy with person-centred care, and how you will implement this in future practice
Writing your assignment
The writing will demonstrate a reflection on your learning experience. You can use your writing from the unit content as a basis for this reflection. Refer to these pieces of writing and review, refine, reference and extend them to develop a cohesive reflection that represents your understanding of the Roper Logan and Tierney model of care and how this has informed your (beginning) personal philosophy of nursing
Please remember that the submission for the reflective piece needs to be a cohesive piece of writing.
References
You have been asked to provide references in your reflection and this will also be good practice for future academic writing and reflection. Please include intext references and a Reference List.
To support your writing, you can use:
research articles

policy documents from relevant nursing professional groups

text books

articles from peer reviewed nursing journals on nursing education, academia or theory.
References are useful to support your stance on
why you might have felt a certain way

why we use a model ofnursing

to explain why the concept under discussion is important

discuss what could have been done differently

why something workedwell

to justify your plans
It is expected that for 1200 words you will have around a minimum of 10 different references. FAQ
How old can the references be?
The convention for writing about dynamic clinical information is 5 years or less (as knowledge changes so rapidly). In some areas however, older knowledge is considered fundamental and contemporary for longer. You should use the most recent available. So, if you find two articles from 1991 and then 2006, you should use the most recent. You should be able to source all your material from 2008 onwards.
How do I get help

with

APA?
Not knowing how to use APA will cost you valuable marks. The library and LEO (OSS) have excellent resources on APA. Not using referencing at all is considered academic misconduct and is not allowable.
Can I

use

the Gibb's cycle as

headings

in

myessay?
Gibbs' headings are a great idea as you write your draft, because they help you organise your ideas. However, academic writing requires a coherent, well-flowing piece of writing so before submission, you need to remove any draft headings and make sure you link your paragraphs so ideas flow throughout the paper.
Do I reference Roper

Logan

andTierney?
You will need to cite your source for the domains you discuss, and any material from RLT that is not your own original thought. However, you need to include a broad range of references to support your writing.
Can

I

reference

my

lecturer

/

lectures?
No – while we are flattered that you have found our information valuable, you need to always use authoritative, published sources in academic writing. Using our material means you are simply repeating our words instead of researching for yourself.
What is an authoritative

source…or

why

can't

I just

Googlethis?
Please see the Assessments tabs for an explanation of authoritative sources. Google and similar search engines are public - they provide information at public level and you are completing a complex tertiary degree. We are aware of the existing material available on Google for these topics and there is a significant loss of marks associated with using material designed for the 'person on the street' rather than the beginning clinician such as yourselves.
A 'How To' guide for Gibbs' Reflective Cycle
Gibbs' reflective cycle is a theoretical model used by students as a framework for reflective writing it is also a tool for you to take forward into your practice as a healthcare professional.
Gibbs Reflective Cycle has several aims some of the important ones are to enable you to:
challenge the assumptions and bias you may have regarding nursing and healthcare.

explore new ideas

evaluate effectiveness of approaches

develop a conscience of self-improvement

link practice and theory
The model was created by Graham Gibbs in 1988, it has 6 stages.
Description

Feelings

Evaluation

Analysis

conclusions

Action Plan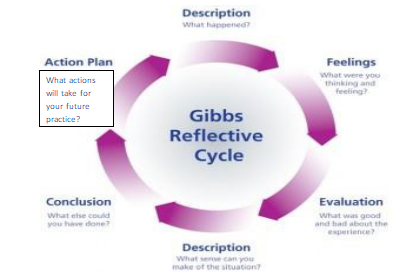 Retrieved from: https://blogs.glowscotland.org.uk/glowblogs/uodsseportfolio/2015/10/25/gibbs-reflective-cycle/ Accessed: 6th of May 2018
Follow through the steps outlined below You will not needto use all the questions
Description
This part of the cycle is not analytical or reflective it is descriptive. You are required to provide an outline of the event or what happened. For this assessment task you will be describing the learning you participated in during week 5, 6 and 7.
Remember

: Be specific relevant and concise a good description is the basis for the rest of the

reflection, so it needs to be crafted well.
Feelings
This part of the cycle involves connecting with why you responded the way you did, and the following are a few cues to help you identify this. Answer those that you think are relevant to you.
How did I feel and what did I expect, anticipate or think before starting NRSG 138 week 5, 6 & 7?

How did I feel and what did I think during the weeks 5, 6 and 7 tutorial?

How did I feel after week 7?

Was there a change or a shift in my feelings?
Remember:

This is also a descriptive section and involves your personal feelings emotions and

views; we expect to see the word 'I' here.
Evaluation
Answer any of the following cues that you think are relevant to your learning experience in weeks 5, 6 & 7.
What part of the learning experience worked well for me?

What did not work as well as I expected?

What difficulties did I have (if any)?

Which concepts did I grasp easily?
Remember:

This part identifies positive and negative perceptions about the learning

experiences. If there are lots of things you want to say prioritise the most important ones, or those that best represent your experience.
Analysis
In the analysis part you are seeking to make sense of the events see how they integrate together - what were the advantages of learning these concepts?
To help you decide what you want to write about, consider the following and select those that are relevant to your learning experience
What were the aspects that did not go so well and why were they difficult?

What aspects went well and why were they effective in building your learning?

Consider your own contributions to class discussions Ask yourself Did I feel confident to contribute why / or why not?

What improvements could I have made?

Consider other learning experiences and compare earlier learning experiences to this one.
Remember:

This section is analytical it is focused on explaining the reasons as to why things

happened. In this section you identify what were the contributing factors to making this a good or bad experience.
Conclusion
Look back on your learning experience and consider the following questions
What were my learnings from this experience (positive and/or negative)?

Did the experiences fill any learning gaps or enable me to identify learning needs and areas of focus?

Was I able to identify personal strengths and/or weaknesses from these learning experiences?
Remember

: The conclusion pulls it all together and summarizes what you have learnt and

what your desired outcome is. This is a summary - Please be specific and concise. Avoid generalized statements such as" I don't know enough yet
Action Plan
Ask yourself the following questions to help build a plan
What do I need

to do

so that I can implement person centered care in the future?

Even if the learning was great what can I do to make my learning more efficient?

What are my priorities for my learning?

What am I specifically

going to do

to make these things happen: what activities will I undertake, what resources will I examine? who will I speak to?
Remember: This part of the reflection is focused upon a plan of action it is not descriptive or analytical but states the actions required to achieve your desired outcome