Details of task:
Only choose

ONE

of the following three question sets for the essay (question set A

OR

B

OR

C).
Length: 1,500 words ± 10%
Case
Kate is a 52-year-old female patient who lives with her husband in Whittlesea, Victoria. She has three teenage children at home. Her Height is 167 cm, and she weighs 98 kg. She works as a receptionist. She was diagnosed with type 2 diabetes 4 years ago. On most evenings, she drinks two large glasses of red wine.
Kate was started on metformin 500 mg oral twice daily. The dose was increased to 1000 mg twice daily one year ago and an additional small dose of insulin glargine. Her latest HbA1c level is 8.4% and morning fasting glucose in the past three months has ranged between 7 and 10 mmol/L. Her last review of physical systems was unremarkable, but reported there was pitting oedema in both lower legs. She is on no other medications.
Kare and the family just returned from a 5-day trip to Sydney. She reportedly had a couple of days history of vomiting and loss of appetite after an accidental penetration injury from a fishing hook on her left lower leg. Kate also lost her supply of metformin and glucose testing kit in Sydney. She presented to the emergency department after returning from Sydney.
On examination at the ED, Kate was febrile and had signs of dehydration with dry tongue, slow capillary refill, irregular deep laboured breathing rate of 40 breaths/min, pulse 130/min. The review of systems showed clear lung and heart sounds. Left shin open ulcers were noted. Her blood glucose was 28mmol/L, arterial blood gases revealed pH 7.06, and increased blood ketones.
Question set A
Analyse the case and respond to below two questions in the essay
Discuss the pathophysiology of type 2 diabetes as it relates to the acute symptoms Kate is experiencing.

Analyse the potential management approaches (medical and nursing) for

Kate.
Kate was discharged 3 weeks after ED visit. One week after discharge, Kate presented to the emergency department again with 24-hour history of nausea, vomiting, and severe right lower quadrant abdominal pain with radiation over her periumbilical area. She stated to the doctor that she had had similar pain over the last week but not as bad as it was now. Following assessment and investigation, Kate was diagnosed as having acute appendicitis and was scheduled for laparoscopic appendectomy in theatre in 4 hours.
On examination, her temperature was 37.5 ; 25 breaths/min, pulse 115/min. BP 140/95mmHg. The review of systems showed clear lung and heart sounds. Her blood glucose was 5.5 mmol/L. Kate was conscious but anxious.
Question set B
Analyse the case and respond to below one question in the essay
Explore the nursing considerations and strategies involved in the management of Kate, prior, during and after the acute surgical

operation.
Kate returned home after a five day stay in the hospital for the acute appendectomy procedure. Although she has slowly recovered from the two ED visits, she has been feeling fatigued for the past few days, and has become increasingly depressed about her health status. She started drinking more wine at night.
One Saturday, Kate was having a nap when she experienced a sudden onset of epigastric pain at 2 pm. Initially, Kate thought it was the takeaway the family had eaten for lunch, so didn't not think much of it at the time. Late that afternoon, the pain had not subsided and started to intensify and radiate into her jaw and left shoulder. She explained to her husband that the discomfort now felt like a crushing pain in her chest, so her husband took her to the hospital at 5pm that afternoon.
On arrival at the ED, Kate reported 9/10 crushing pain in her chest, nausea, and diaphoresis. A 12- lead ECG was taken (see below ECG strip). Blood work revealed increased level of Cardiac Troponin T (cTnT) and Creatine Kinase – MB (CK - MB).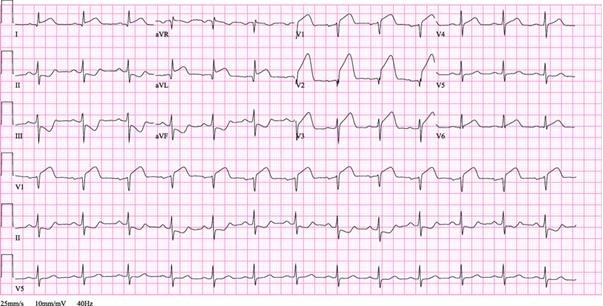 Question set C
Analyse the case and respond to all below two questions in the essay
Discuss the pathophysiology of the acute cardiac event Kate is

experiencing.

Analyse

the

immediate

management

approaches

(medical

and

nursing)

for

Kate

with

an

acute

cardiac condition.