Introduction
Kellogg's is an international food company and established in 1906. Kellogg's products are produced in 21 countries and sold in more than 180 countries in the world. Kellogg's company manufacture cereals and convenience food such as cereal bars, fruit flavored snacks, granola bars and bites, cookies, crackers, ready to eat cereals and so on. Company sold their products by well known brands as Frosted Flakes, Corn Flakes, Pringles, Eggo, and Cheez-It.
My product is Sultana Bran Cereal it is available in different flavors. It is communicated as a solution for digestive problems and healthy breakfast option. It is easily available in super markets and mums prefer this cereal to give their kids in breakfast as well as in lunch box as it has nutrition's, minerals and no artificial color added.
1.Kellogg's vision is
"To enrich and delight the world through foods and brands that matter. ("Our Vision," n.d.)
Their purpose is
"Nourishing families so they can flourish and thrive. ("Our Purpose," n.d.)
Their Values are
"Our values are part of our DNA. They guide the way we work with our business partners, within our communities and with each other.
Through integrity, accountability, passion, simplicity we have created a … culture where ideas can blossom, people can thrive, and success can flourish. ("Success starts here," n.d.)
Sultana Bran cereal comes in different flavors to attract kids. It also provides a wide range of products to children from which they can choose their favorite one. Sultana Bran have been advertised as being a healthiest Breakfast item which children love and enjoy the most. As this cereal is high in fiber so mothers are also happy to buy this product for their kids. With this, now a days, Breakfast has become an easy task for the mothers. Kida are so happy to take it in their lunchboxes as a snack. Sultana Cereals also contain Calcium, Iron and other essential nutrients and there are no artificial colors in it.
After visiting the 3 stores Pak n Save, Countdown and New world we find the competitors are as follows:
Sanitarium

Uncle Toby's

Pams

Hubbards

Vogel

Be Natural

Healtheries
Every Band has a different idea to promote the product as Sanitarium is advertising its product as Light and tasty. Uncles Toby's uses the whole grain and pams says about its product that is a good source of fiber and so on. As kids watch the Tv and they like the advertising then they inform about the product to their parents and when we visit the supermarket that eargerly ready to by that product when they realise it is a healthy food for their kids.
2. Customer Relationship Management
Customer relationship management is a technique to maintain their relationships with customers, increase their sales and achieve more profit. It is helpful for company to retain their existing customers and gain new customers. CRM is a tool to analyse customer interaction and data to improve their customer service. Social media play an important role for every company to advertise their products and grow revenues.
There is a need for CRM because of the following reasons:
To build good and trustworthy relations
To convert the seasonal brand consumer to brand loyal
To maintain strong and healthy relations with consumers
It has been observed that kelloggs has no any company account on facebook there is separate page for each product. For other companies each product have there seprate account on facebook as well as there company account available but for Kellogg's it is very unusal.
After research it Has been analyse that that kellogg's does not have any presence on google+, and that is very unique for any business. Kellogg's need to have a account on google+.
Kellogg's company products available on social media like facebook, linkedin, Instagram etc.
They post their products videos on you tube to attract the customers. by posting these videos on You tube they get to know how many people watch their add and how many likes and dislikes. Some people put their reviews on the videos if they want some changes in same product. For company it is the best way to survey for their product.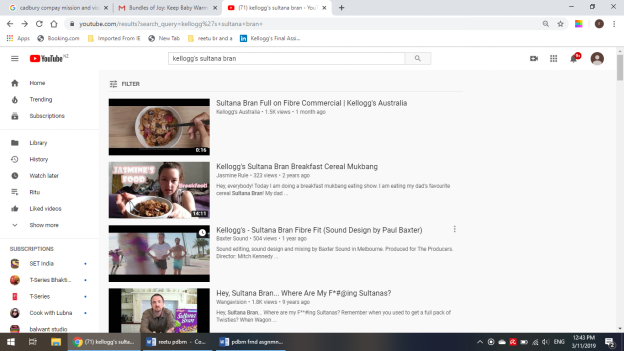 Source: You Tube
Facebook is other social media application that company use to advertise their products. This is best way to communicate with their customers and company also find their potential customers by this source. When customers engage with the company then they eager to use their product.
Source: Facebbok
Here is my experience with the company
I do call in the kellogg's company customer care number that is given on the company's website 800881889. Brandon received my call on the other side. He was very polite.
My query was Sultana Bran have a best before date, but I did not notice this and 3 weeks later ate some and they tasted good, any issue if eating after best before date?
He was very quick and reply as best before dates are very different from expiry dates. Best before date passed it does not mean it is harmful, but it lose the flavor and texture.
I sent mail to Kellogg's company on 3/11/2019 at 8 am and there was automatic reply from them same time on my email. My question was about which Cereal is best for diabetics people?
3. Brand Architecture
Brand architecture is the relationship between brands and sub brands. It is the process to manage the brands internally that helps customers to access and to relate themselves with the brand. When the customers are able to form their opinions and perceptions about a particular brand that means that company has a successful brand architecture (Gilman, 2017).There are three types of brand architecture such as branded house, houses of brand and Hybrid or Endorsed brand.
Kellogs have Indiviula product brand but still they are linked to a master brand. Kellogs have endorsed brand or a hyrbrid structure.
When kellogs starts manufacturunf of their products then kelloggs name was to appeared on that. ITR IS A VERY STRING BRAND AS ITS BREAKFAST CEREAL is one of vgthe most popular breakfast fir the kids as well as the adults. It is one of the most consumable treat in the morning. It is also very much kind of First food for the day. Healthy breakfast makes a day happy. As it is very strong brand so it is easy for the consumers to picked it from the market without any hesitation and any query. We have seen consumers who are very confident in their buying for this particular product. All of this happen because people are more aware about their brand and it has a very good image in the market.