PUBH6007 Program Design For Obesity I...
PUBH6007 Program Design for Obesity in Children and Adolescent Assessment 2 Answer
Answer
OBESITY IN CHILDREN AND ADOLESCENTS IN AUSTRALIA
Describe and construct a program theory and program logic diagram for a program based on prioritised need
Obesity in Children in Australia could be due to two basic factors. The cause of the problem could be internal or external. Based on these two choices, the program theory can be developed further.
If the problem is due to Internal Factors, then the program theory can be further classified into three sub-groups. The root of the problem could be due to personal eating habits. Personal eating habits include the daily meals that an individual consumes in a regular manner. A recent survey reveals that a minimum of three serves of discretionary foods for children and a 7 serves for adolescents is required in a day (The Conversation, 2018).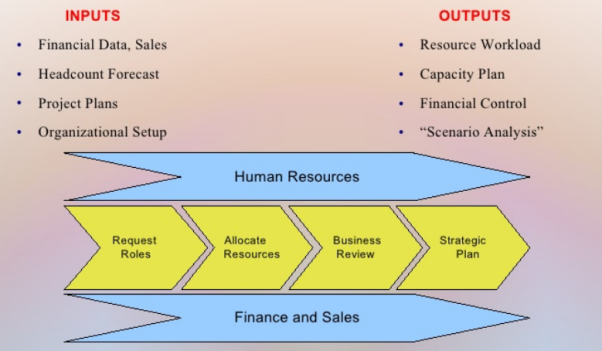 Figure 1: Serves of discretionary food required for children and adolescents
Source: (The Conversation, 2018)
However, from the report, it is evident that children are having more than 3 serves a day (The Conversation, 2018). This has been the main cause of obesity in them.
The second reason could be due to the family pedigree. It has been medically proven that obesity might run in the family. There is only one solution if the problem is with a family pedigree that is to seek professional medical help. The third reason could be an unhealthy consumption of food apart from improper eating habits (Hayes et al. 2016). From a recent survey, it has been evident that only 5% or fewer children in Australia have been eating the recommended healthier food items like vegetables (Han, 2017).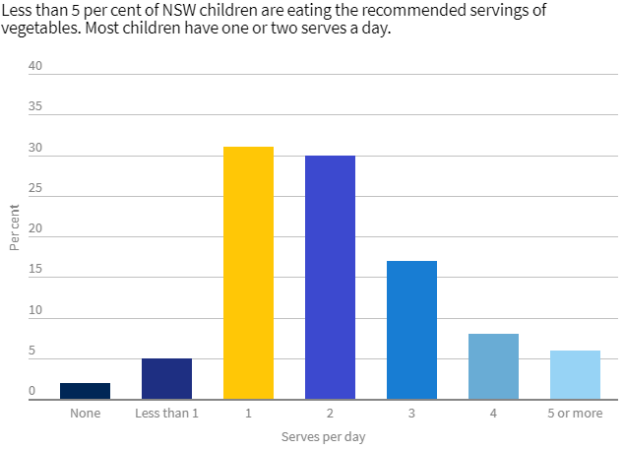 Figure 2: Consumption of discretionary food per day
Source: (Han, 2017)
Separate remedies for each of the causes have been provided in the program logic diagram below. If all the suggestions fail, the fail-safe is to seek professional medical help and maintain a proper diet chart.
The second reason for obesity is due to external factors. There are two subparts of external factors, either outdoor eating habits or environmental factors. Again the fail-safe will be to seek professional medical help (Dyer et al. 2017). In a few cases, external issues can only be resolved by the government. These issues are due to environmental factors. Moreover, awareness about obesity and healthy eating habits is necessary for the country. The Australian government or non-profit organisations can create awareness programs for the same.
The reason for obesity in children and adolescents is generally bad eating habits and unawareness about various harmful effects of fast-food, junk-food, and so on. Thus, the program logic diagram for the above-mentioned algorithm has been given below.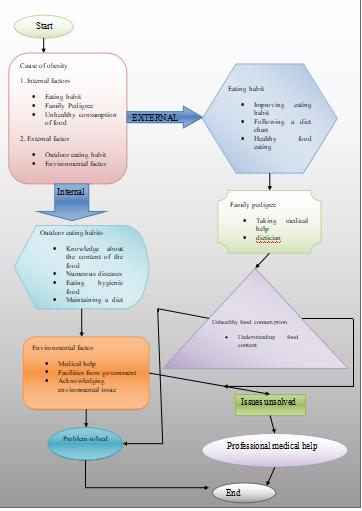 Understand and explain the principles of evaluation, types of evaluation, ethical issues and roles of an evaluator.
An evaluation has a diverse characteristic. It depends on the following factors:
Case Study on obesity

Survey Research

Statistical analysis of junk food consumption in Australia

Model Building for reducing down the issues of obesity
The basic principle of evaluation lies in the modus operandi of the evaluator and differs on the basis of personal choice, but the application is technical and common in nature.
There are many types of evaluation of junk food consumption in Australia that depends on the nature of the result the evaluator wants to achieve those are:
Formative Evaluation
These evaluations generally occur during the research process.
Summative Evaluation
This evaluation takes place at the end of the research.
Process Evaluation
Process evaluation focused on the implementation and practicality of the process
Impact Evaluation
As the name suggests, it focuses on the impact of the program on the outcome; it is based on.
Outcome Evaluations
It measures the short term effect of the program.
Apart from all the above-mentioned technicalities, there are various ethical grounds which an evaluator has to keep in mind. While evaluating the obesity prevention program does not matter which evaluation technique or principle the evaluator is using, they have to make sure that the studies and outcomes are technically correct and reflects the statistical data (Posavac, 2015). The results and observations should not be manipulated on the basis of personal preferences and adhere to the recorded data. Personal bias should be avoided at all costs.
The role of an evaluator includes that they maintain all the ethical constraints in restricting the unhealthy food consumption in children and adolescents in Australia. Along with maintaining these constraints, personally, an evaluator should implement the same within the program if it exists. The role of an evaluator also consists of supervising each and every step cautiously to avoid as much error as possible. The result obtained should be checked and verified with other surveys as conducted by previous researchers on obesity in Australia and judged for practicality and applicability.
Customer Testimonials
ABC Assignment Help for one reason became my favorite because they don't have a very complex signing up process and it's very simple so everybody can use it. I was able to sign in without any hassle as my Company Law Assignment was due and they did it for me in a very efficient manner and I am very delighted with their service and a heartiest thanks. Emily, Sydney
I work part time to meet my expenses apart from college and I took this as a decision to not burden my parents. A while later I started feeling great amount of stress in balancing it all together and decided to seek help from ABC Assignment Help for my Commercial Law Assignment and they did my assignment for me and I am super satisfied with their work style. Thank you so much. Lawrence, Tasmania
I had a harsh week as I was extremely debilitated and every one of my assignments were getting excessively and caused me an incredible mental breakdown. A companion of mine seeing my circumstance asked me to utilize ABC Assignment encourage, their quick and efficient administrations helped me complete my Contract Law Assignment with less stress Rihana, New South Wales