Answer :
Report on Strategic Development of Park Hyatt Sydney Hotel
Executive Summary
Park Hyatt Sydney, while operating in Australian hospitality for nearly two decades, has achieved success in ell implementation of most of the strategic decisions in its business and functional operations. The hotel has succeeded in areas of corporate functions, organization development through offering quality consumer service, sustainability and acquisition and strategic alliance development. However, it faces difficulty in recruiting skilled and knowledgeable employees. This report has researched and analysed existing strategy of the business.
Introduction
Development of Strategic planning and its successful implementation is important for operations in all sectors and similarly this is a crucial part of overall functional and corporate management of business in hospitality sector. This report takes into account existing strategy of eminent Australia based hospitality organization the Park Hyatt Sydney, which is one of the most famous luxury hotels operating in the country. The report has considered all aspects from critical viewpoints of the CEO of the organization. It discusses broader aspects of operational environment, functional strategy, corporate strategy, competitive advantage and sustainability of the hotel. Park Hyatt Sydney, inspite of its huge success in operational market, is facing issues in its HR operations mainly due to lack recruitment of efficient and properly skilled staffs in different departments of the business. Higher investment in training of existing staffs is also a problem for the hotel.
Organization History and Strategic Development
The Park Hyatt Sydney is one of the most luxurious hotels in Sydney, founded in 1998 and operating in the Australian hospitality sector with huge success. It manages as well as franchises luxury resorts, hotels and vacation properties and the organization has other branches in some important cities in Australia. Park Hyatt Sydney is operating in Sydney with over 155 spacious suits and guestrooms along with offering stunning views of nature and opera house that is a special attraction of the hotel. The hotel has over 280 employees and presently is operating with net income of AUD$105 million and total assets of AUD$ 32.2 million in the country (Turner & Guilding, 2014).
In terms of strategic development, Park Hyatt Sydney has adopted a 'generic' strategy for its business development and capturing attention of huge number of consumers in the hospitality industry. The hotel is applying differentiation strategy mainly as its generic approach for maintaining its position in highly competitive market in Australia. Though offering diverse range of competitive benefits (uniqueness, cost-quality equilibrium, picturesque sweeping view, private sun deck) to guests, Park Hyatt Sydney has become one of the major players in Australian accommodation field (Kensbock et al., 2016). Moreover, the hotel follows varieties of operational and corporate strategies at entrepreneurial level.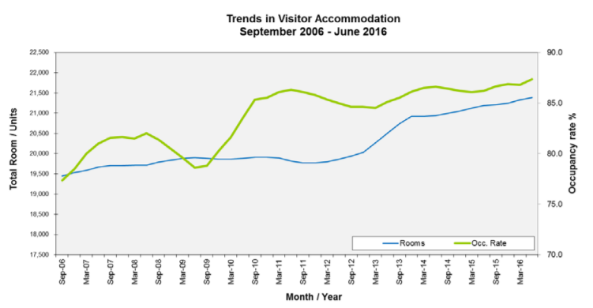 Figure 1: Trends in Guest Accommodation in Park Hyatt Sydney Hotel: 2006-2016
(Source: Pandya & Sisombat, 2017)
Mission, Vision and Values of the Organization
The mission of Park Hyatt Sydney is to offer authentic hospitality through making difference in lives of people that the organization comes into touch every day.
The vision of the hotel is to be the preferred brand in all the segments of its serving, including the segments of employees, guests and owners.
The core values of Park Hyatt Sydney involve mutual respect, intellectual integrity and honesty, humility, fun along with creativity and innovation in ideas and operations.
Internal and External Environment
For understanding the internal and external environment of operation for Park Hyatt Sydney, the analytical models of SWOT and PESTEL have been applied here.
Internal Environment:
Strength:




The Hyatt way is a major strength in form of strict adherence of operations to norms and standards

Total assets of AUD$26.2 million throughput Australia

Concentration of operational philosophy on innovation and commitment (

Berezan et al., 2014)

High competitive advantage in Australian accommodation industry

Technical innovation for improving consumer experience

Weakness:




Inability of the management to fill up the gap in requirement of skilled human capital

Higher cost of training and skill development arrangements for existing employees (

Quaintance, 2019)

Overemphasise on standardization of service and thereby lack of attention to HR

Imitation of presence throughout Australia

Presently considerable staff turnover rate




Opportunity:




Rapid shift of consumer behaviour and values for luxury accommodation service worldwide

Huge opportunity in unexploited markets in most of the cities in Australia

Enhanced preference of guests for personalised attention

Automation based innovation in service and consumer benefits

Threat:




Tremendously growing competition level in Australian hospitality

Enhanced presence of international brands like JW Mariott, Taj Bengal Indian Restaurant and Ritz Carlton has enhanced rivalry in the market (

Turner & Guilding, 2014)
External Environment:
Factors

Analysis

Political:

Australia is an important member in Commonwealth of nations, G20, WTO and OECD (

Prokhovnik, 2015)

. Higher political stability of the country has assisted business development of Park Hyatt Sydney.

Economic:

Being the 13

th

largest economy of world with 3% economic growth in 2018-2019, high GDP (US$275,141 million in 2019) has helped in growth of hospitality organizations (

Pandya & Sisombat, 2017)

. Lower company tax rate (27.5%) is another advantage for Park Hyatt Sydney.

Social:

The society is well developed in terms of education, wealth and life quality. Multiracial and multicultural society in Australia has increased need of quality and luxurious hospitality service (

Quaintance, 2019)

. Higher attraction of people towards architectural interiors and luxurious resorts are particular advantages for Park Hyatt Sydney.

Technological:

Australia is highly advanced in technology and still adopting advanced technology at faster rate. Enormous technological growth and enhanced technology consciousness of society have been additional privilege to the hotel.

Legal:

Park Hyatt Sydney faces tough legislative constraints in business operations and regulations regarding sustainability. The hotel has to abide by strict laws on Fair Trading, Consumer laws and Competition Laws (

Berezan et al., 2014)

.

Environmental:

Legal rules for biodiversity maintenance, environment protection in Australia is very strict, and these bind Park Hyatt Sydney's operational policies.
Strategic Development at Business, Corporate and Functional Level
As part of its strategic development in business and overall functional level, Park Hyatt Sydney has adopted certain specific strategies, one of which is differentiation strategy as a part of generic approach of the business. According to Quaintance (2019), the management has incorporated differentiation plans for its service and product development that would be able in satisfying the guests in unique ways. Development of resorts, personal residence and vacation properties for international consumers has been an effective part of its functional strategy. The business strategy of the hotel is mainly based on enhancing the lodging and resort facilities for potential customers in national and international level, for which Park Hyatt Sydney has emphasised on the importance of value creation through its high-quality operation and service delivery.
The steps adopted by Park Hyatt Sydney for brand management have accompanied the efforts of the hotel for successfully applying differentiation strategy in its business. The steps of focusing on both western and eastern culture in its operations, applying digital advertising and making application of Brand Exploratory are significant parts of functional strategy for the business (Hotel Management, 2019). Since 2014, Park Hyatt Sydney has shifted its focus on experimental service delivery in Australian hospitality, in which the major objective of the business has been to create rich memory and experience of the customers. Turner & Guilding (2014) has stated that during 2001, the hotel commenced revaluation of its service design, as a part of which, the organization applied Chaordic System Thinking framework (CST) for analysing operational flow and balance between its service structure and operational frameworks in the particular market. As part of its strategic development, Park Hyatt Sydney has adopted the strategy of redefining luxury for offering special and rare service values to the guests. As opined by Berezan et al., (2014), application of advanced technology has been a crucial part of the marketing strategy of Park Hyatt Sydney enhancing efficiency of its overall business functions in Australian accommodation industry. Since 2012, the hotel has applied advanced digital technology-based mobile app-oriented marketing strategy. Kensbock et al., (2016) describes that the strategy of providing the guests with the advantage of digital touch-points has been highly acclaimed in national hospitality sector, specifically after launching the campaign "Let Us Stay With You" during 2012-2013 for enriching consumer experience.
As part of its corporate strategy, Park Hyatt Sydney has provided importance on maintaining consistency in effective application of CSR approaches in its markets of operations in Australia. The organization has ensured strict maintenance of professional and personal integrity of the business through incorporation of adequate level of CSR initiatives (Kim et al., 2018). However, developing its corporate image is specifically based on offering service excellence to customers. Therefore, from holistic perspective, the functional and business strategy of Park Hyatt Sydney is centred to its unique efforts for customer service-based brand marketing and differentiation strategies.
Figure 2: Revenue in Australian Hospitality by Sector, 2017
(Source: Pandya & Sisombat, 2017)
Sustainability and Competitive Advantage
As a market leader in Australian hospitality, Park Hyatt Sydney has been focused on incorporating its community footprints in its overall business and functional operations through maintaining its responsibility to environment and community. According to Ahmad (2016), open source philosophy is a crucial part of sustainability in business practice and policies by Park Hyatt Sydney. In 2015, the hotel introduced the programme of terry and linen refresh in active collaboration with Ocean Futures Society of Jean Michel Cousteau. As part of its sustainability approach, the hotel developed team for Environmental Action Conservation (EACT) in 2013-2014 for identifying the opportunities of implementing sustainable projects within its individual property (Claveria et al., 2015). Reducing energy consumption and water usage (20%) in laundry operations has been a very important step in its sustainability efforts.
One of the most important components of competitive strategy for is its provision for offering the experience of genuine comfort and care to customers, which has also assisted the organization in developing specific value-adding culture within it. Application of technical innovative strategies in marketing and brand communication is another significant source of competitive advantage for Park Hyatt Sydney. Moreover, unique level of CSR approach and sustainability are additional components adding to its considerable competitive edge in the hospitality sector. However, the hotel is facing issues in recruiting highly skilled and professional staffs for further enhancing its service quality (Clarke, 2016).
However, the business can adopt strategy for contributing development of schools, colleges, health centres and libraries for local community. In addition, it can invest for animal welfare as the part of its environmental approach.
Impact of Merger and Acquisitions, International Strategy and Alliances
As a market leader in Australian hospitality sector, Park Hyatt Sydney has concentrated on performing merger and acquisition with an aim of overall development of the business mainly in national level. As stated by Maggioni et al., (2014), during 2017-2018, the business came into limelight for acquiring 100% of the Australian-based organization Staywell Hospitality Group. The overall transaction value was approximately $52 million along with adding 12 hotels in many different states (Melbourne, Sydney, Townsville and Brisbane) in Australia. Apart from this, the step of acquiring 30 luxury hotels of Prince Hotels (Japan based hotel chain organization) in Australia is considered very important from perspective of developing market share of Park Hyatt Sydney in Australian hospitality. Šerić et al., (2014) commented that these activities of merger and acquisition have earned further capital to Park Hyatt Sydney that can be applied for further growth and expansion of the business. In case of international strategy of the business, it has developed strategic alliance with the eminent French hospitality organization Accor Hotel, in which Park Hyatt Sydney signed a business deal of $2.3 million during 2016. Moreover, Park Hyatt Sydney has developed business alliance with eminent Singapore-based resort Banyan Tree and the Belmond Limited (Hamilton, Bermuda). However, scarcity of efficiency labour is still a problem for the hotel in successfully operating in these areas (AlBattat et al., 2014).
Strategic Implementation and Importance of Entrepreneurship and Leadership
Development of Park Hyatt Sydney has best been possible under the effective leadership approach by the present Chief Executive of the Hyatt Hotels Corporation Mark Hoplamazian. With regard to application of well-strategic leadership approach, a well-develop combination of Executive and visionary style is being applied in the hotel, which has ensured acceleration of differentiated strategies by the management in successful cooperation by the corporate leadership team in the business. The leadership approach adopted has the main aim of continuous adaptation of capabilities of the business to likely future scenario in the global hospitality industry and according to the trends in Australian accommodation sector (Assaf & Agbola, 2014). From entrepreneurship approach, Park Hyatt Sydney has implemented the strategy of consolidating franchised and managed hotel operations in the industry along with owing relations into singe portfolio. However, according to the leadership statement by Mark Hoplamazian, better focus, coordination and prioritization of the importance of engagement of guest and customers would be the principle objective of the business in future (Divisekera & Nguyen, 2018).
However, the hotel might incorporate the approach of democratic leadership for ensuring higher participation of the staffs in operations, specifically in decision-making during critical situations.
Organization Structure, Corporate Governance and Controls
The organization Park Hyatt Sydney operates as a centralised and differentiated organization. The hotel has a hierarchical organizational structure with a top-down approach. Under this sort of organization structure, the corporation body under the leadership of the CEO, accompanied by the Board of Directors, makes major decisions. However, in many cases, a decentralised approach is adopted by the higher management for providing opportunity of placing suggestions to the lower level. According to Butler et al., (2014), the officers and employees under direct leadership of the CEO perform the overall aspect of corporate governance in Park Hyatt Sydney. In this case, long-term interest of the stakeholders is taken into effective consideration. Moreover, the hotel maintains Codes of Ethics and Business Conduct as part of its corporate governance. However, Park Hyatt Sydney might apply an effective combination of horizontal and vertical structure for providing greater autonomy to employees in decision-making.
Conclusion and Recommendations
The above analysis helps in reaching the conclusion that as an eminent luxury hotel brand in Australia, Park Hyatt Sydney has attained considerable success in almost every area of operations of the business. While operating for nearly two decades, the hotel has adopted and implemented some significant strategic decisions in its business and functional operations, which has earned it unique level of competitive advantage and brand image in Australian hospitality industry. However, considering its present growth and significant opportunity in future, specifically deeming its performance in strategic decision-making, corporate governance and merger and acquisition, this can be stated that finding meaningful solution to its HR issues is vital. As the business has successfully accomplished its acquisition and alliance operations in national and international level, recruitment of highly skilled and knowledgeable staffs is necessary for better managing all these perspective.
The Park Hyatt Sydney might consider some specific suggestions for avoiding such situations in it future operations. This is important for the hotel to establish flexible arrangements for operations along with formalization of training and skill development programmes. The principle aim of Park Hyatt Sydney will be both attraction and retention of potential talents in the organization. The hotel is currently facing difficulties in recruiting skilled employees along with complexities due to excessive investment in training of existing employees. Therefore, Park Hyatt Sydney might shift its aim of investment rather for promotion of employees based on newly revised guidelines for performance appraisal-based professional development and promotion opportunity. This will lower the needs of high investment for training the existing employees as they have already achieved particular extent of training. Simultaneously, Park Hyatt Sydney might consider adoption of democratic leadership approach to some extent along with implementing combination of executive and horizontal organizational structure. This will ensure higher participation of the newly recruited skilled employees in decision-making.