ASSESSMENT BRIEF
COURSE:

Bachelor of Business / Bachelor of IT

Unit Code:

WPDD202

Unit Title:

Webpage Design and Development

Type of Assessment:

Assessment 3 (Group Assignment)

Length/Duration:

N.A.











Unit Learning Outcomes addressed:




Upon successful completion of this unit students should be able to:

Describe and use the client-server internet model, W3C standards, mark-up languages, client-side scripting, server-side scripting to access and manipulate data, database access and internet security

Analyse and model requirements and constraints for the design of client-server internet applications

Apply HTML 5, CSS, JavaScript, Multimedia and interactivity to develop highly effective websites

Identify problems, opportunities and challenges in creating Webpages

Make recommendations based on accessibility, ethics, and website promotion strategies













Assessment Task:




This assignment undertaken in groups of three or four students in the form of a webpage design, implementation, test and evaluation. Your Project will demonstrate mastery of the web development skills and concepts learned in this unit.




The project must be your own design and be completed by you — the use of free or purchased web site templates are not permitted (for example, those found in Dreamweaver, purchased or free, blog or social networking templates such as Drupal, WordPress, Blogger, Facebook as well as the textbook's Case Study Lab). If it is perceived that a web template has been used, the project grade will be no more




than "below average".



ASSESSMENT DESCRIPTION:
Simon James is the managing director of Melbourne Marina Hotel. Simon created a website for The Melbourne Marina Hotel several years ago to make information about the hotels easily accessible to his current global customers. The website has become outdated, so Simon would like your teams' help to enliven it with a new responsive web design. He has several pictures he wants to use on the site and has ideas for the look and feel of each page. He needs your help to apply CSS to improve the site design and online reservation system.
Simon wants to reflect the following mission and vision of his company in the new website:
"We set our sights high and our standards higher, aiming always to delight our customers, and in many cases we are now serving the third generation of our loyal guests."
Company Profile Who are we?
Melbourne Marina Hotel has a unique identity among the world's leading hotels. Simon James is the managing Director of Melbourne Marina Hotel. He established the hotel in 2001. Melbourne Marina Hotel now operates prestigious luxury establishment in Melbourne. Melbourne Marina Hotel is a living legend, the name synonymous with luxurious comfort and impeccable service.
Hotel Overview
Melbourne Marina Hotel is designed uniquely from ground up, with the objective of applying the traditional hotel with grace and elegance to the location concerned in order to embrace the relevant local culture, style and history. It is important that a stay in Melbourne Marina Hotel forms an
important part of the guest's experience of visiting Melbourne, and that is achieved through references to local architecture, artwork and ambience.
Competitor websites
Competitor website worth referencing are:
The Langham Melbourne
Oaks Melbourne on Market Hotel
Great Southern Hotel Melbourne
Website Design and Development Assignment
For this assignment you will work with a team to develop a website. Your team will need to conduct some research to find the information for the topic. The goal is to present the information (website)
in such a way that customers can use your website effectively. In addition, you will submit an individual report about this assignment.
Teams:
You lecturer will help you to choose your team for this project. Teams may consist of three or four students. Your team needs to choose a team name and contact person. Students who are not in a group must contact the lecturer.
The Website:
Good web design suggests that dividing material into bite-sized pieces relating to a portion of the overall topic.
Good practice of web design is expected – e.g. appropriate navigation, a good writing style for the web, well-thought out design to make material easily read on screen, and appropriate fonts and colors. The home page should be index.html.
One of the pages (references.html) should contain accurate and detailed information about the sources of information (contents and images) used in the web pages. It is expected that the references be accurate and complete and follow an appropriate format.
Your website project must follow the hierarchical structure and file naming conventions given below. Your marks will be deducted if you don't follow this structure in your project.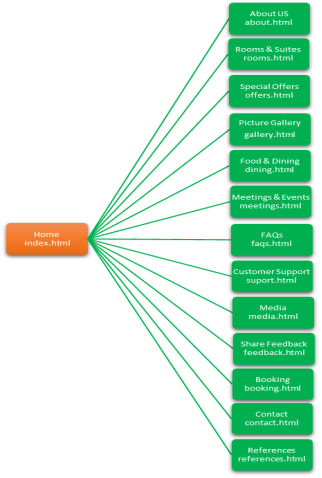 The Group Report:
Write a three page paper describing the process of creating your website, working with your client and learning the technical skills necessary to do so. Discuss the things that went well on the site, the things that you found difficult, things you would change if you could do it again and what your group did on the project and how each of the group member personally contributed to the project.
Remember, unlike some of the other papers we have done in class, this is an actual essay, not a rough designs or notes. Pay attention to grammar and spelling.
Make sure the name of your group and a listing of the members of your group are clearly identified on the first page of this document.
Word limit: equivalent to 1200 words
Plagiarism and Collusion of Material:
One of the most common reasons for programming plagiarism is leaving work until the last minute. Avoid this by making sure that you know what you have to do (not necessarily how to do it) as soon as an assessment is set. Then decide what you will need to do in order to complete the assignment. Since the web pages are submitted as a group, ensure that all members of your group follow strict guidelines to avoid plagiarism.
Requirements:
Website should have 14(referencespageincluded)pages.

Each of those pages should use same or similar style, so that the pages look like they belong to the same website.
Validate your Webpage:
Each HTML page and CSS should pass the W3C validation.

Validate the webpage using the W3C validator. All errors must be eliminated before assignment is submitted.

Include the validation icon on your valid page *inside* your closing body tag at the base of your page/web site.
Navigation:
Each page should have a meaningful title (using the same title for all the pages is not considered meaningful).

You should have a consistent navigation, for example if you have a menu which links to different pages, the menu should appear in the same place in all pages, so that users can easily find the menu and able to navigate to different pages.
Design:
Website demonstrates accepted graphic design principles (repeated elements throughout, contrast, proximity, and alignment as well as uncluttered space and subdued backgrounds).

Website uses coordination of colors which do not hamper usage; this includes text contrasting well with background

Consistent design throughout the website

You should use one external stylesheet, and optionally internal stylesheets in different pages. The stylesheet should contain only the rules which are common more than 2 pages or all the pages. The internal stylesheet should contain rules which are used only in one particular page.

You should organize all the pages in a good structure.

You should layout your web pages using one of the layout techniques. You should use <div> to layout your pages, using <table> for laying out is not allowed.

Your pages should be easy to read, easy to navigate. The text, border, background etc. should be contrasting, and don't use too many different colors.

You should have enough text and minimum 20 images in your website. You must add multi-media contents (audio, video etc.).

You should have at least a list in your website.

You should have one contact form and one online hotel reservation form by using the valid HTML5 form elements.

If you're using an image or some text from somewhere else, you must clarify the origin of that resource in a comment in your HTML or CSS file, right before the resource you're using.

Use at least 2 JavaScript Pop-up windows and 2 Alert boxes in your website.

Create the company logo and navigation bars by using the Font Awesome (Font Awesome is a font and icon toolkit based on CSS and LESS.).

You should only use Google fonts in your website. Your marks will be deducted in case of using other generic fonts by using the html font tags.

Add social media (Facebook, LinkedIn, Google +, Pinterest,
Instagram and Twitter) links in the footer section of each webpage by using the Font-Awesome toolkit.
General:
The website to be designed in wide screen format.

The website to be developed to be a responsive website.

The target audience is all users of mobile, tablet, desktop and laptops.
Restrictions:
Use of <TABLE> tags are not allowed to layout the webpage

Each page must contain: A Header, Footer, Body section and common elements (logo, menu)

Use of multiple versions of images and CSS3 styling rules to render web pages based on user platform and screen resolution.
ASSIGNMENT SUBMISSION:
The assignment must be submitted online in Moodle.

You should compress all your files into a zip (.zip) file and name like "project_<Your Group Number>.zip".

You are not allowed to use open-source front-end library (Bootstrap) and cross-platform JavaScript library (jQuery) while designing this website.

No paper based or hardcopy submission will be

accepted.